The older I get, the more I like edge pieces, so I've been making Mini Bar Pan Brownies fairly often. With a bar pan, also known as a brownie bar pan, you naturally get more edges because each brownie bakes in its own individual cavity. In the past I used a Calphalon bar pan. Unfortunately it's nonstick-ability wore off and I found myself having to line each cavity with parchment paper. Nonsense!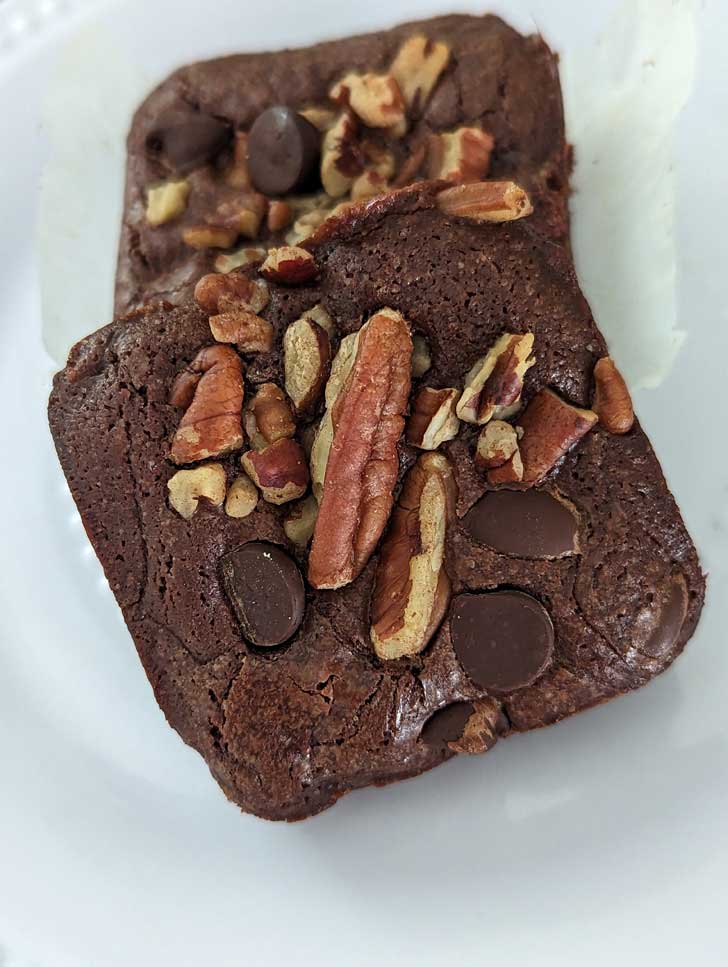 Brownie Bar Pans
Here's the old Calphalon mini bar pan I bought back in 2012. It's their Classic "Nonstick" Bakeware 12-c. Dessert Bar Pan, and I wouldn't recommend it because things always stick. I recently bought a Celebrate It! brand bar pan (really, a square muffin pan) at Michael's and the depth is 1.7 inches. So far I really like it. The surface is truly nonstick and the cavities are deeper so it can be used for both bars and muffins.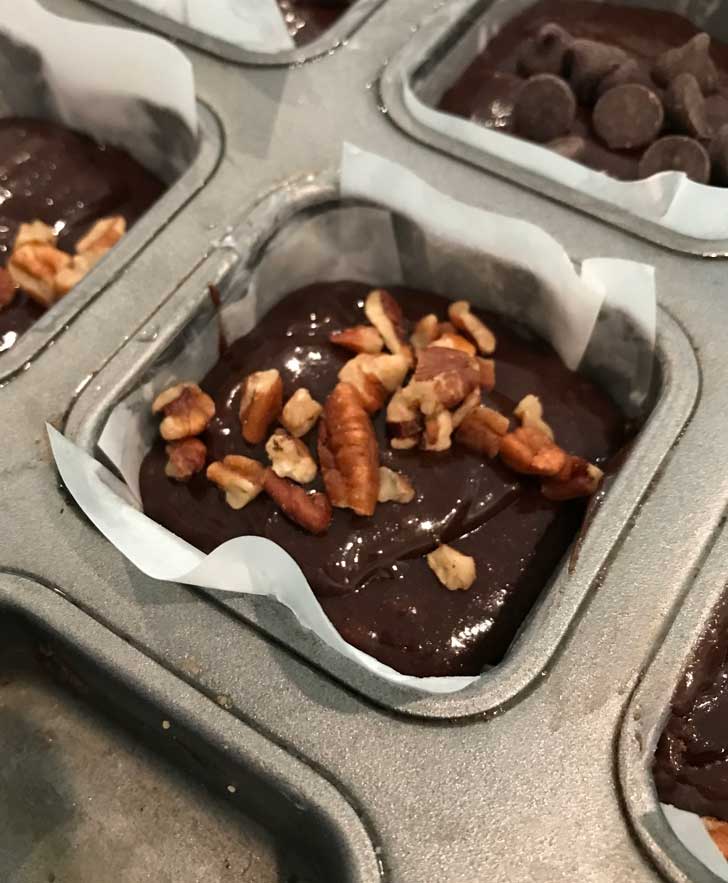 Here's the newer pan with the deeper cavities. It's the one on the left. The brownie recipe below will work in either pan, but will mostly likely need some bake time adjustments as listed below.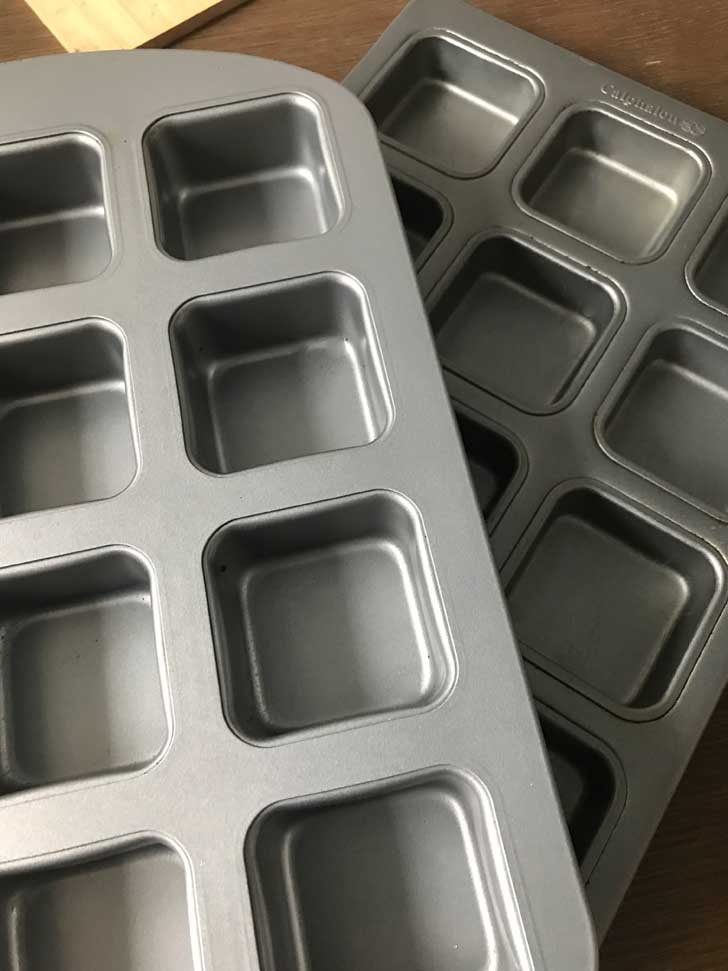 Recipe Tips
I've been baking these in my new kitchen and have added some tips.
If using a toaster oven, check as early as 12 minutes. I baked my last batch in a Breville, and the brownies were done in between 12 and 13 minutes. With the updated recipe, the brownies will most likely take 15 minutes. Just be sure not to overbake.
You can stir walnuts into the batter or just pile them on top. If you plan to pile them on top, you can skip the toasting, as they will get toasty just from sitting on top of the brownie batter.
If using a deeper bar pan or a square muffin pan like the Celebrations pan, just divide the batter between the cavities. It won't come up very high, but divide among all 12. Check at 15 minutes, but you may need to tack on an extra 2 if using the deeper bar/square muffin pan.
Recipe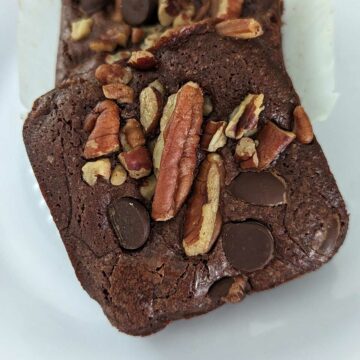 Mini Bar Pan aka Brownie Bar Pan Fudge Brownies
New and improved recipe designed for mini bar pans aka brownie bar pans. This new version is fudgier and softer than the old one.
Ingredients 
8

tablespoons

unsalted butter, cut into chunks

(56 grams)

⅔

cup

bittersweet chocolate chips or 4 oz chopped bittersweet chocolate

(114 grams)

⅓

cup

unsweetened cocoa powder (so far I've only tested with Dutch)

1

cup

granulated sugar

(200 grams)

½

teaspoon

espresso powder (optional)

¾

teaspoon

vanilla extract

¼

teaspoon

salt plus an extra pinch

2

large

cold eggs

(100 grams)

½

cup

sifted or lightly spooned cake flour, best to weigh out 50 grams. If using all-purpose, use only ⅓ cup which should be 45 to 50 grams.

(50 grams)

¼

cup

chopped semisweet chocolate chips or chunks or mini chips

¼ to ½

cup

chopped walnuts or pecans for top
Instructions 
Preheat the oven to 350 degrees F.

Grease a brownie bar pan lightly. If yours has lost its nonstick-ability, grease and line each little section with a square of parchment (then go order a new pan).

Melt the butter in a saucepan over low heat. Add the chocolate chips and stir until melted, then remove from heat and stir in the cocoa powder until smooth. Add the sugar and stir until smooth.

Let cool slightly then stir or whisk in the egg, espresso powder (if using) and vanilla.

Stir in the salt, then stir in the cake flour. I recommend doing this with a heavy dury scraper.

Pour the batter into the litte troughs, dividing evenly.

Sprinkle the nuts and some extra bittersweet or semisweet chocolate over the top and bake the brownies for about 15 minutes or until the tops appears set. The brownies most likely will not be shiny on top, but they should be plenty fudgy inside.

Let cool completely. Carefully pry from pan, then bring to room temperature before serving.
Old Version
Mini Bar Pan Brownies 2012 -- Very Chewy, Be Sure Not to Overbake
6 tablespoons unsalted butter (84 grams)
2 oz dark or semisweet chocolate, chopped or use ⅓ cup of chocolate chips** (56 grams)
⅓ cup unsweetened cocoa powder I used Dutch processed
¾ cup granulated sugar (150 grams)
½ cup all-purpose flour (weigh or measure with a light hand by spooning gently into cup) (65 grams)
¼ teaspoon baking powder
Scant ¼ teaspoon salt
¼ teaspoon vanilla extract
2 large cold eggs (medium eggs would also work)
⅓ cup chopped and toasted walnuts
⅓ cup miniature chocolate chips optional but really help
Preheat oven to 350 degrees. Spray a 12 indentation mini bar/dessert pan with baking spray.
Melt butter in a large saucepan set over medium heat. When melted, remove from heat and add chocolate chips. Stir until melted, then stir in the cocoa powder and sugar. Set aside and let cool to lukewarm.
Stir the flour, baking powder and salt together in a small bowl
When the chocolate/butter mixture has gone from hot to warm, stir in the cold eggs and vanilla.
Add the flour mixture and stir to combine, then stir in the walnuts (or just wait and pile them on top after you've poured the batter into the pan).
Make sure the batter is cool, then add chocolate chips if using. Alternatively, just don't add them yet. Wait until you've divided the batter between the cups, then spoon them on tops of each. You can swirl some in quickly before baking and leave some one top.
Pour batter into prepared baking pan and bake 12 to16 minutes or JUST until brownies appear set. It's better to slightly underbake then overbake these. Let cool in the pan for about 15 minutes, then use a knife to carefully dislodge the bars from the pan.