I never thought I'd have a lemon tree, but it turns out the mysterious buds on a tree by our driveway are lemons — real, actual lemons that humans can eat. The incredulity is genuine, because I'm not a gardener and growing up in a hot and dry climate didn't help things. So it's catch-up time, as I try to keep plants alive. There are other herbs, trees and flowers here, and so far, so good, except for the mint. I somehow managed to kill mint, which is strange, and I can't blame the deer because they hate it.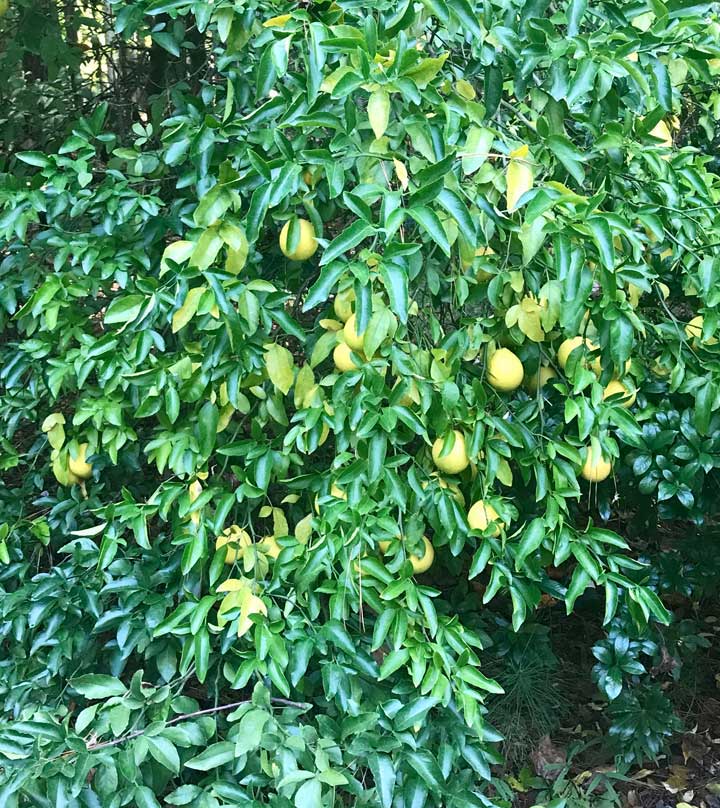 Sorry for being so wordy. Pavlova! I made some lemon curd, needed to put it in something, and cobbled together this Pavlova with Lemon Curd and Berries. It was so good I want to make it again tonight.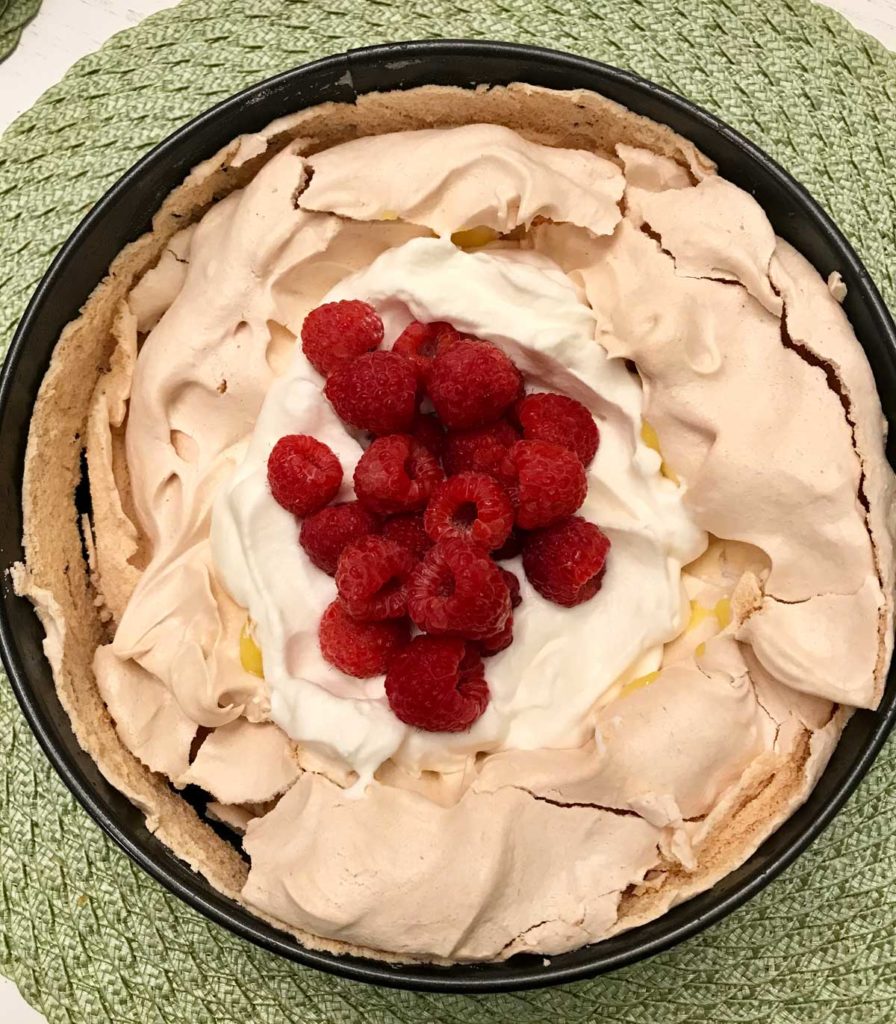 The Pavlova, which is baked in an 8 inch round springform, is from The Silver Palate.
Unlike my Junior League Pavlova (aka Fruit and Cream Squares), it doesn't have to sit in the oven for hours. The bake time is 1 1/2 hours at 275 F. The texture of this Pavlova is the best I've ever had. It's thick, crispy on the outside, and the inside is almost like angel food cake! So I'm as excited about the Pavlova as the lemon curd.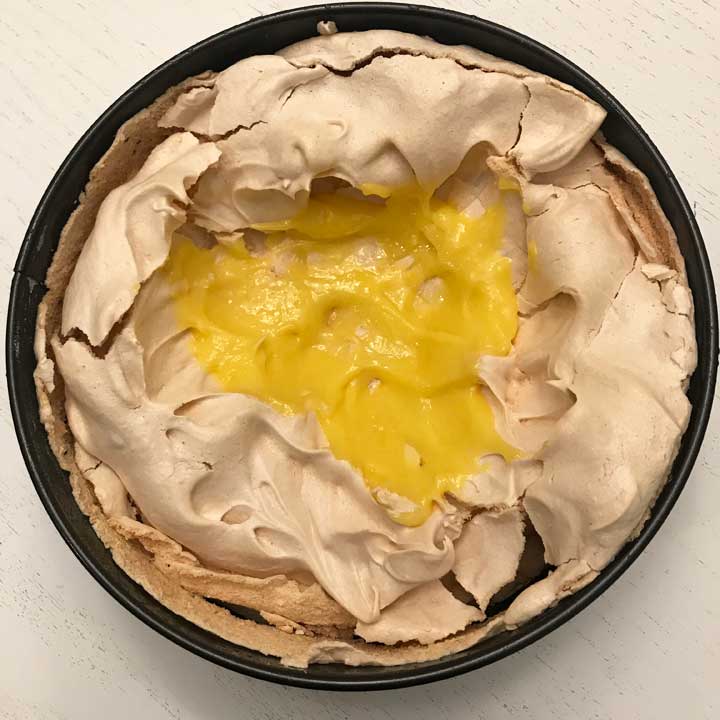 Speaking of lemon curd, I am putting the homemade lemon curd recipe in its own post and linking to it to separate the recipes. You can make the lemon curd, but your Pavlova will be just as good if you buy it. Trader Joe's lemon curd is pretty good.
Freezing Pavlova
I can confirm as of this morning that the Pavlova freezes well. It's not a very big recipe, but if you are making it for two you can serve half of it, then freeze what's left, minus the fruit.
Update: Six Inch Version
I liked this so much I made it again. This time I halved the recipe and used a six inch cake pan. If you have a six inch springform you can use that, but I used a regular six inch cake pan, lined the inside with foil, buttered the foil and dusted it with crushed Saltines. Flour would work just fine, but I had some Saltines to use up. The six inch version popped right out of the pan and I was able to fill it with the lemon curd, whipped cream and berries, just on a smaller scale.
Recipe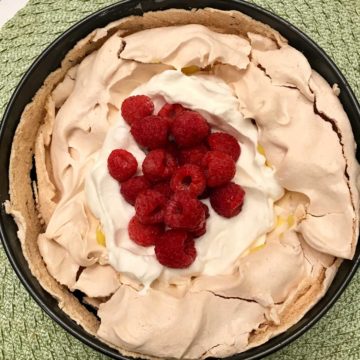 Pavlova with Lemon Curd, Whipped Cream and Berries
This is my favorite Pavlova. The center is soft and the texture is similar to an angel food cake but with crispy edges.
Ingredients 
4

large egg whites

¼

teaspoon

cream of tartar

¼

teaspoon

salt

1

cup

superfine sugar

200 grams, you can buzz it in a Nutribullet

4

teaspoons

cornstarch

2

teaspoons

white wine vinegar or just white vinegar

1

teaspoon

vanilla extract

Lemon Curd

Freshly whipped cream or Cool Whip

Fresh Berries
Instructions 
Preheat oven to 275 degrees F. Grease a springform with butter and dust lightly with flour.

In the bowl of a stand mixer, beat the egg whites, cream of tartar and salt until stiff peaks just start to form. Gradually add the sugar a couple of tablespoons at a time and continue beating until thick and glossy. Beat in the cornstarch, vinegar and vanilla.

Scrape the batter into the prepared pan and shape it so it's like a nest with high sides and an indent in the middle. Set the springform on a baking sheet and bake at 275 degrees for 1 1/2 hours or until firm brown. You can check it after one hour, but it will most likely take 1 ½. It should be lightly browned and look beautiful.

Let the Pavlova cool at room temperature for about an hour, the spoon your favorite lemon curd all over the bottom. Chill until very cold, then top with whipped cream and berries before serving.
Notes
Six inch version:  Use a six inch cake pan, lined inside with foil, grease and butter foil.  Halve all ingredients and bake for about 1 hour to hour and 15 minutes.