This recipe for Barazek (Sesame Cookies) is from the back of a bag of Ziyad brand sesame seeds. I am so happy to have discovered it! I wasn't planning on sharing such an interesting recipe today, but I'd run out of honey, made a stop at the Lebanese market, purchased sesame seeds on impulse and what do you know? There it was on the bag. So that's part of the story, but the other strange occurrence was that I had semolina, pistachios and ghee I needed to use. Back in the day it would have been the dregs of a box of Special K, so I guess I've branched out a little since then.
Jump to Recipe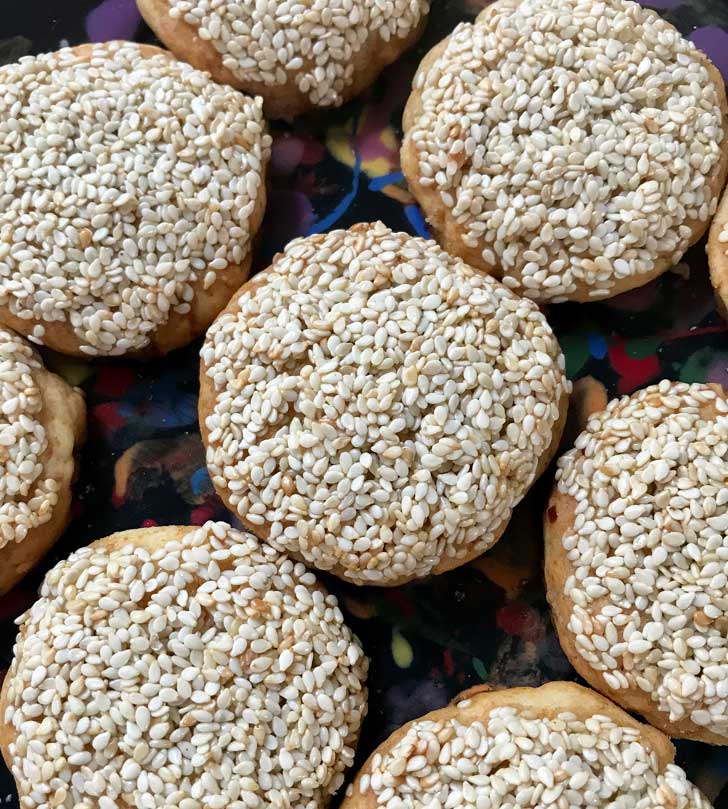 Barazek Flavor and Texture
So Barazek! The cookies can be found all over the Levant, and their origin has been mentioned as either Turkey or Syria. The best I can describe them is as butter cookies with pistachios on one side and honey coated sesame seeds on the other. The cookie part is not too sweet, but the honey in the sesame makes up for that. And then there's the texture, which is not quite shortbread, though not really a butter cookie. It reminds me of Polverones, but softer and crumblier. This is probably where the ghee and semolina come in. I don't usually use those two ingredients in cookie dough, but they sure make for an interesting texture.
First Batch
For some reason I didn't look at pictures of the cookies before my first go-round, and envisioned them as slightly puffy like Italian Sesame Cookies. I didn't flatten them and they baked up a bit thick. But even thick, they were delicious.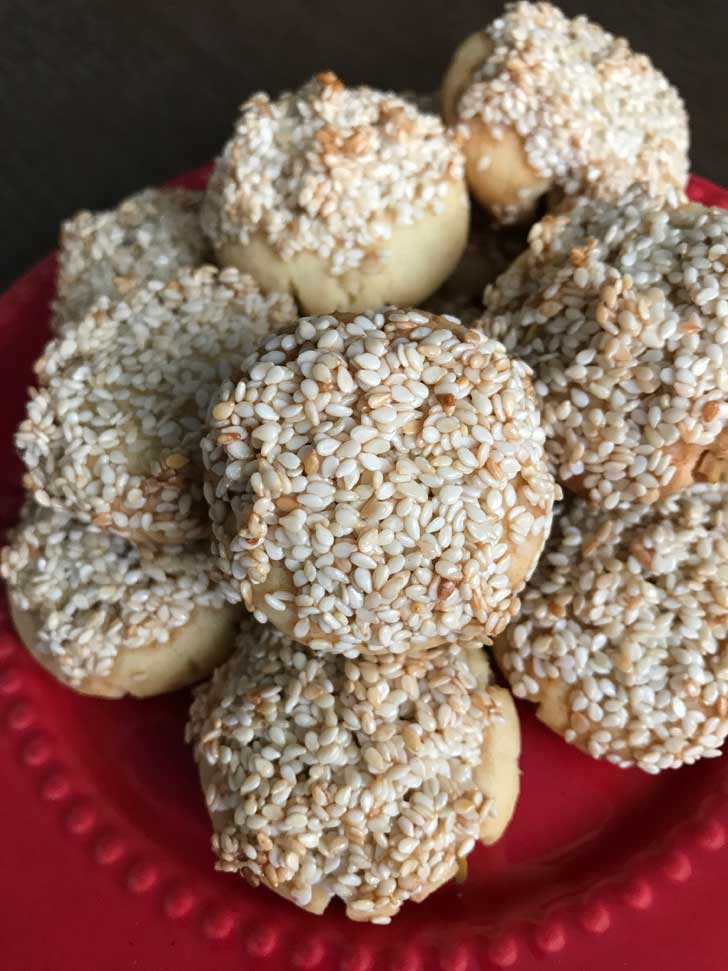 Flattening the Dough for Barazek
I made the second batch a little more carefully, flattened the rounds as neatly as I could and didn't fling the sesame seed mixture around so much. I also did two experiments. For some of the dough, I used whole pistachio kernels and for other rounds of dough I used chopped.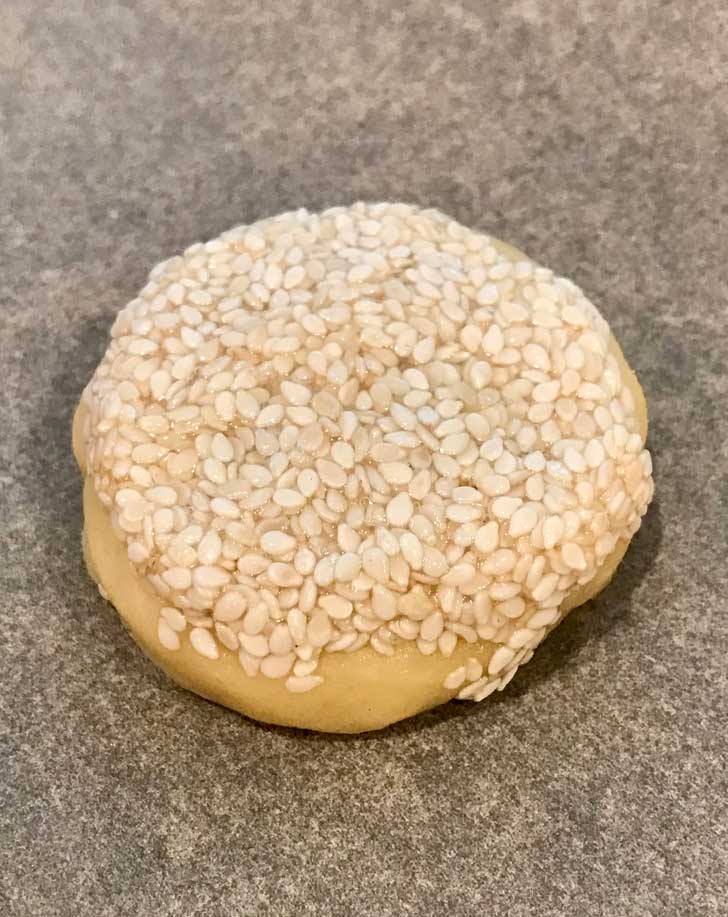 They look better with the chopped nuts, though you only notice the pistachios if you turn them over. They're a hidden surprise.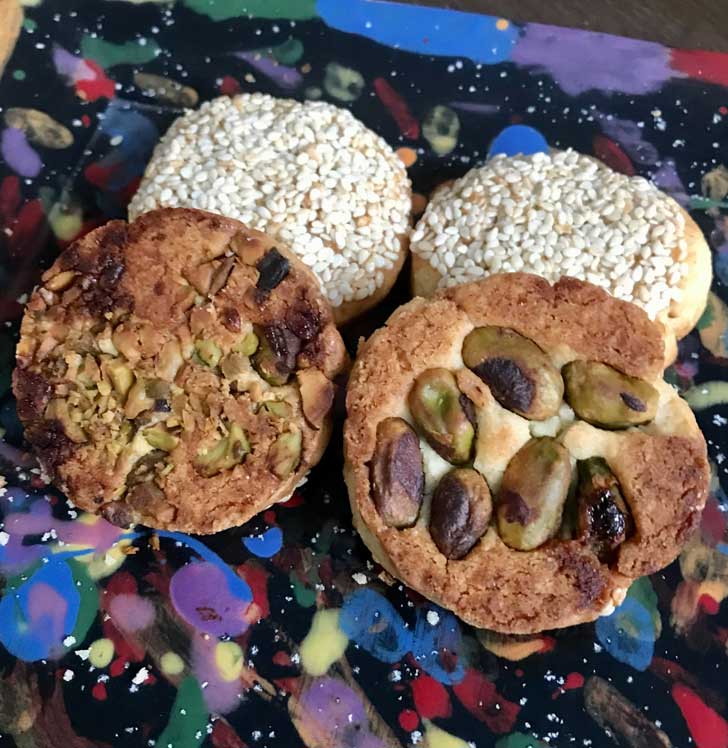 I've only made Barazel twice, but I plan on finding similar recipes and learning more about the cookies and their origin. I also need to try more sesame cookies recipes.
A Few Ingredient Notes
I used weights for the flour and sugar, so the volume amounts are approximate.
Semolina — Wegman's sells Caputo brand, so that's what I used. It might be a little finer than other brands because each cups weighed 180 grams. So depending on brands and how it's been stored, you might get a different weight per volume.
Ghee — Made it in the microwave. Did you know you can make ghee and brown butter in the microwave? I just learned this and have been doing it a lot lately in small amounts. I
Sesame Seeds — Ziyad brand. They are also the source of the recipe, so thanks to whoever had the idea to put it on the bag.
Pistachios — I used some shelled, roasted kernels from Aldi. Use whatever pistachios you like and how many you like. 1 cup is just a rough estimate. Mine were also lightly salted, which was fine since there's not a lot of salt in the dough.
Recipe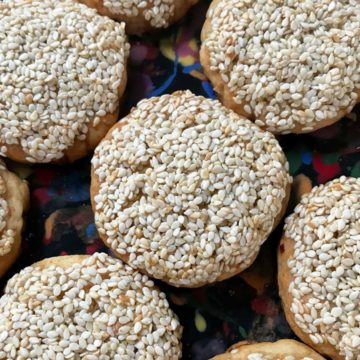 Barazek "Sesame Cookies"
Sesame seeds on one side, pistachios on the other. This recipe makes 3 dozen cookies. If you want to make them for a festival or as gifts, you can double it.
Ingredients 
3/4

cup

plus 2 tablespoons all-purpose flour

(115 grams)

1

cup

semolina flour (Caputo brand)

Mine weighed about (180 grams)

1 1/2

teaspoons

baking powder

1/4

teaspoon

salt (my addition, you can leave it out if you want)

5

ounces

ghee

(140 grams)

6

tablespoons

sugar

(75 grams)

1

large

egg

(100 grams)

2-3

tablespoons

warm whole milk

1

cup

sesame seeds

(140 grams)

3

tablespoons

honey

(60 grams)

1

cup

shelled pistachios, chopped (amount is approximate)
Instructions 
Preheat oven to 375 degrees F.

Mix together the flour, semolina, baking powder and salt and set aside.

With an electric mixer, beat the ghee, sugar and egg all together until creamy.

Add the flour mixture to the ghee mixture and stir until blended, then add milk 1/2 tablespoon at a time until you have a soft and pliant dough.

Using a level tablespoon, scoop dough and shape into smooth walnut size balls, then press and flatten into 2 inch rounds.

Spread the chopped (or whole) pistachios on a flat surface and press the bottom of each round into the pistachios. Another way you can do it is to roll the dough into balls, set each ball over some pistachios, and press the rounds down into the pistachios so that they stick.Place rounds 12 to a cookie sheet, pistachio side down.

Warm the honey in the microwave for about 10 seconds, then mix it with the sesame seeds. Spoon about a teaspoon of the sesame seed mixture on top of each cookie. Once you've topped all the cookies, go back and tap down the sesame seeds to coat the dough. You can do this with a damp finger or the back of a spoon.

Bake one or two sheets at a time at 375 degrees for 15 minutes. Let cool completely.