This pie is a family favorite, yet there are so many variations I'm not sure I've ever made it the same way twice. This version, our special Labor Day Weekend dessert, calls for cream cheese, pineapple and whipped cream. It's also a little different in that it uses a baked pastry crust instead of graham.
There's something to be said for how graham crackers complement the flavors in this pie, but the pastry crust worked quite well too and I liked the slightly less sweet contrast. So use whatever pie shell you like, but make sure it's deep enough to hold all the filling. This recipe makes enough to fill two small graham crusts (like the little store bought ones), or one deep dish 9 or 10 inch crust, in which case you'll be piling that shell pretty high.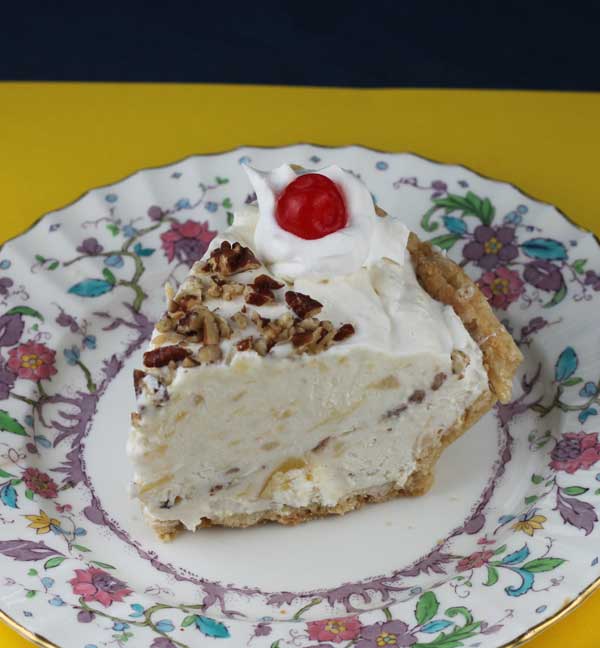 Another difference between this pie and the ones I've made in the past is that this one is frozen. Freezing it means you have to let it thaw a bit before serving, but in my opinion it's worth it because frozen pies slice neater and slices can be wrapped individually and stored in the freezer for weeks. If you're feeding a crowd over the weekend that's probably a non-issue, but if you'd like to make a pie for a small family who doesn't want to be stuck eating pie for a week, freezing is a great alternative.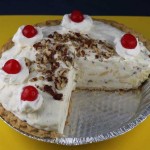 Print Recipe
Frozen Millionaire Pie
Frozen pie made with condensed milk, whipping cream, pineapples and cream cheese.
Ingredients
1 9 to 9 ½

inch

deep dish pastry crust or a deep dish 9 or 10 inch homemade graham cracker crust

1 1/3

cups

heavy whipping cream

1/3

cup

powdered sugar

1 1/2

teaspoons

vanilla extract

8

oz

cream cheese

softened

20

ounce

can of crushed pineapple

drained and pressed dry

1

14 oz can of condensed milk

1

cup

toasted and chopped pecans

Cherries

pecans and extra whipped cream for garnish (optional)
Instructions
Prepare the pie shell as directed on the package so that it is fully baked. Let it cool completely.

In a mixing bowl, beat the heavy whipping cream until soft peaks form. Beat in the powdered sugar and vanilla and stop whipping when peaks are stiff.

In a second bowl, beat the cream cheese until soft; beat in the condensed milk. Stir in the pineapple, then fold in the sweetened whipped cream and pecans (or leave out the pecans and sprinkle them on top only). Pile as much filling as you can into the deep dish crust – most of it should fit if you're using a deep dish 9 inch or 10 inch pie plate. If the filling is runny, just fit as much in as you can. It will firm up in the freezer.

Put the pie in the freezer and freeze for several hours or until it is firm enough to cut neatly. Shortly before serving, removing the pie from the freezer, cut and plate. Let the cut pieces come to room temperature before serving. Alternatively, you can cut the pie into pieces, wrap them individually in plastic and put the wrapped pieces in a freezer bag. The cut pieces will last for 2 or 3 weeks (maybe longer) and only need a few minutes to thaw.