It seems I have too many recipes for Millionaire Pie, but Frozen Millionaire Pie is the recipe I keep coming back to. This version, our special Labor Day Weekend dessert, calls for cream cheese, pineapple and whipped cream. It's also a little different in that it is frozen.
Freezing Millionaire Pie means you have to let it thaw a bit before serving. But in my opinion, it's worth it. For one thing, frozen pies slice neatly and slices can be wrapped individually and stored in the freezer for weeks. If you're feeding a crowd over the weekend that's probably a non-issue. If you are a family of 2 or 3, it might be -- especially since this recipe makes two pies!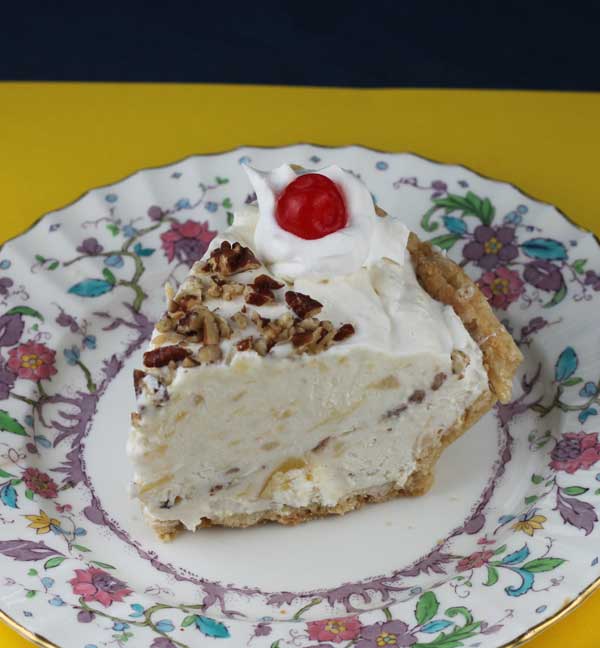 Frozen Millionaire Pie Whole or Half Batch
Frozen Millionaire Pie is best suited for two small pie crust (8 or 9 inch shallow), but you can also use 1 large deep dish shell.  If you use the deep dish shell you may have some filling leftover.  Because we are a small  family, I almost always halve the recipe and prepare in a shallow pie pan. We end up with a half a block of cream cheese and a half can of condensed milk, but using those things is not really a problem.
Some Updates
I've changed the recipe a little bit. Instead of whipping fresh cream, I just use Cool Whip in the filling and on the top. You can still whip the equivalent amount of cream if you prefer OR use Cool Whip in the filling and then put freshly whipped and sweetened cream on the top.
Recipe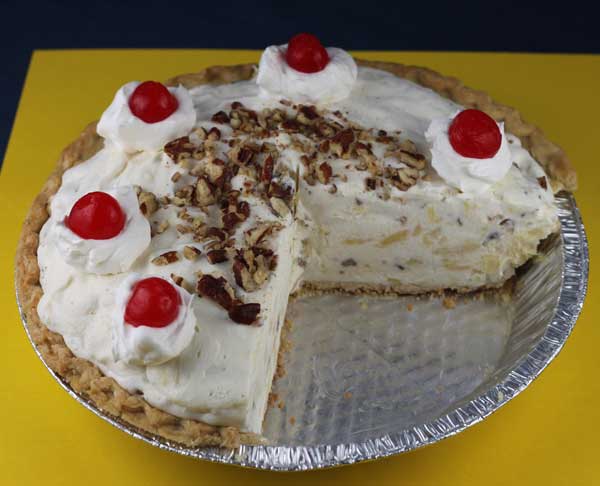 Frozen Millionaire Pie
Frozen pie made with condensed milk, whipping cream, pineapples and cream cheese.
Ingredients 
2

8 or 9

inch graham or pastry crusts, prepared

or 1 large deep dish

8

oz

cream cheese, softened

1

14 oz

can of condensed milk

½

teaspoon

vanilla extract

optional

20

ounce

can of crushed pineapple

drained and pressed dry

1 ½

8 oz

tubs Cool Whip

(or a 12 oz)

1

cup

toasted and chopped pecans

Cherries

pecans and extra whipped cream for garnish (optional)
Instructions 
Prepare the pie shell as directed on the package so that it is fully baked. Let it cool completely.

In a mixing bowl, beat the cream cheese until soft. Beat in the condensed milk and the vanilla, then fold in the well drained pineapple and 1 tub (8 oz) of Cool Whip

Divide the mixture between the two pie shells. Drain and rinse your Maraschino or sour cherries and poke them into the cream (doing this prevents the filling from turning pink. You can use as many cherries as you want or leave them out completely.

Cover the pies with plastic wrap and freeze until firm. When slightly firm, Spread remaining Cool Whip (half tub) over the firmed up filling. Sprinkle with pecans and dot with more cherries. Return to the freezer until ready to serve.

Shortly before serving, remove the pie from the freezer and let sit and room temperature until ready to serve. Depending on the situation, you might want to cut the pie while it's still frozen, plate the frozen pieces and let them sit at room temperature or in the refrigerator until it is time for dessert.

Alternatively, you can cut the pie into pieces, wrap them individually in plastic and put the wrapped pieces in a freezer bag. The cut pieces will last for 2 or 3 weeks (maybe longer) and only need a few minutes to thaw.
Notes
Basic Graham Cracker Crust:  1 ½ cups ground graham crackers, ⅓ cup sugar, 6 tablespoons melted unsalted butter, ⅛ to ¼ teaspoon of salt (omit if using salted butter).  Mix all ingredients, press into shallow pie dish, bake at 375 for about 5 or 6 minutes.