I love crunchy gingersnaps but tend to jump from recipe to recipe, and many end up being chewy. Today, rather than try a new gingersnaps recipe, I made one of my old favorites but with a few changes.
Jump to Recipe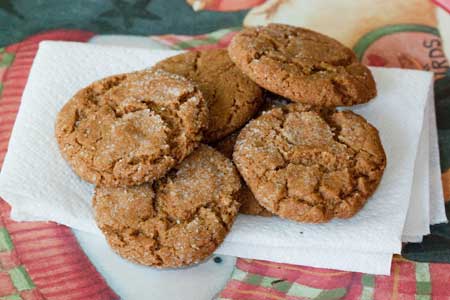 English Gingersnaps #2
My favorite gingersnaps recipe is based on "English Gingersnaps #2" in Maida Heatter's Book of Great Cookies
. I always use more ginger and I sometimes swap out some of the butter for shortening. However, tipped off by a magazine article saying browned butter could make gingersnaps crisper and crunchier, I made a new batch using that. The browned butter gingersnaps were nice and crunchy.  And as a bonus, I didn't have to pull out the electric mixer!
This is a relatively small batch recipe and should give you just about 32 gingersnaps.
Crunchy Gingersnaps Update -- Flour Type
I made a batch recently with bleached flour and the cookies came out chewy rather than crunchy. To be safe, use unbleached (preferably King Arthur) flour for these cookies.
Help! My Gingersnaps Aren't Crunchy Enough
Gingersnaps are supposed to be crunchy, but sometimes things go awry. For instance, today I made the cookies with bleached flour and they came out chewy. Given the situation, I'm sharing a few things to do to help get the level of crunchiness you deserve! I used #3 and then went and bought some unbleached King Arthur flour.
#1. Follow the recipe and make sure not to use too much flour. Too much flour can make a cookie softer, as can reducing sugar. #2. If the cookies aren't crunchy enough, you can try baking at a lower temperature for a longer time. In this case, you'd reduce the temperature to 325F and try baking for 12 minutes. A lower temperature will help the cookies bake more evenly so you won't have crispy edges and soft centers. #3. If your cookies STILL aren't crunchy enough, let them cool then put them on a cookie sheet and bake at 250 for about 10 to 12 minutes. Turn off the oven and let them sit in the warm oven for another 10. #4. Still not happy with the level of crunchiness? Try a recipe with shortening.
More Cookies With Ginger
Recipe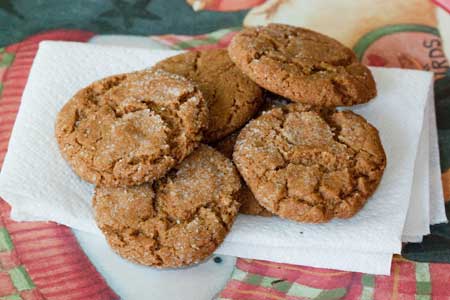 Crunchy Gingersnaps
Recipe for crunchy gingersnaps.
Ingredients 
6

tablespoons

unsalted butter

(84 grams)

1

cup

plus 2 tablespoons unbleached all-purpose flour

(134 grams)**

1

teaspoon

baking soda

¼

teaspoon

salt

1 ½

teaspoons

ground ground ginger

½

teaspoon

ground cinnamon

⅛

teaspoon

ground cloves

⅛

teaspoon

allspice

⅛

teaspoon

freshly ground black pepper

⅛

teaspoon

cayenne pepper

½

cup

firmly packed light brown sugar

(100 grams)

2

tablespoons

mild molasses

(40 grams)

2

tablespoons

lightly beaten egg

(24 grams)

¼

teaspoon

grated lemon zest

granulated sugar for rolling
Instructions 
Preheat oven to 350 F. Have ready two ungreased heavy duty baking sheets.

In a medium size saucepan, melt the butter over medium and continue cooking just until it starts to turn brown -- swirl often to keep it from burning. Remove from heat to cool slightly.

Meanwhile, thoroughly stir the flour, soda, salt, ginger, cinnamon, cloves, allspice, black pepper and cayenne together in a mixing bowl.

Add the brown sugar and stir well to make a uniform dry mixture.

Make a hole in the center of the flour mixture and add the egg, molasses and lemon zest. With a fork or a whisk, mix the egg and the molasses together in the little hole, then use a mixing spoon and stir them into the flour.

Add the melted browned butter and stir to make dough. It should be thick and kind of oily.

Using a rounded teaspoon, shape dough into small balls – you should get about 32 total, so be careful not to make them too big. Roll the balls in sugar, arrange on baking sheet spacing about 2 inches apart, and bake one sheet at a time for 8 to 10 minutes at 350F. Dough should spread and crack. When cookies appear done, remove from oven and transfer to a wire rack to cool.
Notes
If measuring by volume, spoon the flour into the cup, do not pack at all.