What happens when you eat egg white omelets for a week? Semifreddo! There's some irony in eating healthy egg whites and then making a 10 yolk dessert, but I couldn't toss the yolks, and this recipe for Chocolate Hazelnut Semifreddo was intriguing. It's originally from Wegmans, where they used it to promote their own brand of hazelnut spread, Hazel Nuttin'.
What is Semifreddo?
Semifreddo, which in Italian means "half cold" or "half frozen", is a frozen dessert made with eggs, cream, sugar and various flavorings. It's similar to gelato, but shaped in a mold and sliced. The texture is soft and velvety smooth -- almost like mousse but not quite as light. Or maybe that depends on the recipe. I can't recall ever having made semifreddo until now, and this was a very good starter recipe.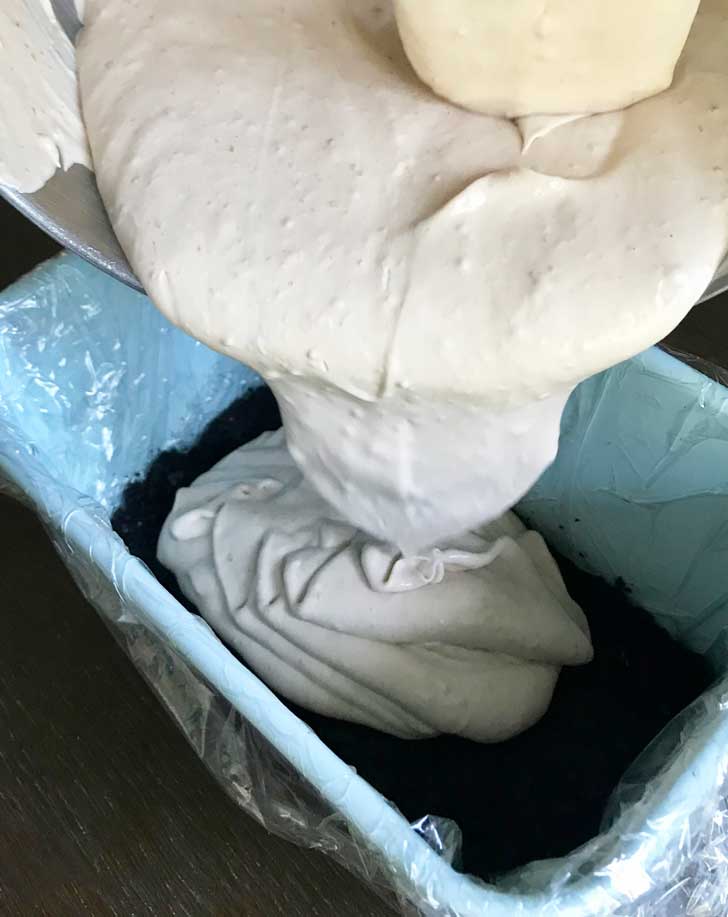 How to Make Chocolate Hazelnut Semifreddo
First, you'll need to make a simple crust by mixing cookie crumbs and butter and pressing it into the bottom of a plastic wrap lined loaf pan. You can use Famous Wafers or Oreos. I used Oreos.
Next, you'll need a lot of egg yolks! I'd been collecting yolks in a zipper bag and when I weighed them, I had exactly 180 grams. One you've got all your egg yolks, you mix them with sugar and a little vanilla in the top of a double boiler. You then boil and stir for 5 minutes or until the mixture reaches 160 degrees F., at which point you remove it from the heat and whisk in some hazelnut spread. Once cool, fold in some sweetened whipped cream and pour over the crust. You'll then need to freeze for about 24 hours before inverting.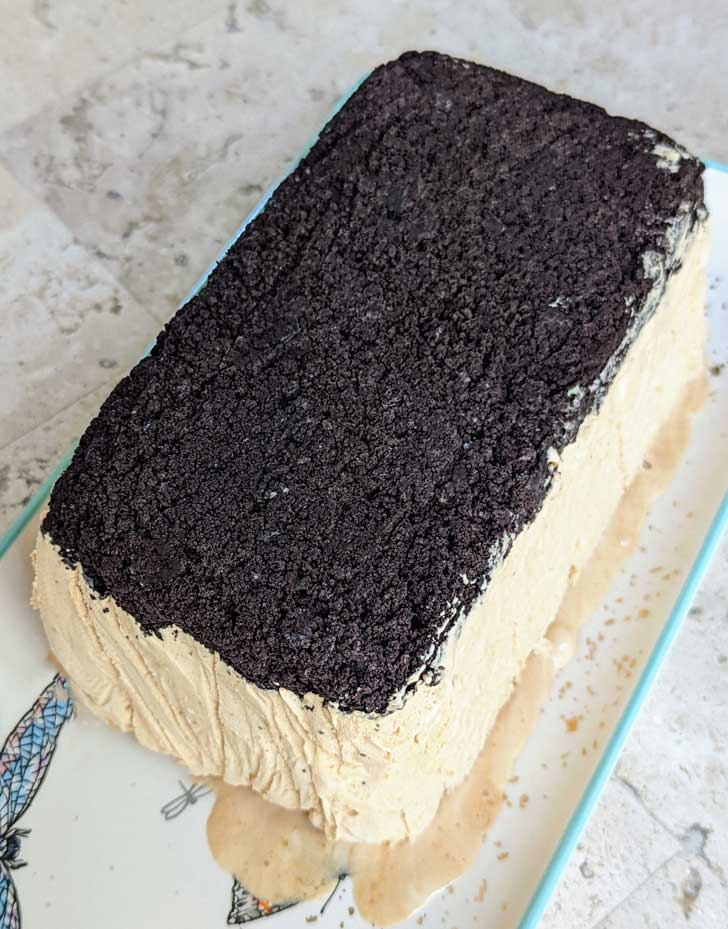 Some Parting Thoughts
If I keep eating egg whites at the rate I have been then I will probably try some more semifreddo recipes. This one was very good. The hazelnut flavor was detectable but not super strong. Adding a little Frangelico or hazelnut extract wouldn't hurt. For the crust I used Oreos (as mentioned) because it still pains me to pay $5 for Famous Wafers when Oreos are so much more fun and tasty. Lastly, this semifreddo melts quickly, so be sure to serve right away or return to the freezer right after slicing.
Recipe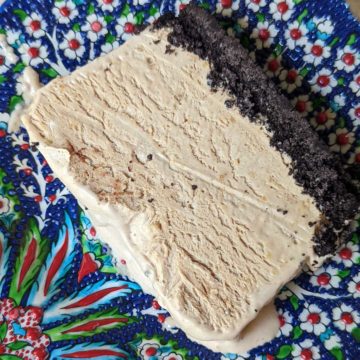 Chocolate Hazelnut Semifreddo
A rich frozen dessert made with egg yolks.
Ingredients 
15

Famous Wafers or equivalent Oreos (15 Oreos, reduce butter to 2 tablespoons)

I used Oreos

3

Tbsp

unsalted butter (use only 2 if using Oreos)

10

large

egg yolks

(180 grams)

¾

cup

granulated sugar, divided use

(150 grams)

1

tsp

vanilla extract

¼

cup

chocolate hazelnut spread

2

cups

heavy cream
Instructions 
Spray a loaf pan with nonstick cooking spray. Carefully line with plastic wrap, smoothing it the best you can.

Process cookies in a food processor. Combine crumbs and butter until thoroughly mixed. Press crumb mixture evenly in bottom of loaf pan and put in the freezer while you make the custard.

Put some water in the bottom part of a double boiler and bring to a simmer.

In the top of the double boiler, whisk together the egg yolks, ½ cup of the sugar and 1 teaspoon of vanilla. Place top of double boiler over bottom part with simmering water. Cook, whisking constantly, until egg mixture temp reaches 160 degrees. This should take about 5 minutes or so. The egg yolks will thicken somewhat and fall off the whisk in ribbons.

Remove from heat. Whisk in the hazelnut spread and let cool to room temperature. Whisk occassionally while cooling. You can let it cool in the refrigerator or use an ice bath.

In the bowl of a stand mixer, whip the heavy cream on medium until it starts to thicken. Increase speed and beat until soft peaks begin to form, then gradually add the remaining ¼ cup of sugar. Beat until stiff peaks form.

Whisk ¼ of whipped cream into yolk mixture, then gently fold in the rest until no white streaks remain. Scrape mixture to loaf pan. Tap it on counter to level, then cover top of pan with plastic wrap. Freeze at least 24 hours.

Remove from freezer just prior to serving. Slice and serve.