I've tried a lot of marshmallow recipes, but the Butter's Famous recipe tops them all. It's from Butter Baked Goods: Nostalgic Recipes From a Little Neighborhood Bakery
 by Rosie Daykin, owner of Butter Baked Goods in Vancouver.  The book has over 100 recipes including muffins, scones, cookies and cakes. However, it was Butter's Famous Marshmallows which sent me straight to the kitchen.
Jump to Recipe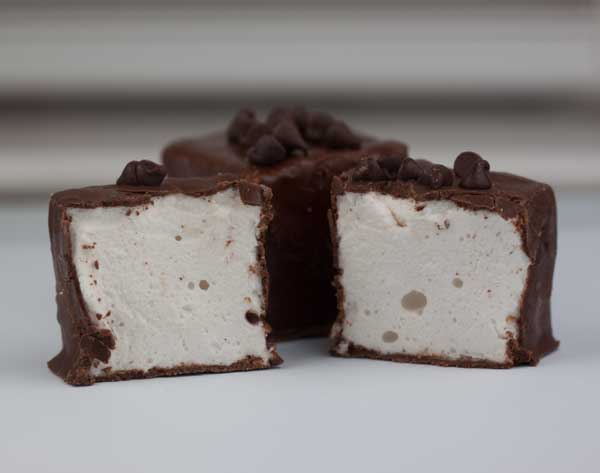 Homemade Marshmallows Without Egg Whites
What I've discovered through multiple marshmallow making adventures is that marshmallows without egg whites are a little firmer and seem to stay fresh longer. My favorite up until now has been the Epicurious recipe, but the Butter Baked Goods recipe is a tad bit fluffier. It has a different amount of corn syrup, more salt and a lot more vanilla. It's also a tad easier in that you don't need to bother with a candy thermometer or hunting down potato starch. These marshmallows are rolled in straight-up powdered sugar.
Flavoring Homemade Marshmallows
Whether you dip your marshmallows in chocolate or sandwich them between graham crackers is up to you too, but once you have 64 marshmallows to play with, you may find yourself getting a little creative. And then there's the issue of flavoring. Todd's been asking for a coconut variation, but I'm still working my way through marshmallows made with various brands of vanilla and seeing how different vanillas compare. Make sure you use a brand of vanilla you really like, because with two tablespoons you'll taste it. The vanilla flavor is a bit bold on Day 1, but after you cover the marshmallows in chocolate and let them sit for a while, it becomes more subtle.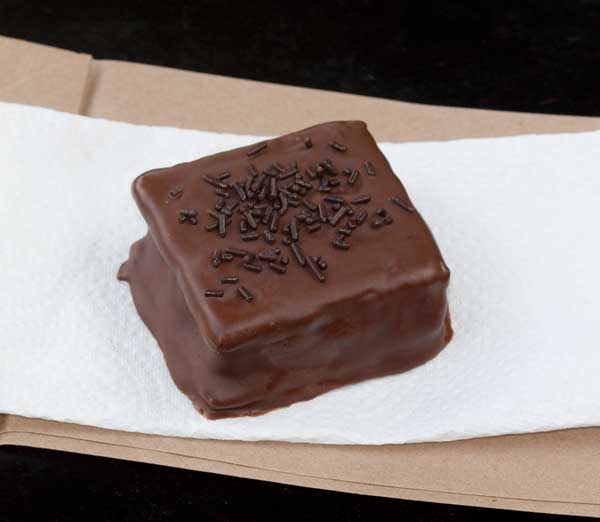 Pan Size
Another thing to keep in mind is if you plan on sandwiching the marshmallows between graham crackers, you might want to pour the mixture into a 9x13 inch pan so the marshmallows will be shorter in stature. Using a 9 inch square pan makes them big and bouncy and perfect for dipping or decorating, but for sandwiching you'll want a longer, thinner piece. Since my marshmallows were so tall, I had to cut them in half horizontally and squish them to fit the crackers. Next time I'll cut them precisely to fit the crackers.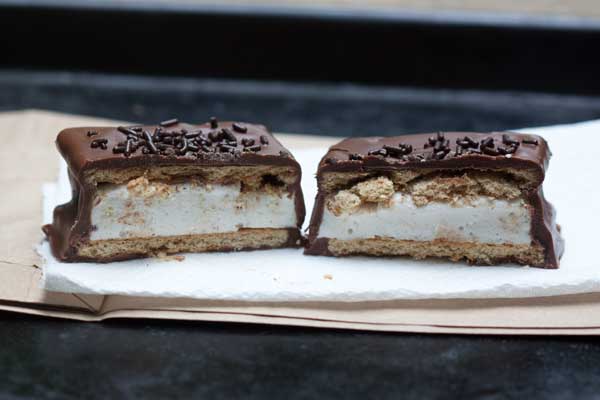 Small Batch Marshmallows
I love this recipe. I recently had a craving (and about a pack and a half of gelatin to use up), so I made a half batch and used a 9x5 inch loaf pan. The recipe worked perfectly. Since I was making the marshmallows in a new kitchen over a new stove, I decided to use a candy thermometer to determine the best time to take the sugar mixture off the stove. I removed it from the stove at about 238 degrees F. The amount of time given, 1 minute of a rolling boil, is about right.
Here's the recipe courtesy of Butter Baked Goods.
Recipe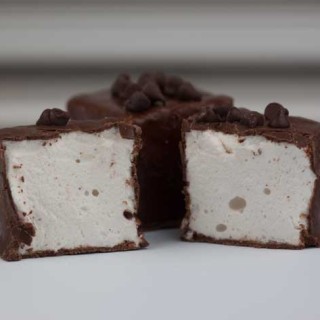 Butter's Famous Marshmallows
"If there is one item that really put Butter on the map, I would have to say it's our marshmallows. Back in 2007, when Butter first opened, the gourmet marshmallow was still a bit of a mystery. Most people didn't know there was a tasty alternative to store-bought marshmallows available. But word soon got out, people started talking, and my brain got ticking. Butter now makes 18 flavors of marshmallows, and I'm always coming up with new varieties—but Butter's Vanilla Marshmallows are the classic we opened our doors with." -- Rosie Daykin
Ingredients 
1

cup

water

3

envelopes

unflavored gelatin

(21 grams total)

2

cups

granulated sugar

(400 grams)

½

cup

light corn syrup

(should be around 160 grams)

½

teaspoon

teaspoon salt

2

tablespoons

pure vanilla

Generous amount of icing sugar to coat the marshmallows

about 2 cups
Instructions 
You will need a 9x9 inch pan, buttered (Note: a 9x13 inch pan will also work).

In a stand mixer fitted with a whisk attachment, pour in 1⁄2 cup of the water and sprinkle with the gelatin. Set aside to allow the gelatin to soak in.

In a medium saucepan over high heat, add the sugar, corn syrup, salt and remaining 1⁄2 cup of water. Bring to a rolling boil and continue to boil for 1 minute. Remove from the heat. If you want to use a candy thermometer, remove when mixture reaches 238 degrees F.

Turn the mixer to low and mix the gelatin once or twice to combine it with the water. Slowly add the hot sugar mixture, pouring it gently down the side of the bowl, and continue to mix on low. Be really careful at this point because the sugar mixture is smoking hot! It's not a job for little ones.

Turn the mixer to high and continue to whip for 10 to 12 minutes until the marshmallow batter almost triples in size and becomes very thick. Scrape down the sides of the bowl frequently to avoid the batter overflowing as it grows. Stop the mixer, add the vanilla, and then whip briefly to combine.

Transfer the mixture to the prepared baking pan and use a spatula or bench scraper to spread it evenly in the pan. Work quickly, as the marshmallow becomes more difficult to manipulate as it sets.

Grease a sheet of plastic wrap with butter and lay it across the top of the marshmallow. Press down firmly on the plastic wrap, to seal it smoothly and tightly against the mixture.

Leave the marshmallow to set at room temperature for at least 3 hours or overnight. The marshmallow will be too sticky and soft to cut if you try too soon.

Sprinkle a work surface or cutting board with the icing sugar. Run a knife along the top edge of the pan to loosen the marshmallow slab. Invert the pan and flip the marshmallow out onto the counter or board. Scoop up handfuls of the icing sugar and rub all over the marshmallow slab.

Use a large knife to cut the slab into 1- × 1-inch squares. Roll each of the freshly cut marshmallow squares in the remaining icing sugar to coat them completely. If you—and most of your kitchen—are speckled with marshmallow by the time you finish this recipe, fear not! It's mostly sugar, so a little hot water and elbow grease will have things as good as new in no time.
Notes
Marshmallow Variations
TOASTED COCONUT MARSHMALLOWS My personal favorite! Just substitute the 3 cups icing sugar with 3 cups unsweetened shredded coconut. To prepare the coconut: Preheat the oven to 325°F. Sprinkle the coconut onto a cookie sheet in one even layer and bake in the preheated oven for 15 minutes, until the coconut is a lovely golden brown, stirring every 5 minutes to make sure it toasts evenly. Remove from the oven and allow to cool. Follow Steps 8 and 9 to coat the marshmallows completely in toasted coconut.

RASPBERRY MARSHMALLOWS In a small saucepan over medium heat, warm 1⁄4 cup raspberry jam (any variety will do) until it becomes runny, about 3 minutes. Remove from the heat. Place a fine sieve over a small bowl and pour the warm jam through the sieve to catch any seeds and create a puree. Add the puree and one drop of red food coloring at Step 4 of the recipe.

MINT MARSHMALLOWS These are fantastic in hot chocolate! Add 1 teaspoon of mint extract and 1 drop of green food coloring at Step 4 of the recipe. Make sure you do this at the end of the whisking process—if you add it too early it prevents the marshmallow from achieving its proper volume.

COFFEE MARSHMALLOWS Add 1⁄2 cup of strongly brewed coffee or espresso instead of the water in Step 1, and add another 1⁄2 cup instead of the water in Step 2.

CINNAMON MARSHMALLOWS Another yummy option for your hot chocolate or, even better, melted on top of your sweet potatoes at Thanksgiving. Add 2 teaspoons of ground cinnamon at Step 4.

From Butter Baked Goods: Nostalgic Recipes From a Little Neighborhood Bakery