A few months ago I made Tapioca Flour Brownies and honestly felt like those brownies were better than some wheat flour based brownies. I'm looking forward to making them again, but first I wanted to try Cassava Flour Brownies to see how they compare since cassava and tapioca flour are related.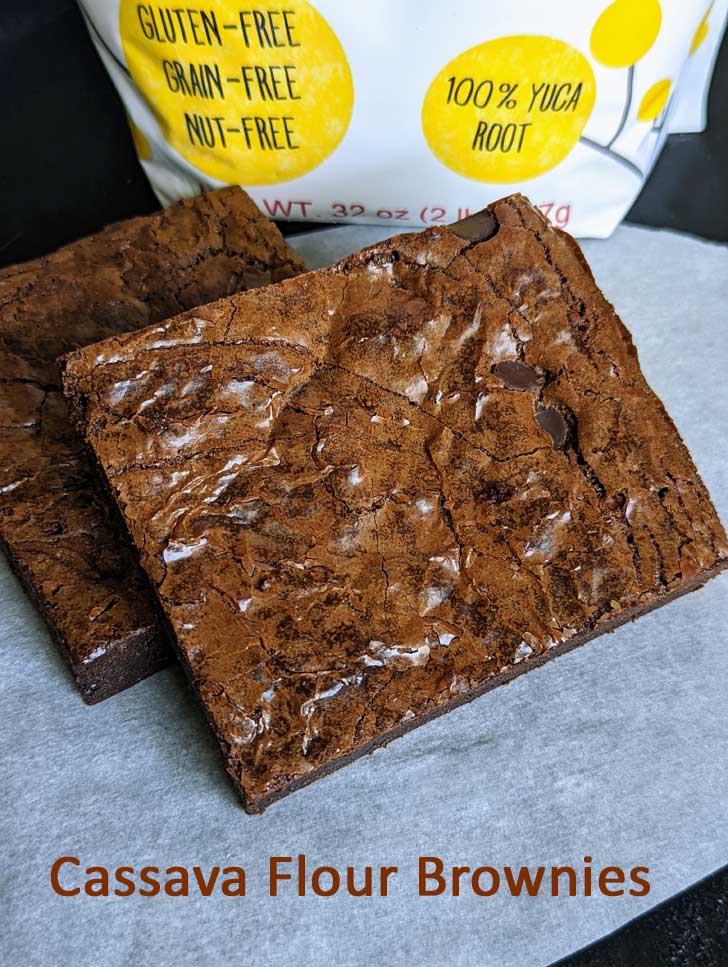 Cassava Flour vs. Tapioca Flour
There are key differences between cassava flour and tapioca flour. Cassava flour is made with the root of the cassava plant, also known as yuca. Tapioca also comes from the cassava root (yuca), but tapioca is extracted starch. Cassava flour has more fiber, a different flavor and behaves more like wheat flour in recipes. Tapioca is also good for baking and cooking, but more often it's used as a thickener. So in many recipes you can use cassava flour as a 1:1 substitute for wheat flour, but tapioca flour (also called tapioca starch) is usually part of a blend. But not always! Case in point, the Tapioca Brownies.
So knowing that cassava flour functions more like wheat flour, it's safe to say you can make these browies with wheat flour or any 1:1 blend. However, it's worth trying the cassava version.
Coconut Sugar vs. Granulated Sugar
Like brown sugar, coconut sugar can vary a by weigh due to moisture levels. I've been using Trader Joe's brand coconut sugar, which is on the dryer side and weighs 140 grams per cup -- so much less that granulated sugar, which weighs around 200 grams per cup. So if you decided to substitute granulated sugar, you may want to use less -- maybe ¾ cup. I plan on trying that and will update. I also think 140 grams worth of mixed brown and granulated would work well.
Recipe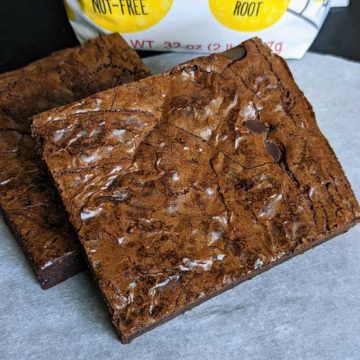 Cassava Flour Brownies
Easy saucepan brownie recipe using chocolate chips.
Ingredients 
5

tablespoons

unsalted butter, cut into chunks

(70 grams)

1

cup

semisweet chocolate chips

(170 grams)

2

tablespoons

unsweetened cocoa powder, natural

(10-12 grams)

1

cup

coconut sugar (see note about substituting granuled)

2

large

eggs

1

teaspoon

vanilla extract

¼

teaspoon

salt

¼

cup

cassava flour or a gluten-free blend without xanthan gum or all-purpose flour

⅓

cup

more chocolate chips or chocolate pieces
Instructions 
Preheat oven to 350 degrees F. Line an 8 inch square metal pan with foil and grease the bottom only.

Melt the butter in a large saucepan set over medium heat. Reduce heat to low, add chocolate chips and stir until melted, then stir in the cocoa powder. Stir until smooth, then stir in ½ cup of the sugar. Stir just until mixture is shiny, then remove from heat. Let cool for 3 minutes.

Whisk in the cold eggs, one at a time, then whisk in the remaining sugar, vanilla and salt.

Transfer mixture (it will be very thick) to the pan and spread evenly. Bake in a 350 degree oven for 30 to 35 minutes (but check at 25).

Allow the brownies to cool completely, then lift from the pan and cut into squares.
Notes
I have not tested this recipe with granulated sugar, but I plan to.  The coconut sugar was good, but it does have a distinct flavor.  Coconut sugar weighs less that granulated sugar volume-wise (140 grams per cup vs. 200 grams per cup), so if using granulated it might be best to substitute with 140 grams, which would be around ¾ cup.