Fall is on the way. Can you smell the sweet potatoes? I can, but it's because I've been making loaf after loaf of this light and fluffy Sweet Potato Yeast Bread. Or is it Sweet Potato Sandwich Bread? I'm not sure what to call it, but it is not to be confused with Sweet Potato Quick Bread. It works in a Pullman or a 9x5 inch loaf pan.
Jump to Recipe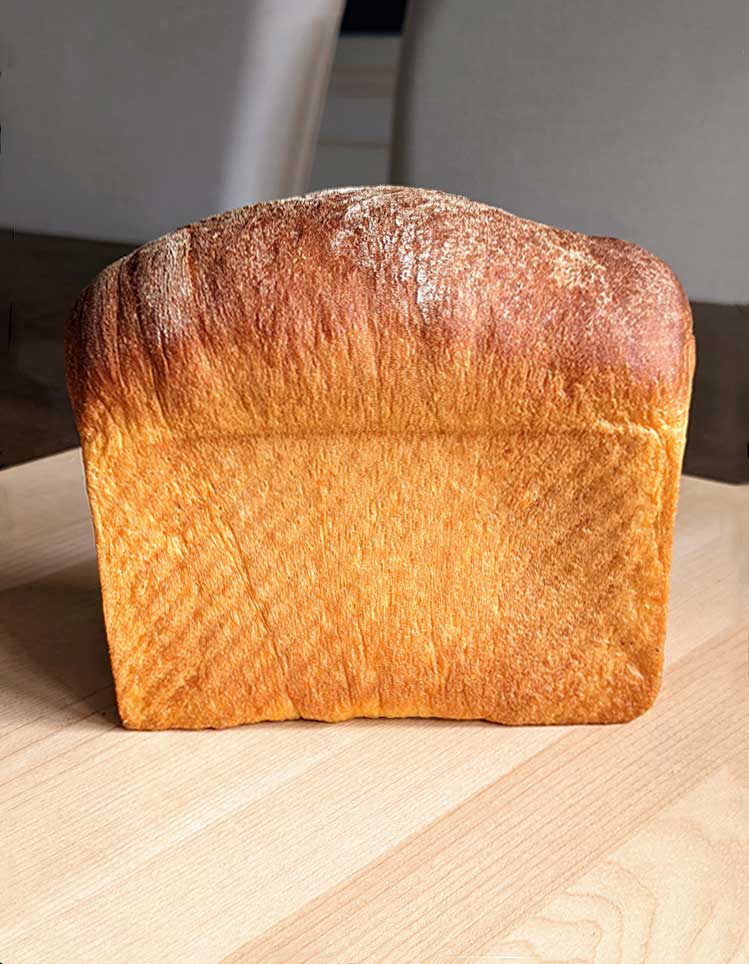 Sweet Potato Yeast Bread Texture & Flavor
This is a light and fluffy textured, not-too-sweet loaf with some sweet potato flavor. It is not a spice bread. There's ginger in the dough, but I put that there to boost the yeast, and it doesn't impart much if any flavor. This bread is good for peanut butter sandwiches, BLTs, turkey sandwiches, toast with peanut butter or anything else. It would make awesome French toast and should also work for a sweet potato bread pudding or maybe even Sweet Potato Tres Leches Bread Pudding.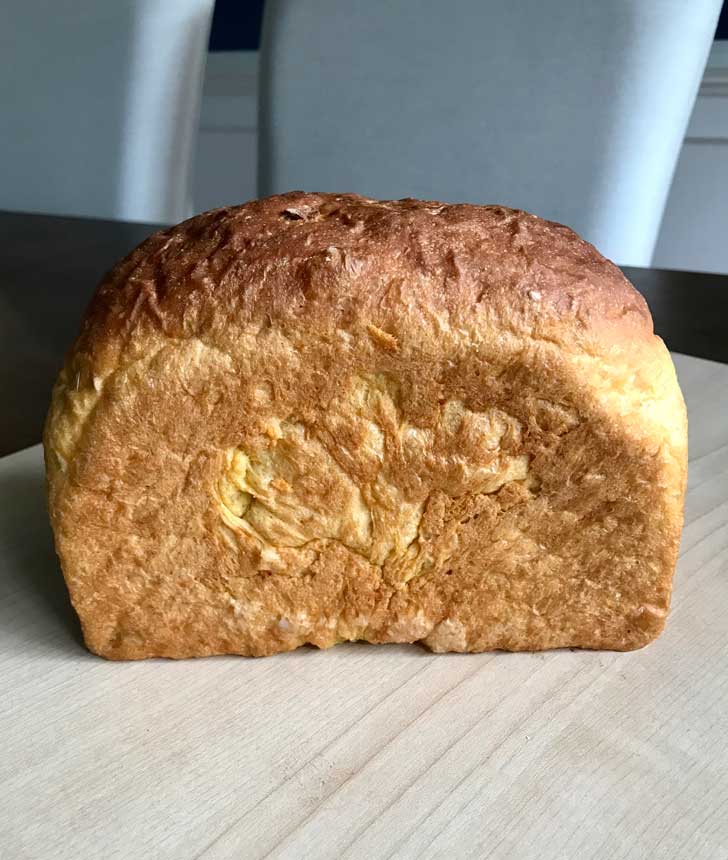 Pullman Pan or a Large Loaf Pan
I waited a long time to buy my now very much loved Pullman pan. I don't care for the little holes in the bottom and have been covering them up (and baking on a rimmed baking sheet so that grease won't drip out) but I do appreciate the tall sides, which help loaves rise high. Usually Pullman pans are identified by their lids. This one does have a lid which I intend to use at some point, but the main benefit to me are the dimensions. The bottom measures about 4 by 7 inches, and the sides are about 4 ¼ inches high. The capacity of my Pullman is 1 pound, so a 1 ½ pound loaf like this one climbs high over the edge. My next experiment with the bread is to put 1 pound of dough in the pan and give the lid a spin.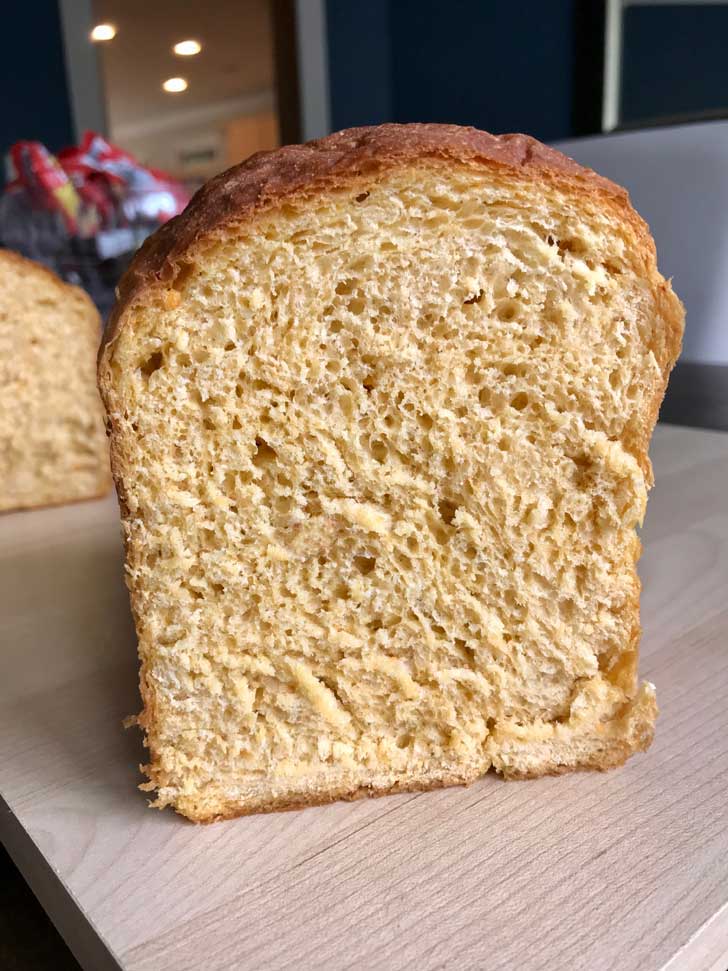 Sweet Potato for Bread - Roasted or Boiled
You can make the bread with roasted sweet potato or boiled. Microwaved or roasted sweet potato absorbs more water, giving you a thicker dough and sturdier bread. Boiled sweet potato gives you a lighter, softer dough and a very high rising bread with a texture almost like challah. For sandwiches and flavor, we preferred the roasted potato dough. Here are the two ways I prepared the sweet potato. I made the roasted version twice and the boiled version once. The picture shows the texture of the roasted potato. You can see that it's a little on the dryer side.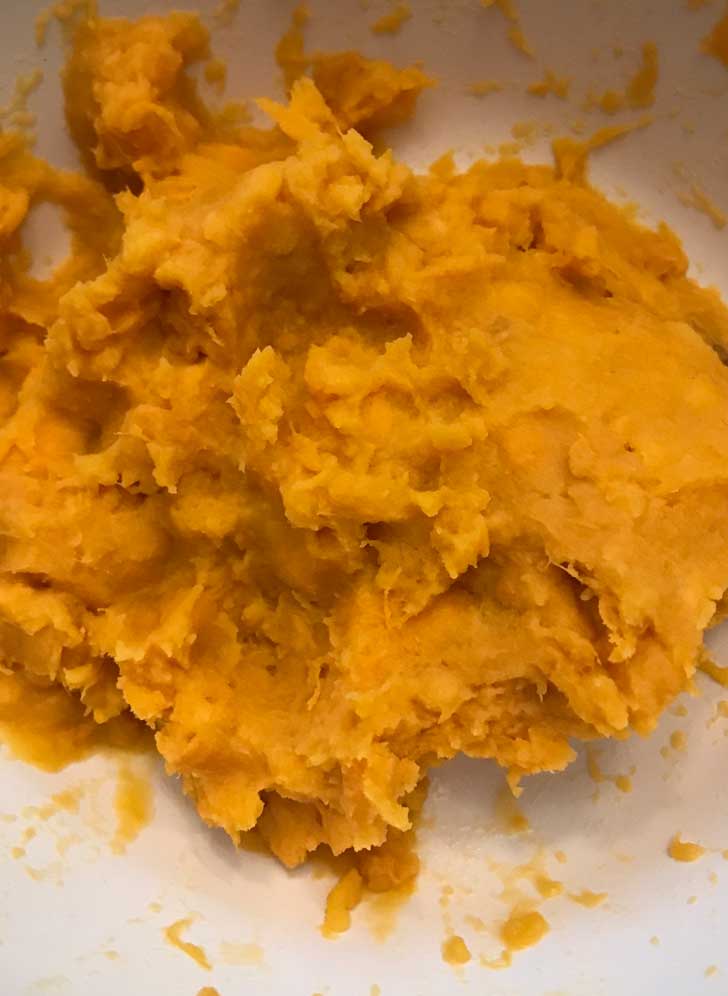 Microwave Roasted Potato: Start with a whole sweet potato that weighs around 270 grams. Microwave for 4 to 5 minutes (depending on the strength of your microwave). Let cool slightly. Scoop out about 140 grams for cooked and slightly dry-ish sweet potato. I also slow roasted a potato and it was slightly less dry.
Boiled Sweet Potato: Peel a large sweet potato and cut into 1 inch chunks. You should have 200 grams peeled and trimmed. Put in boiling water and boil for about 20 minutes. Weigh out 160 grams and mash. Using this potato will give you a softer dough that may require even more flour. Using AP flour will also give you a softer loaf that may require more water.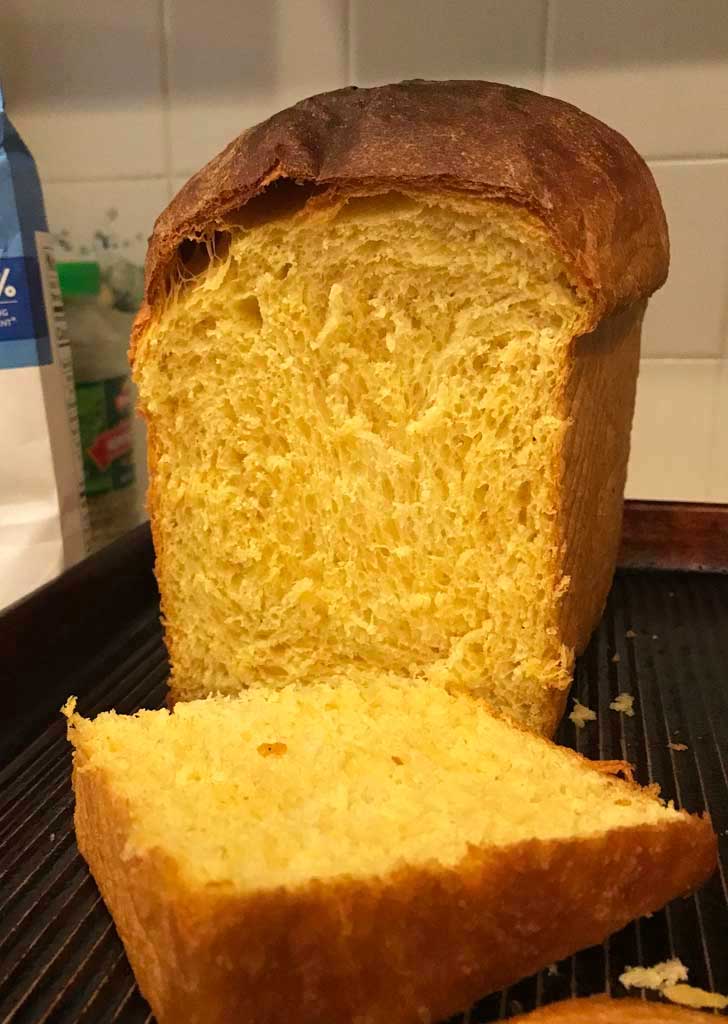 Dough Before Rising
This is the dough made with the roasted potato. I was worried it was too dry, but it wasn't. The boiled potato version was a lot softer than this and the bread was lighter.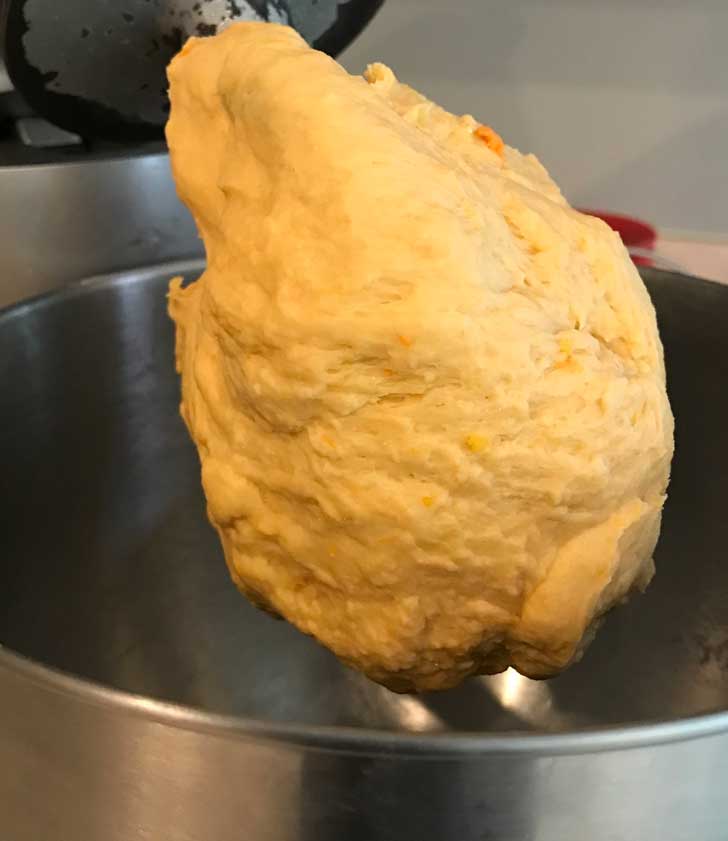 Risen Sweet Potato Dough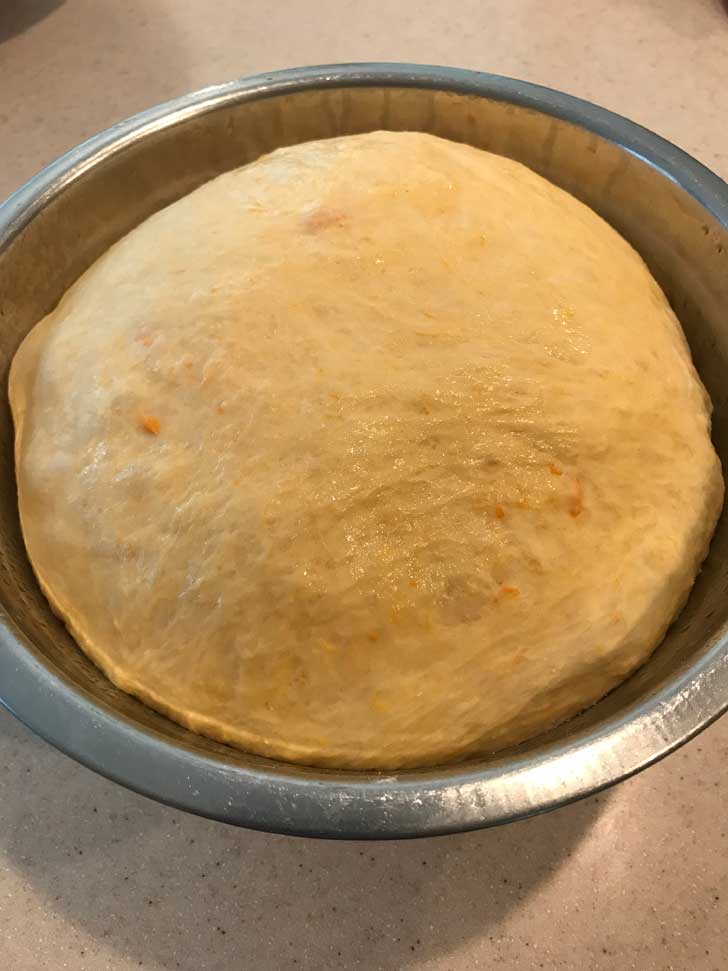 Here it is 35 minutes after I punched it down and put it in the Pullman. Platinum works fast! However, I'm looking forward to making another loaf with my usual SAF yeast. I have not yet tested this with regular active dry, just Platinum.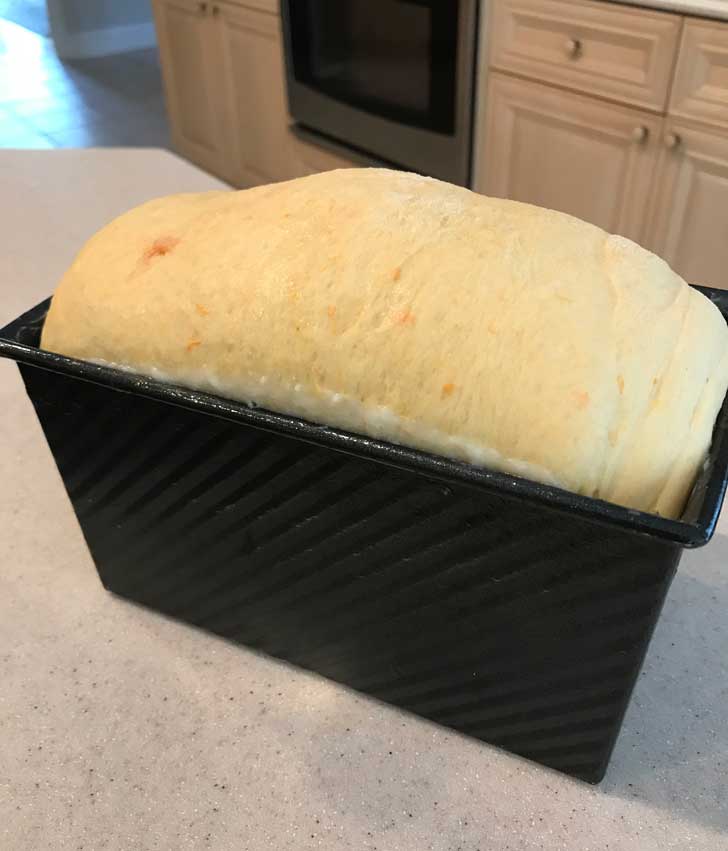 Dry Milk Powder
We mainly use milk for baking, so I keep a canister of Carnation powdered milk in the refrigerator. It never goes sour and really comes in handy when you need small amounts of milk. This recipe calls for just 1 tablespoon of powdered milk. I've only tested with powdered milk and recommend buying some, but you could also try using milk instead of water. A tablespoon of powdered milk is equivalent to only ¼ cup of milk, so you could do a mixture of milk and water or you could try using a full ½ cup of milk. It shouldn't hurt.
Sweet Potato Yeast Bread Ingredient Notes
If you do a lot of baking, you know that yeast bread takes practice and that you have to really go by feel sometimes. This recipe is no exception, though I've tested it three times and my measurements (weights) worked every time in my kitchen. If you have to add water or flour, go ahead. Hopefully these notes will help.
Sweet Potato or Yam -- You can microwave the potato, roast it in the oven or boil it. If roasting, it will be dry and you'll only need about 140 grams. If boiled, it will be softer and mushier and you'll use 160 grams.
Bread Flour -- This dough needs the extra protein in the bread flour so it can form enough gluten. If you substitute all-purpose, the bread may collapse and/or the dough will be very soft and you'll need to keep adding more flour. I recommend bread flour.
Sugar -- Granulated. I didn't use brown sugar because I wanted a clean flavor -- not a brown sugar and spice flavor. Maybe next time! I think King Arthur's site has one that is more breakfast-y with spices and such.
Ginger -- You can leave it out, but a pinch of ginger is supposed to enhance the activity of the yeast.
Platinum Yeast -- I've only tested with Platinum. Next time I'll try with my usual SAF instant, but the Platinum works really well.
Water -- Make sure the water is somewhere between 125 and 130 degrees in order to activate the yeast that you mixed in with the flour mixture. If you'd rather proof the yeast separately, only heat the water to about 105 degrees F.
Egg -- Make sure it is not cold. To bring an egg to room temperature quickly, you can submerge it in some very warm water.
Coconut Oil -- Other types of oil should work, but the coconut oil helps keep the bread soft. I'll report back once I test with butter or another type of oil. Also, I like to add the oil last, after all the ingredients are just about fully mixed. It probably doesn't matter, but I'm in the habit of adding it last. The trick is not to forget it!
Loaf Pan Size -- I used my Pullman, but a 9x5 inch lstandard loaf pan should work just fine. My go-to pan is my 8 ½ by 4 ½ inch pan, but this recipe would be too large for that, so if using the 8 ½ by 4 ½ inch you'd have to put extra dough in a custard cup or mini loaf pan.
Recipe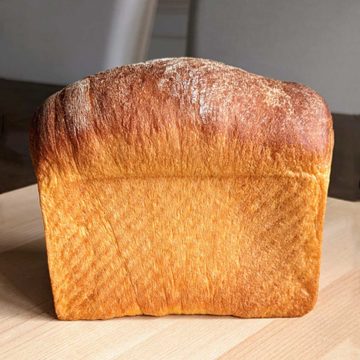 Sweet Potato Bread with Yeast
This recipe makes a loaf a little over a pound and a half.
Ingredients 
2 ¾

cups

King Arthur bread flour (390 grams)

or all-purpose (check this)

2

tablespoons

sugar

1 ¼

teaspoons

salt

⅛

teaspoon

ground ginger

2 ¼

teaspoons

quick rising yeast (Platinum)

1

tablespoon

dry milk powder

1

large

egg

(50 grams)

⅔

cup

roasted sweet potato, cooled and mashed

(140-160 grams)**

½

cup

water (125 to 130 degrees)

1

tablespoon

melted or very soft coconut oil
Instructions 
Mix 390 grams of bread flour (which should be around 2 ¾ cup), sugar, salt, ginger, yeast and milk powder in a bowl and set aside.

Put the mashed sweet potato and egg in the bowl of a stand mixer and mix them together with paddle attachment. Remove mixer from stand. Dump in the flour mixture. then pour the 4 oz of the warm water over the flour mixture. Return to mixer stand and using the paddle attachment, begin stirring everything together.

As the paddle is stirring, add the coconut oil. The batter should turn to a thick, clumpy, Play-Doh like consistency. The paddle won't be able to handle it very well since it's so thick, so you'll need to switch to the dough hook. At this point you could also probably knead by hand (if you don't have a dough hook).

Switch to the dough hook and knead until dough become more cohesive. It should cling to the hook and be thick, but kind of lumpy. If it is not clinging to the hook, but sticking to the side of the bowl (not likely unless you used boiled potato or all-purpose flour rather than bread), scrape it into the center of the bowl and dust sides of bowl with 1 tablespoon of extra flour. Begin kneading again. Continue adding flour 1 tablespoon at a time and kneading until the dough clings to the hook and sticks just to the bottom of the bowl. Again, the extra flour should not be necessary if you used roasted sweet potato and bread flour.

Put the dough in a greased bowl and roll it around so it's just a little bit slick. It should hold the ball shape and not spread at all this point. Cover with greased plastic wrap and set in a warm place for 1 hour or until doubled..

Turn dough out onto a pastry mat and press into a large rectangle. Roll downward, tucking in corners and then center, and forming into a cylinder, pressing out excess air as you go. Shape into a loaf and set in a greased 9x5 inch loaf pan or a Pullman pan.

Cover the pan with a piece of greased plastic wrap and let rise until it comes up an inch or so over the pan, about 35-45 minutes. Toward the end of the rising time, preheat the oven to 400°F. You are going to bake the bread at 400 for 10 minutes, then drop the heat to 350 and bake for another 25.

So after 10 minutes at 400, reduce the heat to 350 degrees F.

Bake at 350 for another 25 minutes, or until its crust is a deep golden brown, and a digital thermometer inserted into the center registers about 200°F.

Remove the bread from the oven and set the loaf pan on a rack to cool for about 5 minutes. Turn it out onto the rack to cool. Let cool completely before slicing (if you can!). It's also easier to slice while cold.
Notes
Sweet potato can vary when it comes to moisture.  If using fairly dry roasted or microwaved sweet potato, you'll only need 140 to 150 grams.  If using boiled and mashed sweet potato, use 160 grams.