If you're in the mood for pound cake and want to try something new, here's a recipe that's a little different. First, it's made in a food processor so it bypasses the step of creaming the butter and sugar and gradually adding the eggs. Second, it's baked in a Pullman loaf pan, which based on my experience seems to help give the cake a nicely rounded top.
Jump to Recipe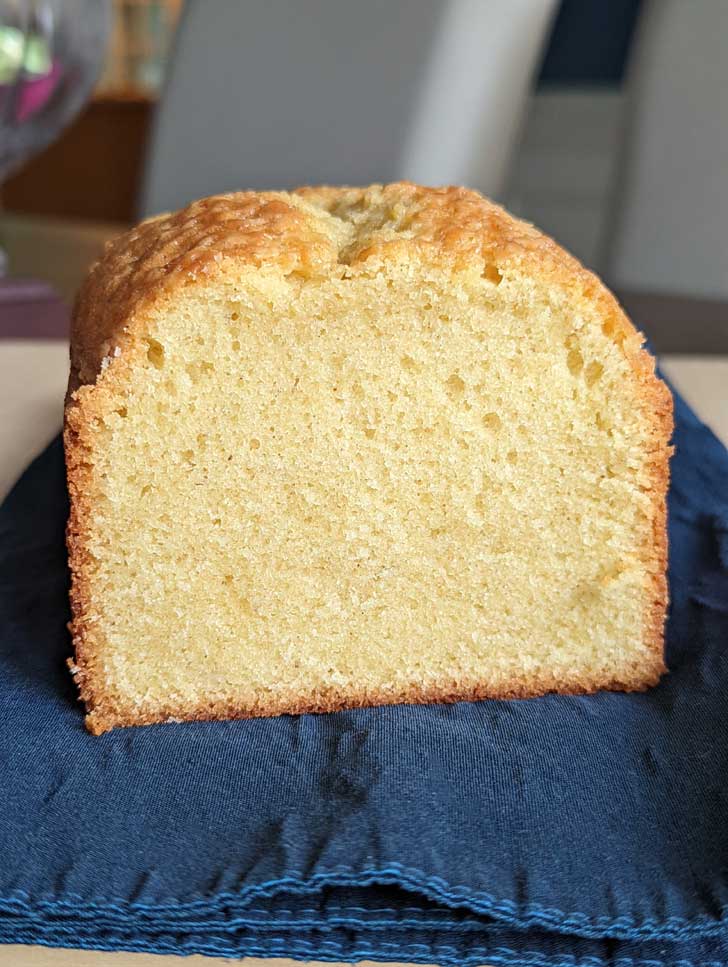 Ina's Cake
The recipe is from Ina Pinkney, but comes by way of Shirley Corriher who visited Ina's restaurant years ago, fell in love with the cake and shared the recipe. I happened to stumble upon it while looking for ways to use my new Pullman loaf pan. I'd already made a couple of pound cakes in the food processor, but using the Pullman pan was an adventure!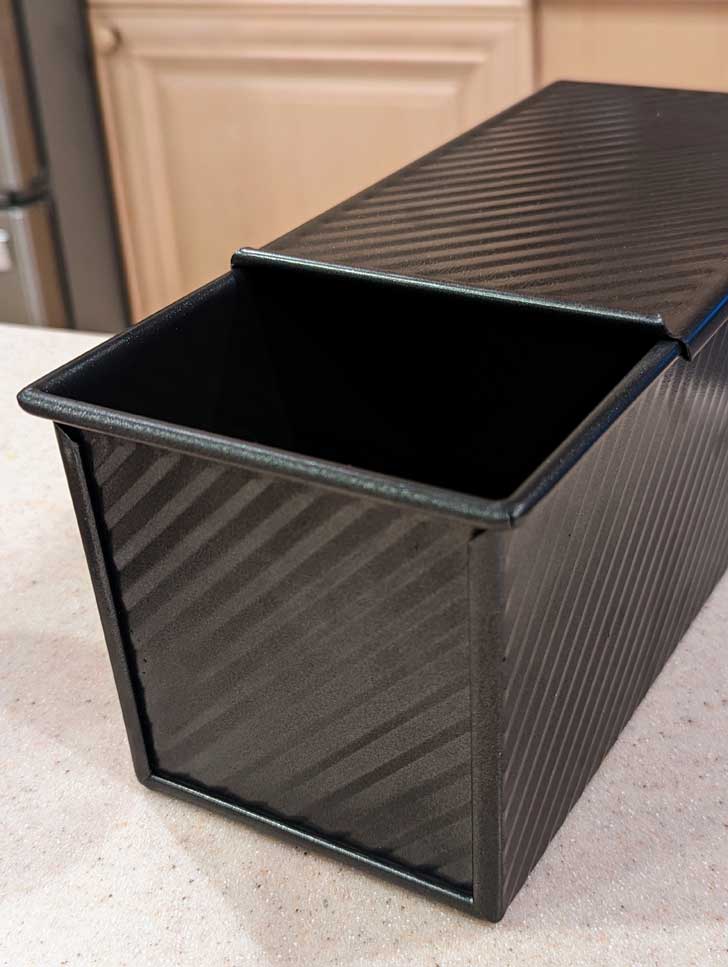 The Pullman Loaf Pan
I'm new to Pullman pans, but here's what I've learned. A Pullman loaf pan is a straight sided loaf pan that has a lid that slides on an off. If you bake with the lid on, the dough rises up and fills the corners for a square shape and a velvety tight crumbed texture. Apparently this soft and perfectly square sandwich bread was a luxury back in the day, and making the bread from that Tribune article is next on my list. But for this pound cake, I didn't even need to use the lid.
Straight Sides, Higher Cake?
The benefit of the Pullman pan here is that its straight sides help the cake rise without collapsing. Just to see if the shape of the pan really was the reason for the nice rise, I baked a second cake for comparison -- Elvis Presley's Favorite Pound Cake, a tube pan cake that almost always collapses when I halve the recipe and bake it as a loaf. When I baked the Elvis cake in the Pullman pan, it too had a nice rise. It did sink a little more than the food processor cake, but it was much prettier than when I'd attempted to make it in a standard loaf pan.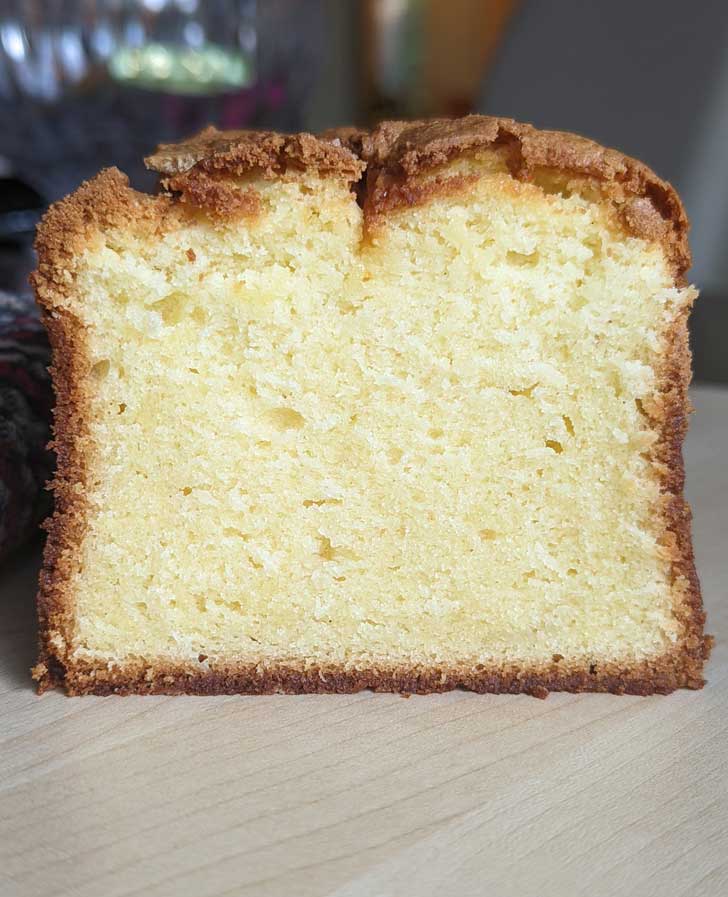 Holes in the Pullman Pan
The only drawback to baking a pound cake in the Pullman is that some have holes in them. The one I purchased has 3 little ones on the bottom, so I had to line it with parchment and set it on a rimmed baking sheet. A bit of pound cake batter still seeped out, but the cake was beautiful and came out of the pan easily. When I made the second Pullman cake (Elvis's), I plugged up the holes with bits of mashed soft bread and then lined with parchment. No leaks! Hopefully those holes will come in handy for venting when I make a loaf of bread with a thicker dough.
Food Processor Pound Cake Ingredients
Cake Flour -- For best results, use 170 grams of actual cake flour. If you are really anxious to bake the cake but don't have cake flour,170 grams of all-purpose would still work, but the texture will be different. It's probably best to just buy the cake flour.
Baking Powder and Salt -- Rumford and Morton Kosher. If using Diamond Crystals, be sure to increase the salt to at least ¾ teaspoon.
Sugar -- I took an extra step and ground the sugar in the food processor before adding the eggs and vanilla. It may or may not have contributed to the fine crumb.
Eggs -- Large eggs, about 200 grams total. Bring to room temperature. I always do this by putting the whole eggs in warm water for a few minutes.
Gently Melted Butter -- Always melt butter gently. I recommend doing it in the microwave using 50% power so that the liquid and solids don't separate. If it separates, just stir it before using.
Vanilla Bean Paste - Ina uses Nielsen Massey. I used the one mentioned above.
Normally I'd use Nielsen Massey, but I scored a good deal on this one at TJ Maxx. I'd never heard of this brand, but I looked it up on Amazon and it has over 10,000 reviews.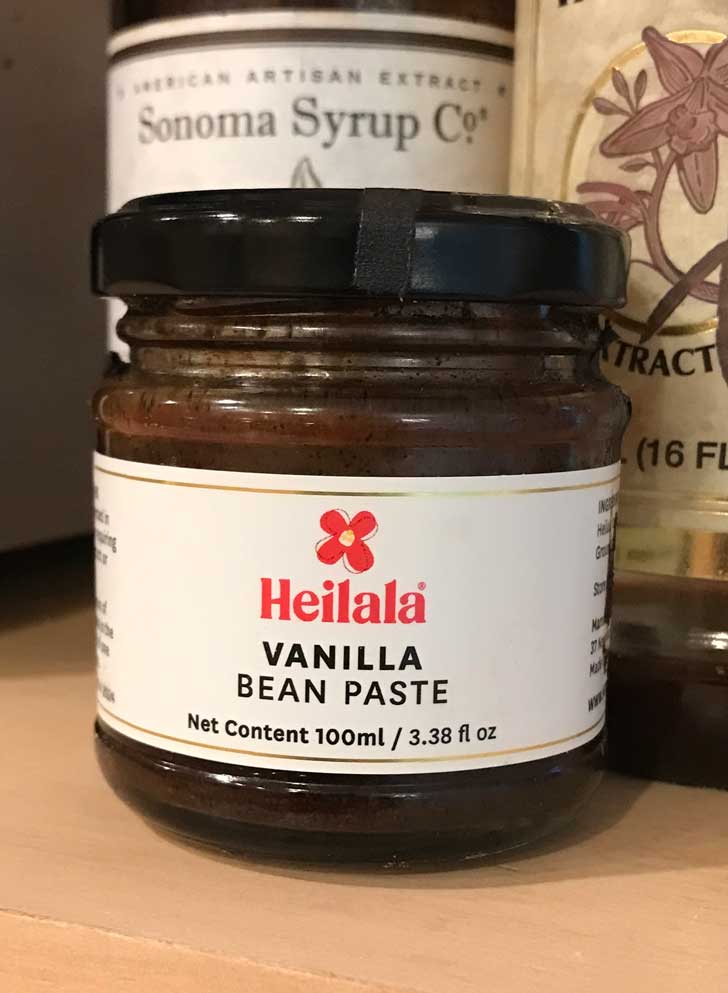 More Food Processor Pound Cakes
If you're up for using the food processor, but want something even more unique, here are two more food processor pound cake recipes. One is Mark Bittman's Citrus Almond and the other is this old Pistachio Cardamom Cake from a British cookbook. In Mark Bittman's recipe you need the processor to break down the almond paste, and in the British recipe it's for grinding the pistachios.
Recipe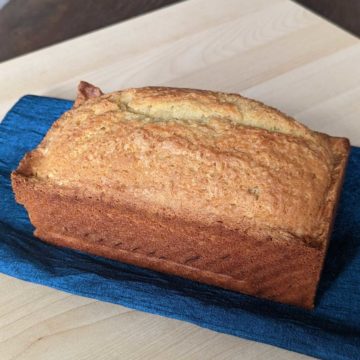 Food Processor Pound Cake
Prep Time: 20 minutes Cook time: 35 minutes Yield: Makes about 10 servings
Ingredients 
1 ½

cups

cake flour

(170 grams)

1

teaspoon

baking powder

½

teaspoon

salt

1 ¼

cups

sugar

(245 grams)

4

large

eggs, room temperature

1

tablespoon

vanilla bean paste

2

sticks

unsalted butter, gently melted

(230 grams)
Instructions 
Preheat oven to 350 degrees F.

Spray a 9x4 inch pullman loaf pan with flour-added cooking spray or rub with butter/shortening and dust with flour. If your pullman has holes, plug them up with some soft bread, grease the pan, line just the bottom with parchment and make sure to bake on a rimmed baking sheet.

Weigh the flour and sift it. Whisk together flour, baking powder and salt. Be sure to whisk for at least 60 seconds so that the dry ingredients are thoroughly blended.

In a food processor, process sugar for about 1 minute or until it is very fine (wisps of ground sugar will rise up). Open the processor and add all four eggs and vanilla paste. Process for about 3 seconds. Don't process too long or your cake might be crusty.

Stir the melted butter (especially if the solids and liquids have separated). With the machine running, pour butter through the feed tube in a slow and steady stream.

Open processor. Pour the flour mixture over the top of the egg mixture in the processor. Close machine and pulse until the flour is incorporated. You may have to scrape down the sides of the bowl and pulse 2-3 more times.

Pour the batter into the prepared pan and bake at 350 for the first 15 minutes.

After 15 minutes, lower oven temperature to 325 and bake for another 35 to 45 minutes (mine took another 45) or until deep golden brown and the tester comes out clean. If you have a digital thermometer, internal temp should top out at about 210 degrees F.

Let the cake cool in pan for about 10 minutes, unmold, and let cool completely on a wire rack. Shirley mentioned that Ina served this cake toasted, so you can try that or serve it plain. I always serve pound cake with whipped cream and fresh berries of some sort.