Here's an easy quick bread that's perfect for serving with soups, stews or salads. Almond Meal Irish Soda bread is a gluten-free soda bread made with almond meal. It has a touch of sweetness from maple syrup, and caraway seeds give it a unique flavor. It's an alternative to our favorite small batch Skillet Cornbread, and just as easy.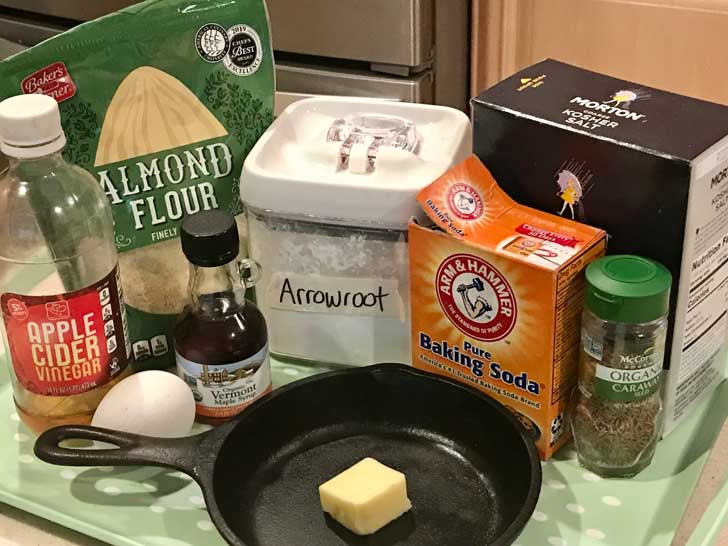 Not counting the butter used to grease the pan, all of the fat in Almond Meal Irish Soda Bread comes from the almond flour and egg. The butter in the picture is about a tablespoon, but for a small skillet you really only need half tablespoon. To make it dairy free, just grease the pan with coconut oil or vegan butter. Also, you can use a little more or a little less fat for coating the skillet. I'm pretty generous with it because I like what a well-greased skillet does for the crust.
Here's a picture of what the dough should look like. It should form a ball, but should spread as it bakes. I've only made this with one brand of almond meal and one brand of arrowroot, so results may vary with different brands based on how they absorb liquid, but even if your dough comes out a little looser, the bread should work out.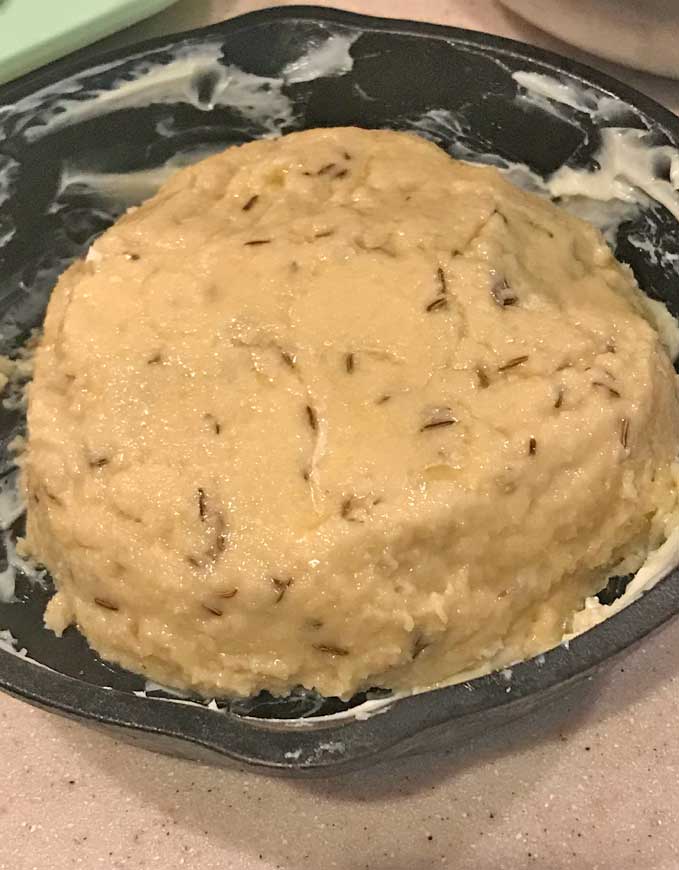 Lodge 6 Inch Skillets
This is a small batch recipe that should fit perfectly into a 6 inch skillet. I use a vintage Lodge 3SK which measures a little over 6 inches across the top and has two little spouts on each side. I'm really not sure if there's any difference between the old vintage Lodge and the new, I just know this is my lucky skillet. A six inch cake pan would be a good substitute.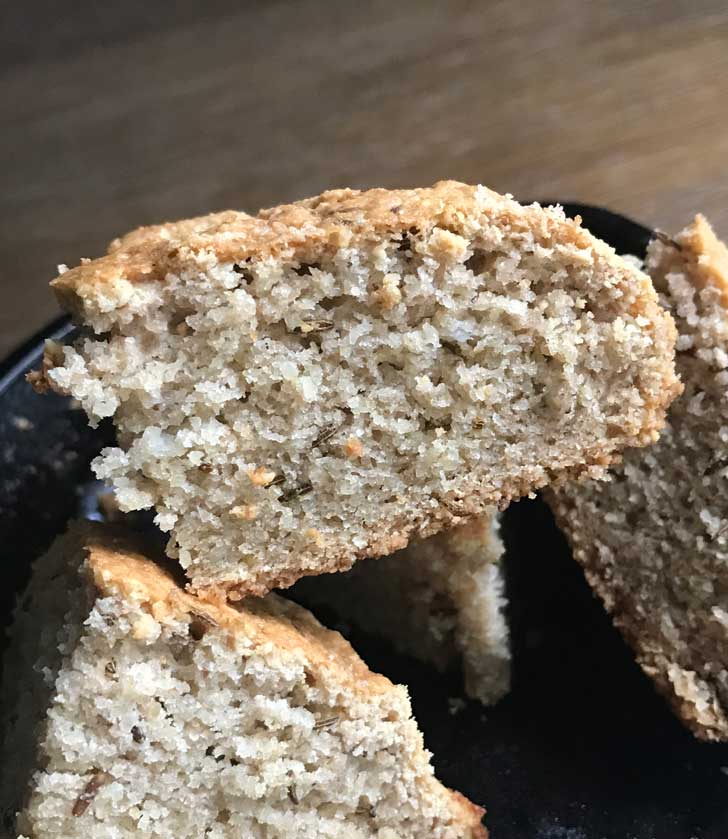 Arrowroot in Almond Meal Irish Soda Bread
The star of the show in this recipe is the almond meal, but the arrrowroot should get equal billing. I've tried substituting other starches, but the arrowroot works best. It's pretty easy to find and so versatile! I've been using it in other recipes and putting a pinch in ice cream to make it creamier. My other favorite recipe using almond flour and arrowroot is this gluten-free biscotti.
Recipe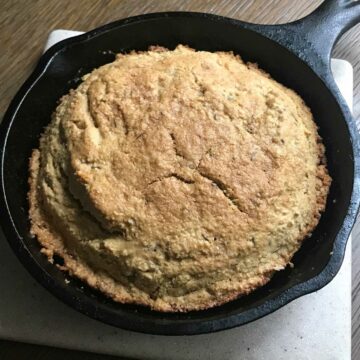 Almond Meal Soda Bread
A very tasty gluten-free Irish soda bread made in a small cast iron skillet.
Equipment
Cast Iron Skillet

I use a vintage Lodge 3SK
Ingredients 
½

tablespoon

butter, softened

(14 grams)

1

cup

extra fine almond meal

(120 grams)

6

tablespoon

arrowroot starch

(55 grams)

¾

teaspoon

baking soda

¼

teaspoon

salt

2

teaspoons

caraway seeds

1

large

egg

1

tablespoon

maple syrup

(20 grams)

1 ½

teaaspoon

apple cider vinegar
Instructions 
Preheat oven to 425 degrees F. Use about ½ tablespoon of the butter to thoroughly grease a 6.5 inch cast iron skillet or a 6 inch cake pan. Set aside.

In a mixing bowl, combine the flours, baking soda, salt, sugar and caraway seeds. Stir well so that everything is evenly distributed.

In another small bowl or in a two cup glass measure, whisk together the egg, maple syrup and vinegar.

Add the egg mixture to the almond meal mixture. It should be thick, but not quite a dough -- more of a thick batter. Scrape it into the prepared skillet.

Put the skillet in the hot oven.

After about 2 minutes, reduce the heat from 425 to 350 and bake for 25 to 27 minutes or until bread appears set and crispy around the edges.