Since I've been eating so much biscotti lately, I wanted to make a slightly healthier grain-free and gluten-free biscotti using almond flour and arrowroot.  There are lots of recipes for it on the Internet, and I tried two, one from Camilla at Power Hungry and another from Molly at What Molly Ate. They were both so awesome that I couldn't choose a favorite and ended up combining elements from both. The end result is an almond flour, arrowroot and maple syrup biscotti that bakes up with a very smooth, fine texture. A bonus is this biscotti recipe calls for relatively few ingredients.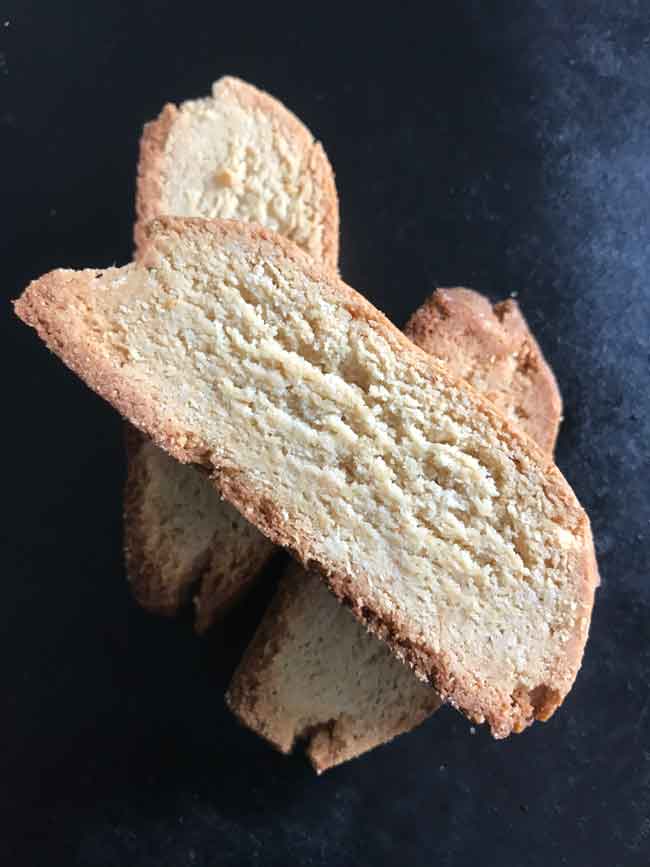 Arrowroot in Baking
Arrowroot is a starch that comes from the underground stems of various tropical plants including the Maranta arundinacea. It's not a grain, but rather a tuber, so if you are on a grain-free diet, you'll appreciate that arrowroot is considered very digestible. Maybe that's why it's been used in teething biscuits? For most of my life I associated it with cookies for babies, then I got older and learned that it's main use is as a thickener. These days arrowroot is readily available and is a key ingredient in gluten-free baking.
Texture of Almond Flour Biscotti
I  love the smooth texture of the almond flour biscotti crust. I think this is due in part to the arrowroot, but also to the maple syrup because when made with ⅓ cup maple syrup the crust was smooth, but when made with a mixture of syrup and coconut sugar, it had a few cracks.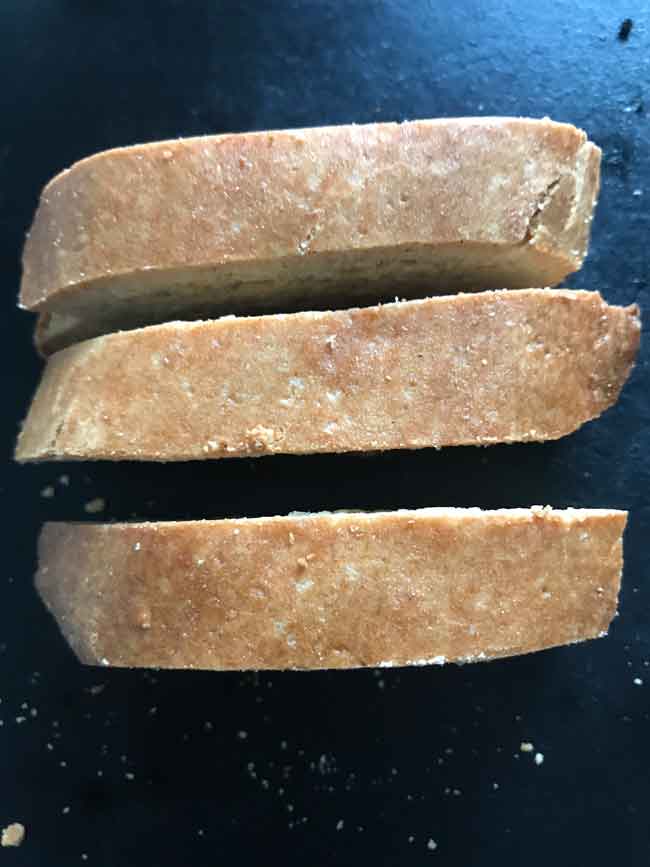 The advantage to the maple syrup/coconut sugar mixture is that the cookies bake up a little taller. So use all maple syrup or a combo of syrup and coconut sugar depending on which ingredients you have the most of.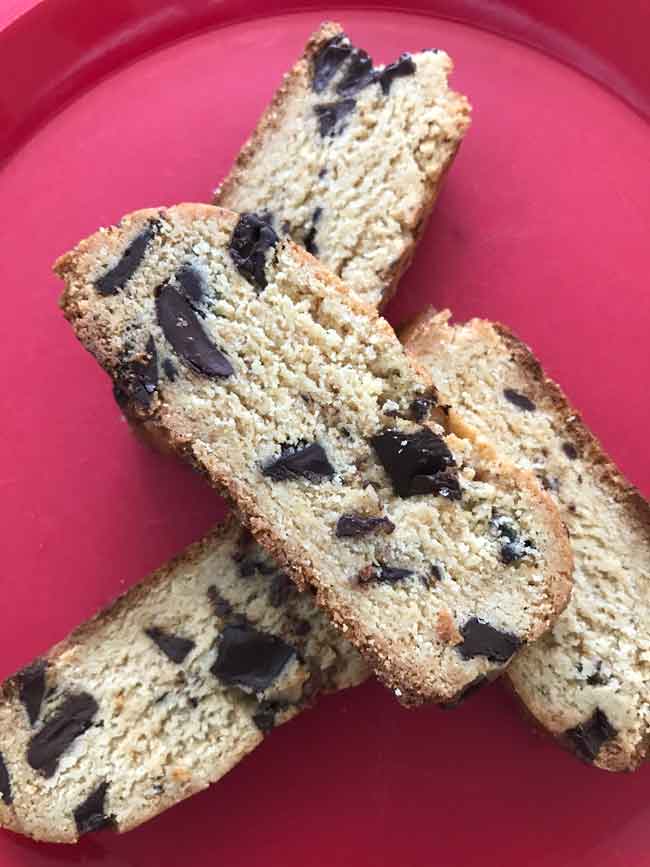 Chocolate Chunk Gluten-Free Biscotti
Another funny thing was that I thought the biscotti was so good it didn't need chocolate.  I added some anyway and it was even better, so I recommend the chocolate version.
Recipe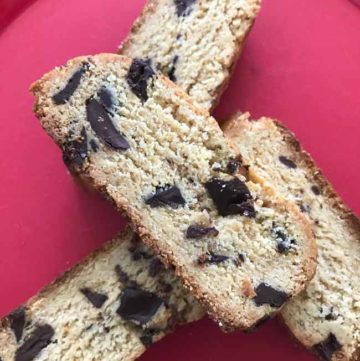 Maple Almond Flour Biscotti
An easy biscotti recipe made with almond flour.
Ingredients 
2

cups

blanched almond flour

(200 grams)

¼

cup

arrowroot flour

1

tsp

baking powder

½

teaspoon

salt

2

tablespoons

unsalted butter

softened (28 grams)

⅓

cup

maple syrup OR use ¼ cup maple syrup and 2 T. coconut sugar

1

teaspoon

vanilla

½

teaspoon

almond extract

optional

½

cup

chopped dark chocolate

I used Dove Dark

Egg wash

1 beaten egg mixed with a little water (you'll have leftover egg wash)
Instructions 
Preheat oven to 350°F. Line a baking sheet with parchment paper.

Mix the almond flour, arrowroot, baking powder and salt together in a large bowl. Add the softened butter and stir until butter is evenly blended.

Add the maple syrup and extracts, then stir everything together to make a soft dough.

Divide dough in half and shape each half into two logs, each about 4 inches long, 2 ½ inches wide and a little less than an inch tall. If you prefer you can make one log that is 8 inches long, but two small logs gives you more edge pieces.

Bake for 28 minutes. Biscotti should be golden brown. Let cool to room temperature, then put in the refrigerator and chill for several hours or overnight.

Heat the oven to 250.

Cut the cold biscotti into 1 inch (or make slightly thinner if desired) slices.

Stand biscotti on a baking sheet and bake for about 35 minutes at 250. If for some reason your biscotti slices won't stand (say, you cut them super thin!), you can lay them on their sides and flip.

Let the biscotti cool completely. It will crisp as it cools.
Notes
I made two 4x4(is) logs so that I'd have more edge pieces and also so that I could test how a small log would bake in case I just wanted to bake half the recipe.