If you've never made a good peanut butter layer cake, here's some inspiration. It's a peanut butter flavored cake with creamy peanut butter frosting. I don't have a lot of peanut butter cake recipes to compare it to, but this one sure is good. With the frosting, it's fabulous!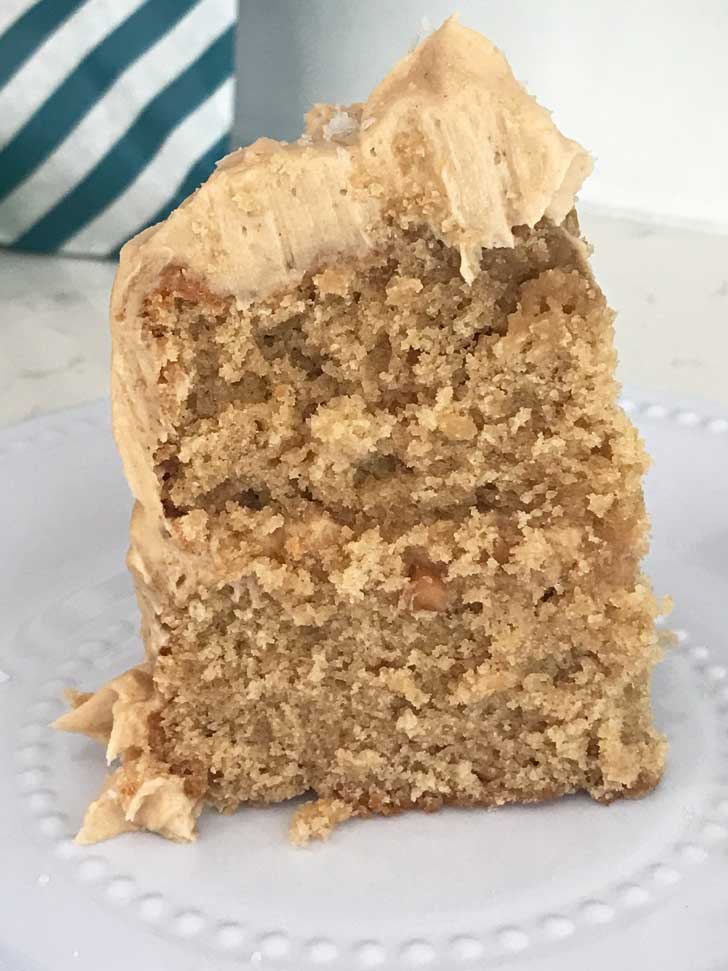 Butter or Shortening in the Batter
A nice thing about this recipe is that doesn't call for loads of butter, so it's not terribly expensive. And if you want to conserve even more butter, you can use all or half shortening in the batter. With the flavor from the peanut butter in the cake and icing, you certainly won't be missing any flavor by using a little shortening. But feel free to use either. The cake is very flavorful and moist. The frosting softens it up a bit more.
Smooth and Creamy Frosting
The frosting has a very smooth and creamy texture (almost like a true buttercream) and pipes beautifully. I felt it had enough peanut butter flavor with 1 ½ cup peanut butter and 3 ½ cups of sugar, but if you want a less sweet frosting, you can definitely dial the sugar back or throw in more peanut butter. I've been testing with Reese's brand which is a little sweeter and smoother but I'm curious to try some others as well.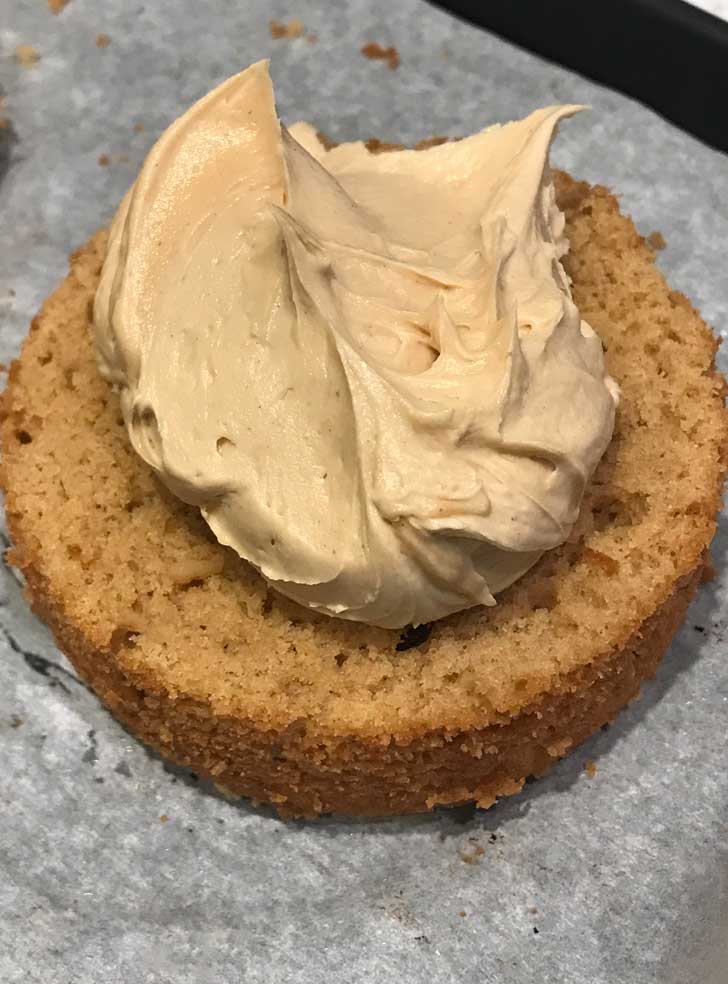 Chocolate Ganache Drip
The cake in the photo shows a chocolate drip. This is completely optional, but as you can see I need practice and have been watching tutorials and trying to improve my drip skills. For the chocolate drip, I've been using a ganache of 1 part dark chocolate and 1 part cream.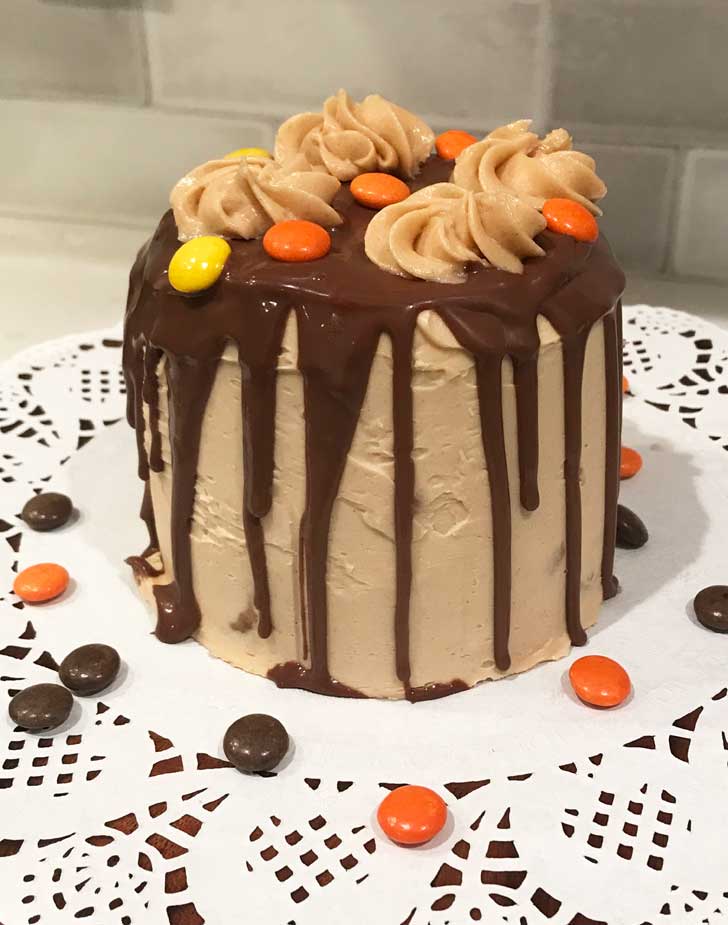 4-Inch Cake Pan Version
Hopefully having a new set of 4x2-inch pans will help keep the practice sessions going. I bought the 4x2 inch pans which are great for making small layer cakes. ¼ of the recipe will give you just enough for two 4x2 inch pans. If you can't deal with the thought of using only part of the egg and just want to make ⅓ of the recipe, you'll have enough for 1 full 9 inch layer or more than enough for 2 4-inch pans. And there's one more trick! If you don't have a set of 4-inch pans, you can make a 9 inch round layer cake and use a 4-inch round cutter to cut out 3 rounds for stacking. A cleaned out 28 oz can makes a great cutter.
Recipe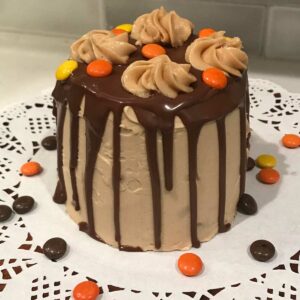 Peanut Butter Layer Cake with Peanut Butter Frosting
A peanut butter layer cake with lots of peanut flavor.
Ingredients 
3

cups

all-purpose flour, stirred and aerated before measuring or just weigh 390 grams

(390 grams)

1

tablespoon

baking powder

½

teaspoon

salt plus a pinch

8 ½

tablespoons

unsalted butter, softened or use 4 tablespoons butter and 4 tablespoons shortening

(120 grams)

2 ¼

cups

brown sugar, I use a mix of light and dark

(450 grams)

¾

cup

creamy peanut butter (sweetened type like Jif or Reese's)

(190 grams)

3

large

eggs, room temperature

2

teaspoons

vanilla extract

1 ¼

cups

whole milk

(10 oz)
Creamy Peanut Butter Frosting
½

cup

unsalted butter, softened

(114 grams)

1 ½

cups

creamy peanut butter

(380 grams)

3 ½

cups

powdered sugar, sifted

(400 grams)

1

cup

heavy cream
Instructions 
Preheat oven to 350 degrees F. Grease and flour three 9x2-inch round pans. If you only have two 9-inch pans, You can use 2 pans but the bake time will be longer.

In a large bowl, whisk together the flour and baking powder, then whisk in the salt.

In a mixing bowl or bowl of a stand mixer fitted with a paddle, beat the butter, peanut butter and brown sugar until light and creamy. Beat in the eggs, one by one until blended, scraping sides of bowl often. Beat in the vanilla.

Scrape the sides of the bowl again and add the flour mixture and the milk alternately in three parts, beating on lowest speed of the mixer (if using a stand mixer with paddle) or stirring by hand with a heavy duty scraper until batter is smooth (see note about mixing).

Divide the batter between the pans and bake for about 20 minutes.

Let cool for 10 minutes, then carefully turn from pans and let cool completely.
Make Peanut Butter Frosting
In a large mixing bowl, beat the softened butter and peanut butter until light and creamy. Begin adding powdered sugar one cup at a time, beating until smooth and scraping the side of the bowl often. Add the cream gradually, beating and scraping bowl, until icing is light and fluffy.
Notes
I've been 56 grams (4 tablespoons) butter mixed with 48 grams (4 tablespoons) shortening.
About mixing, I trust the paddle attachment and the speed settings of my stand mixer.  However, when it comes to low speed of a handheld, it might be better to use the mixer in spurts or pulses after adding the flour and mix mostly by hand.  Even the lowest speeds of some handheld mixers are pretty powerful and you don't want to risk over-mixing the batter once the flour has been added.  With cake flour and gluten-free flour it's not much of an issue, but with all-purpose you run the risk of toughening up the gluten strands by beating too aggressively with an electric mixer.