This recipe for Pineapple Yogurt Muffins is a spin-off of the Charleston Cream Cheese Almond Muffins. I took out the cream cheese filling, used Greek yogurt and added pineapple. I also reduced the batch size so that it makes six large muffins that rise high, stay moist and have plenty of flavor from the coconut oil, vanilla and fruit.
Jump to Recipe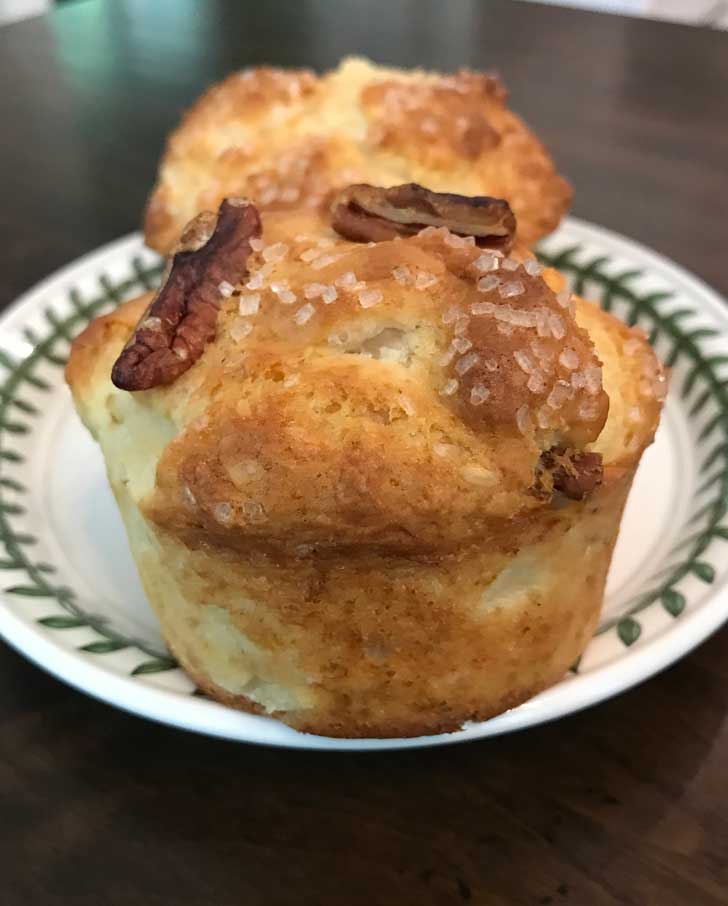 The reason I made these was to use pineapple chunks leftover from the Eggless Pineapple Cake. The chunks worked well, though they needed to be cut smaller. Next time I'll use tidbits or possibly well-drained crushed pineapple. I think pretty much any kind of canned pineapple will work here -- maybe even fresh. Why not?
Coconut Oil and Yogurt
Coconut oil and whole milk yogurt are two ingredients that help make these muffins moist. Refined coconut oil has most of the coconut flavor taken out, but unrefined has a wonderful coconut flavor that works perfectly with the pineapple. It almost tastes buttery in this recipe, which is interesting since there's no butter. For the yogurt, I always use whole milk yogurt for baking. You might be able to get away with low fat or nonfat, but I've done all my testing with whole milk yogurt. Aldi sells a not-too-sweet whole milk coconut yogurt which I think would work really well too.
Pineapple Muffins Batch Size
Since I make fairly small batches, I bake these in my Breville Smart Oven. It's the model with the air fryer built in, but of course I just use the "Bake" setting. You can use any kind of oven, but I really love how evenly my little Breville bakes. Anyhow, a trick to getting muffins to rise higher is to let the batter sit for a few minutes. Also, putting the muffins in the oven at 400 and then dropping the heat to 350 after the first 10 minutes is also supposed to help muffins rise high.
Recipe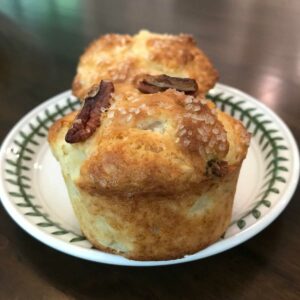 Pineapple Muffins
High rising muffins with big chunks of pineapple
Ingredients 
1 ¼

cups

bread flour or all-purpose flour

(170 grams)

1 ¼

teaspoons

baking powder

¼

teaspoon

baking soda

¼

teaspoon

salt plus a pinch

4

tablespoons

unrefined coconut oil, soft but not melted

(52 grams)

½

cup

granulated sugar

(100 grams)

¾

teaspoon

vanilla extract

1

large

egg, room temperature

(50 grams)

½

cup

whole milk plain yogurt or coconut flavor

(120 grams)

½

cup or so

well drained pineapple chunks, coarsely chopped

½

cup

chopped pecans (optional)

coarse sparkling sugar (optional)
Instructions 
Preheat the oven to 400°F. Grease 6 muffins cups or up to 8 if your muffin cups are smaller. If using silicone muffin cups you can skip that step. Also, the muffin batter sits for 10 minutes, so if your oven preheats quickly or you are using a toaster you can hold off on preheating.

Whisk together the flour, baking powder, baking soda and salt in a medium size bowl and set aside.

In a mixing bowl, using a heavy dutry scraper or a wooden spoon, beat the coconut oil, sugar and vanilla just until blended, then beat in the egg.

Add the flour mixture alternately with the yogurt, stirring by hand to make a very thick but light batter.

Stir in drained pineapple.

Fill the muffin cups, piling toward the center. Sprinkle pecans on top if desired. Let the muffin batter sit for 10 minute before baking.

Set the muffin pan on a rimmed baking sheet to prevent any dripping.

Total bake time should be about 25 minutes with 10 minutes at 400 degrees and 15 minutes at 350, so put the muffins in the 400 degree oven and bake for about 10 minutes, then turn the the heat down to 350 and bake for another 1-15 minutes or until tops are browned and just slightly cracked.

Let cool in cups for about 10 minutes, then carefully remove. You can serve them warm or let them firm up a bit and serve re-warmed later or at room temperature.