I found Paleo Date Cookies while looking for ways to use some Medjool dates. The cookies are similar to Trader Joe's Almond Flour Chocolate Chip Cookies but with some key differences. They don't have chocolate chips, they do have chia seeds and they are made with dates, nuts and maple syrup instead of sugar. I wasn't sure these would be satisfactory given the missing chocolate, but they are. The richness of the almond flour makes you forget the missing sugar. As a chocoholic I always miss that, but these were still good without it.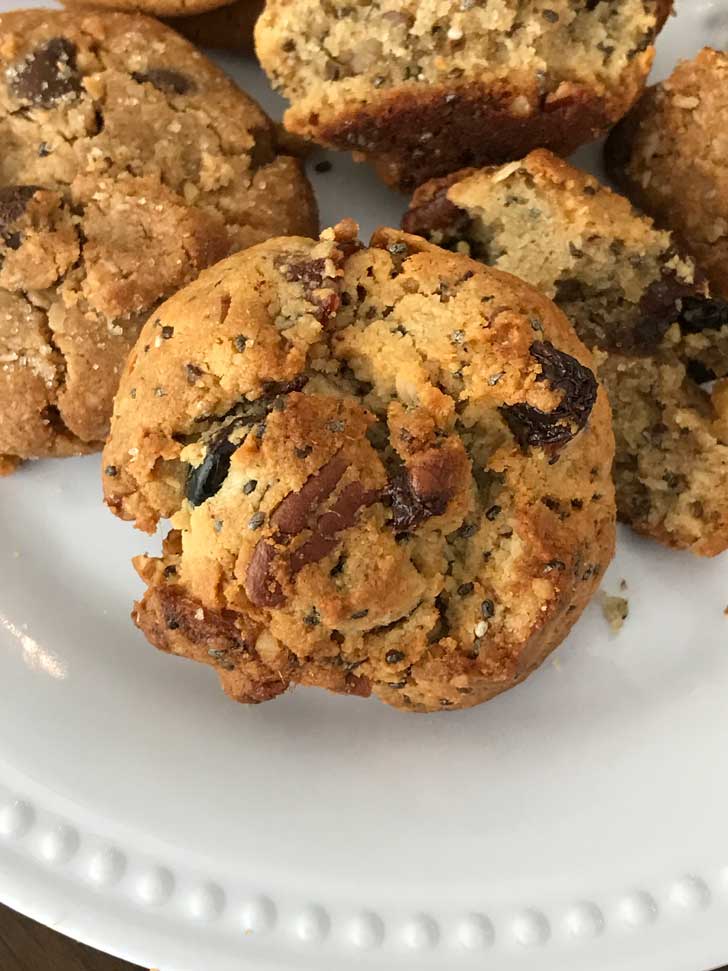 Small Batch Version
Paleo Date Cookies are super quick, especially if you use a scale. Since I had my doubts (and didn't need a lot of cookies anyway), I halved the recipe. The full recipe is in the recipe card, but if you want to grab a scale and throw together a small batch, here are the measurements I used. This makes about 12 cookies. You can even halve it again if you want only 6.
Small Batch Measures
130 grams almond flour
12 grams chia seeds
¼ each baking soda and salt
Pinch of cinnamon
25 grams beaten egg
20 grams maple syrup
50 grams of ghee or coconut oil
½ cup dates
Some nuts, some raisins
Paleo Date Cookies with Coconut Oil or Ghee
The original recipe calls for coconut oil, but I didn't have any for the first batch so I made the cookies with ghee. It worked perfectly and we loved the flavor. For the second batch, I went out and bought unrefined coconut oil because I wanted a hint of coconut flavor. The coconut oil worked well too. Of the two, I preferred the version with ghee because the cookies had a thicker, darker crust. There was more contrast between the crust and the middle with the ghee.
Recipe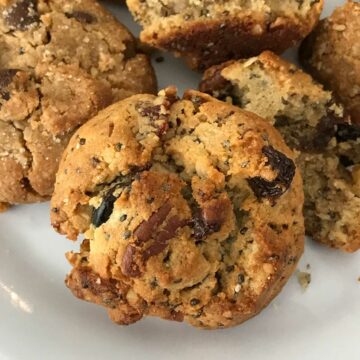 Paleo Date Cookies
Easy cookies made with almond flour, dates and dried fruit.
Ingredients 
2 ½

cups

almond flour

(260 grams)

2

tablespoons

chia seeds

(24 grams)

½

teaspoon

baking soda

½

teaspoon

salt

⅛

teaspoon

cinnamon (optional)

1

large

large egg

(50 grams)

2-3

tablespoons

maple syrup

(40-60 grams)

2-3

teaspoon

vanilla extract, can use more if desired

½

cup

soft coconut oil or very soft ghee

(around 100 grams)

1

cup

chopped pitted Medjool dates**

½

cup

walnuts or toasted pecans

coarsely chopped

½

cup

other dried fruit such as dried cherries or raisins
Instructions 
Preheat oven to 350 degrees F.

Weigh and mix the almond flour, chia seeds, baking soda, salt and cinnamon (if using)

In a mixing bowl, whisk together egg, maple syrup and vanilla until thoroughly blended. Add the almond flour mixture and coconut oil (or ghee) and stir until blended. Add the dates, nuts and any other dried fruit.

Using a medium cookie scoop or a tablespoon to drop rounds onto a parchment lined baking sheet. Bake for about 15 minutes or until cookies are lightly browned. Turn off the oven and let the cookies sit with the door closed for another 10 minutes. This dries out the insides slightly.

Allow cookies to cool on the baking sheet for about 5 minutes, then transfer to a wire rack and let cool completely.
Notes
If your dates are dry, soak them for 20 minutes in warm water, then drain well.