I recently posted a recipe for a tried and true white cake made with shortening. This is a follow-up -- a similar white cake with butter. Like the shortening version, this one bakes up light and fluffy. I made a 9-inch layer, cut it in half and stacked it which is why you don't see the whole cake. It was kind of awkward looking, but it sliced perfectly and you can see the texture. This one actually turned out a little bit lighter and fluffier than the shortening cake.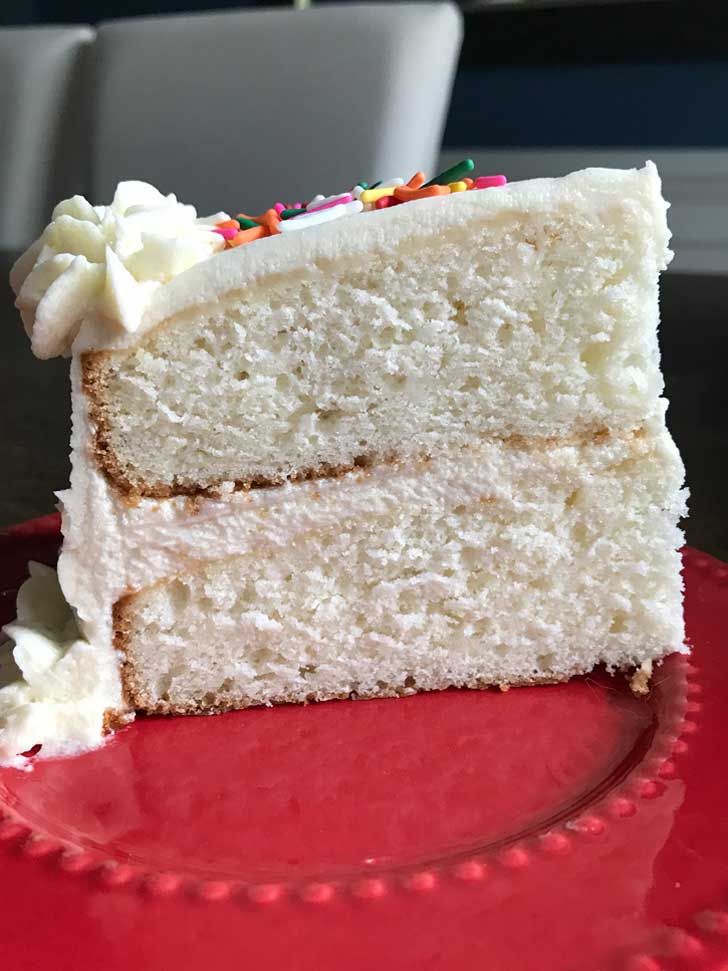 White Cake with Butter
Shortening cakes usually rise a little higher that white cakes with butter, but this one is an exception. It has a beautiful fine crumb and is also quite white, as white cakes should be. I must have used a paler brand of butter. Have you noticed they range in color? Land o' Lakes is very pale, almost white, while some brands are a deeper yellow.
Cake Flour is Key
Cake flour is key. And it's also possible that the cake flour I used might have made this one better. I usually use Swan's Down (which I love), but for this one I used Soft as Silk. I'm looking forward to making another cake with it! But the real thing to remember about cake flour is volume amounts can really vary and my volume is an estimate. I used 270 grams. Always weigh your flour.
Whipped Egg Whites
This cake was also a little different from the last one in that the recipe has you whip the whites and fold them in at the end. If you are making the cake with a stand mixer, you'll need a second mixing bowl to set on the mixer and beat the egg whites. If you don't have a second bowl, just use any mixing bowl and a handheld mixer. Folding in the whites at the end is an extra step, but worth it.
White Cake With Butter Frostings
There are all kinds of frostings that work well with white cake. For this one, I tried a new Ermine Frosting recipe, which is a type of frosting I usually use for filling Ding Dong Cakes and such. I would have preferred to use American Buttercream, but was out of confectioners' sugar and the Ermine Frosting was a decent stand-in for the American Buttercream. The cake would also be okay with chocolate frosting, but I personally like chocolate frosting on yellow cake and vanilla frosting on white cakes like this that have almond extract. Use what you like, but try the cake!
Recipe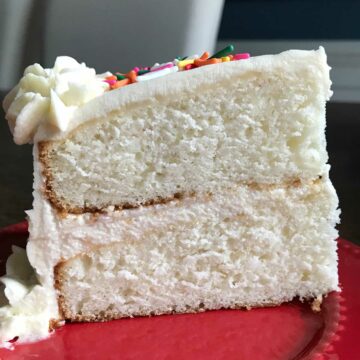 Silver White Cake with Butter
A version of old fashioned white cake made with butter and egg whites rather than shortening and egg whites.
Ingredients 
2 ¼

cups

cake flour (volume is approximate, I use 270 grams)

(270 grams)

4

teaspoons

baking powder

¾

teaspoon

salt

1

teaspoon

vanilla plus ¼ teaspoon almond extract

1

cup

whole milk, room temperature

(228 grams)

¾

cup

unsalted butter, softened but not too soft (1 ½ sticks

(170 grams

1 ½

cups

granulated sugar

(300 grams)

4

large

egg whites, room temperature
Instructions 
Preheat oven to 350°F. Grease and flour two 9x2-inch round cake pans.

Have all your ingredients measured and ready to go. With white cake, especially butter white cake, this is very important.

Sift the cake flour if you haven't already, then whisk it with the baking powder and salt and set aside.

Mix the extracts with the milk.

In a mixing bowl, using an electric mixer (I use a stand mixer and paddle) beat the butter and sugar until light and creamy. As always, be sure to scrape the bowl often. With the mixer on low speed, add the flour mixture and milk in three parts, alternating with the milk.

In a separate bowl, beat the egg whites until stiff peaks just start to form, but don't beat until dry.

Fold in ⅓ of the whipped egg whites to lighten the batter, then fold in the rest.

Divide cake between the two pans and bake for about 28 minutes, until inserted cake tester comes out clean. Let cool in the pans for 5 to 8 minutes. Loosen cake from pan and invert onto a wire rack to finish cooling.