If you're sensitive to fat and want an almost fat free chocolate cake recipe, this is a good one. The recipe does not call for butter, oil or even eggs. Buttermilk does all the work, so it's a delicious testament to what buttermilk can do. Below are some pictures of my most recent cakes. I appreciate that the original recipe has little to no fat, but I always offset that with a richer (but still not nutritionally void) Chocolate Tofu Frosting.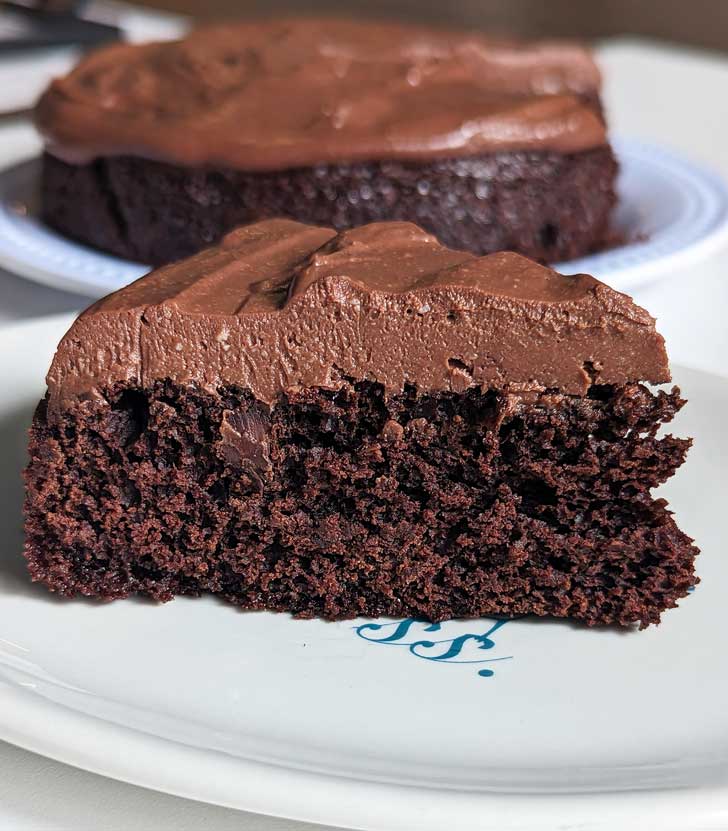 How Does it Taste?
What you'll notice on the first bite is all the chocolate flavor. The flavor is robust, and while it's not the same as a chocolate cake with oil, it's not dry and rubbery like some cakes without oil. The chocolate chips, mini ones work the best, add a little richness to each bite. They also add a little fat, so if you need to leave them out you can. I think think they're worth adding, as is the frosting.
Tofu Chocolate Mousse Frosting
If you really want to keep the cake light you can just serve it with fat free whipped topping and berries, but the cake's so much better with the frosting. It's actually an old recipe called Tofu Chocolate Mousse. To make it, you just puree silken tofu with a little milk, maple syrup, melted chocolate, and vanilla. It has a smooth texture, though you may see specks of tofu depending on the power of your blender/processor. Here's an older picture where I didn't puree the tofu as much as I should have. It actually looked fine in real life, but the camera really catches the flecks.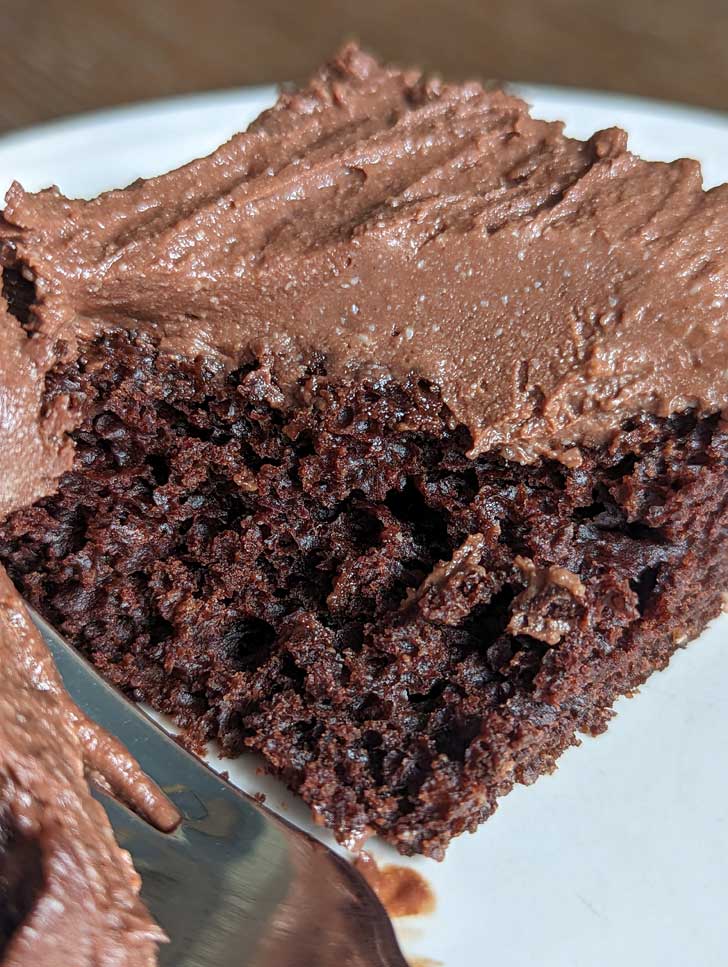 Since taking this picture, I started pureeing my tofu in a little Hamilton Beach Stack and Press Chopper. For $19, it's a good buy, and is powerful enough to make almond butter. It does a decent job pureeing the tofu and is really easy to clean.
Calories and Fat Count
I almost never include nutritional information, but I did put the ingredients into a calculator and ⅛ of an 8 inch square cake supposedly has about 180 calories. Without the chocolate chips, it's closer to 150 and almost fat free. I calculated the frosting separately. If you divide the amount in the recipe by 8 it's about 94 per serving. The recipe makes just enough to frost the top of an 8 inch square cake.
Six Inch Mini Almost Fat Free Chocolate Cake
Todd really likes this cake, so after testing it as an 8 inch square, I started making mini versions in a 6 inch round cake pan. We love the mini version! To make it, just halve all of the ingredients and bake for about 25 minutes. Quick reference: 47 grams AP flour, 12 grams oat flour, 75 grams sugar,between 12 and 15 grams of cocoa powder, half teaspoon of soda, 84 grams buttermilk, 14 grams hot coffee or water, dash of vanilla and 1 ½ to 2 tablespoons of mini chocolate chips.
Recipe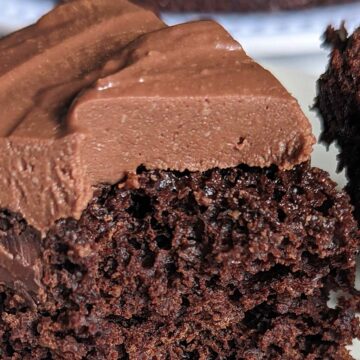 Almost Fat Free Chocolate Buttermilk Cake
An almost fat free chocolate cake recipe designed for an 8 inch square pan.
Ingredients 
¾

cup

unbleached all-purpose flour

(95 grams)

¼

cup

oat flour

(25 grams)

¾

cup

sugar

(150 grams)

¼

cup

plus ½ tablespoon unsweetened natural or Dutch process cocoa powder

(25 grams)

1

teaspoon

baking soda

¾

cup

buttermilk**

2

tablespoons

hot coffee or water

1

teaspoon

vanilla extract

3-4

tablespoons

miniature chocolate chips
Chocolate Tofu Frosting
⅔

cup

semisweet chocolate chips or 4 oz chopped semisweet chocolate

(114 grams)

4

oz

pureed extra firm silken tofu

(114 grams)

1

tablespoons

milk

2

teaspoons

maple syrup

⅛

teaspoon

vanilla
Instructions 
Preheat oven to 350 degrees F. Grease an 8 inch square pan and line with a piece of parchment if desired. The parchment is not required, but it's helpful if you want to remove the whole cake from the pan.

In a mixing bowl, whisk together the flour, oat flour, sugar, cocoa powder, and baking soda. Set aside.

Make a well in the center and add the buttermilk, coffee and vanilla.

Mix everything together with a heavy duty scraper, then stir in some chocolate chips (if using).

Bake for 25 to 30 minutes or until cake appears set. Let cool and serve by itself or frost with your favorite frosting.
Tofu Chocolate Frosting
Melt the chocolate chips in the microwave using 50% power and stirring ever 40 to 60 seconds.

Puree the tofu (or use tofu that's alreay been pureed) and put it in a mixing bowl. Whisk in the milk, maple syrup, vanilla and melted chocolate. You can also just puree the tofu in the blender or food processor and just add the milk, syrup, vanilla and melted chocolate right into the blender. I sometimes use tofu that I've pureed earlier, so I just mix everything together in a bowl.

The frosting will be pretty thin at this point, so cover the bowl and chill for an hour or until it is thick enough to spread. You can check it every so often and give it a stir. If you have a large pastry bag, you can fit your pastry bag with a tip, pour the icing into the bag, prop it up in a glass and chill the glass with the frosting filled pastry bag until frosting is thick enough to pipe.
Notes
Homemade buttermilk with milk and lemon juice or milk and vinegar also works.