If you thought the lemon flavored 7-Up cake looked good but don't feel like making a cake from scratch, let me introduce you to my great grandmother's Duncan Hines lemon pound cake recipe.  This was our Louisiana "Mee-Ma's" signature cake.
Jump to Recipe
Duncan Hines Lemon Pound Cake
Mee-Ma always made it with Duncan Hines, so I use that as well.  Luckily, even though cake mix has been reformulated and the mixes come in smaller boxes rather than 18.25 oz boxes, the recipe still works. Duncan Hines even has it on the side of the box.
The box recipe is similar, but I use my own icing which is just the standard lemon juice and confectioners' sugar mixture. It's an icing that sets, so you can cut the cake in pieces, wrap them individually and send them along to wherever. Duncan Hines Lemon Pound Cake is so versatile and travels so well. No one ever complains that it's not scratch.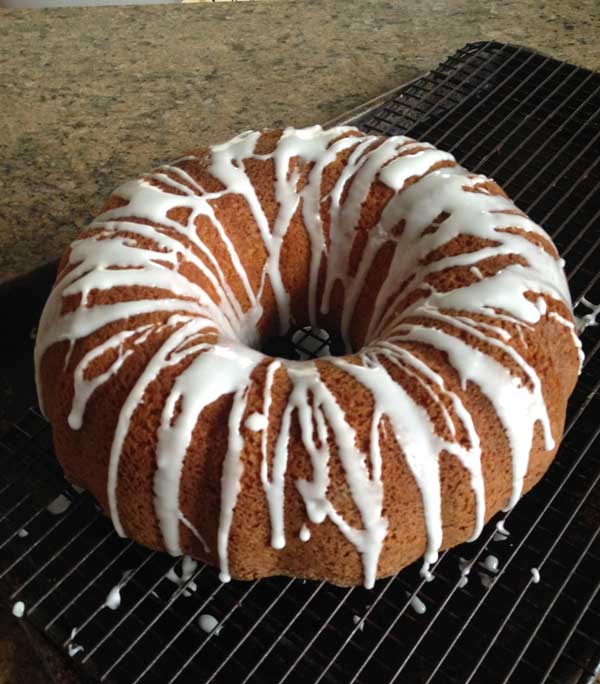 Here are a couple of pictures of the variation. In this version, lemon syrup is poured over the cake while it's cooling.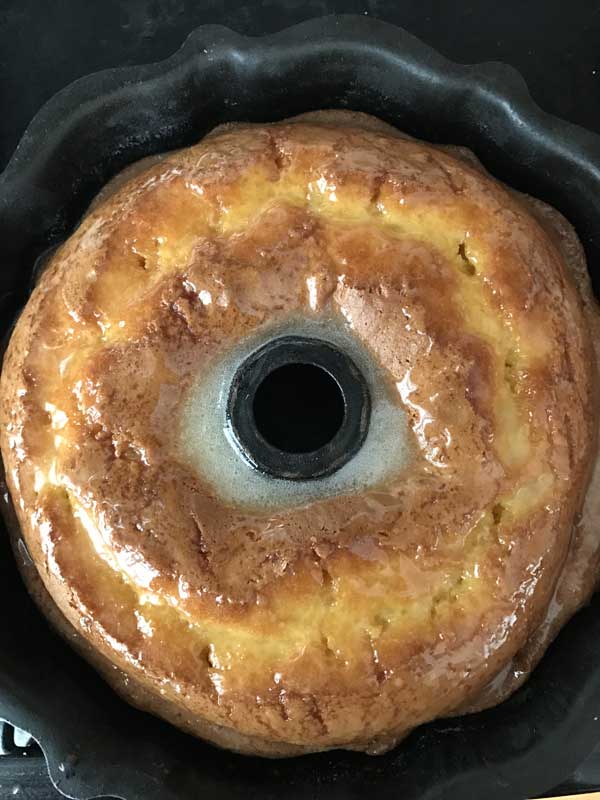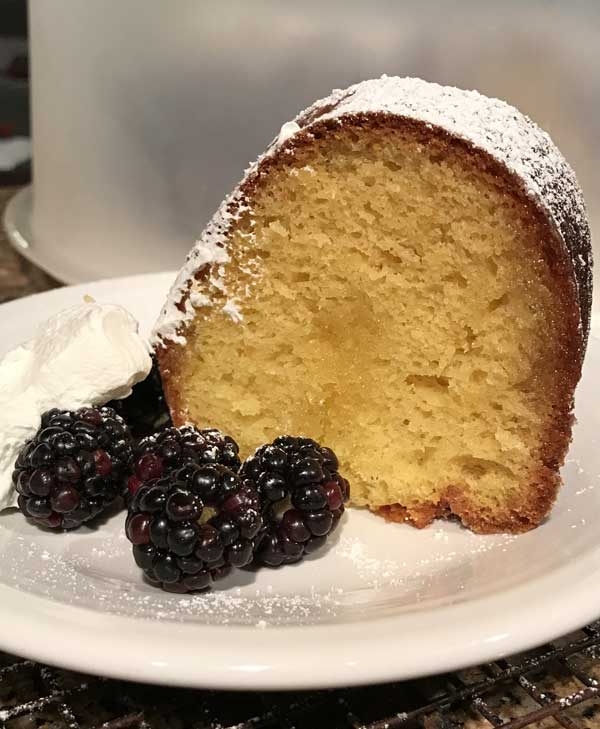 Duncan Hines Lemon Cake Mini Loaves
I recently tested the recipe as mini loaves and it worked perfectly! Since I don't have a lot of equipment available right now, I mixed the batter by hand and baked the loaves in a Breville toaster oven. Bake time was about 38 minutes, and the loaves baked up with beautiful lumps in the middle. I love it when that happens. One recipe for the lemon pound cake will give you four mini loaves. Here are the pans I used. They come in sets of three, so you may want to purchase two sets.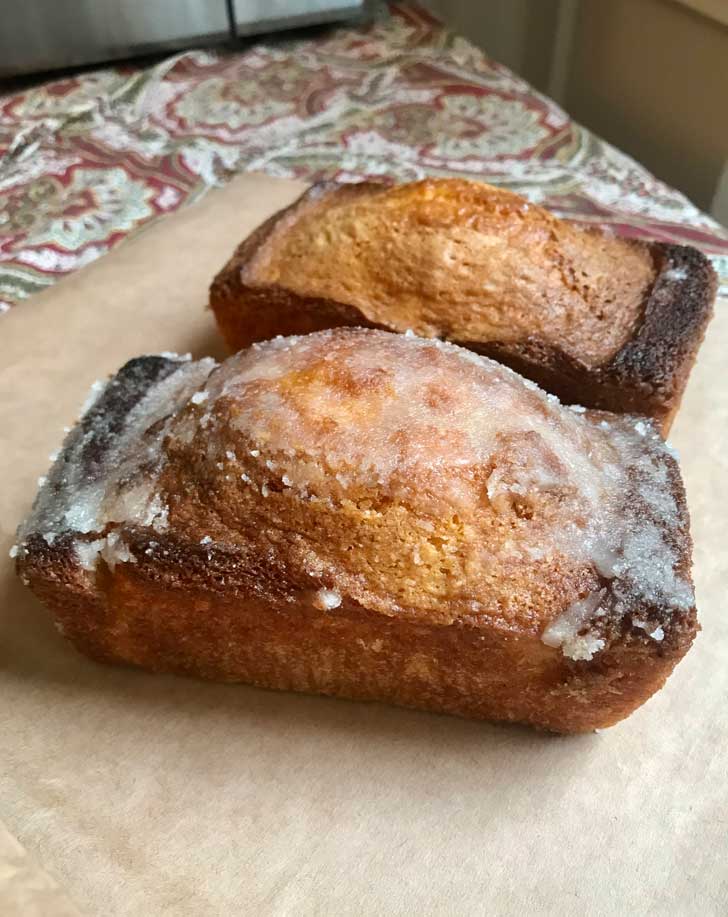 Instant Pot Lemon Pound Cake
This recipe works very well in an Instant Pot. In some ways it's even better because the Instant Pot makes Bundt cakes taste like the ones from Nothing Bundt Cake! To make an Instant Pot Lemon Pound Cake, use a 7 inch Bundt pan. Use half a box of lemon cake mix (weigh out 7.6 oz), half a box of lemon pudding (1.7 oz), 2 large eggs, ¼ cup oil, and only ⅓ cup of water. Mix as usual, pour into Instant Pot Bundt (do not cover), Put in the pot with 1 ½ cups boiling water and set time to 33 minutes with a 15 minute semi-natural release. Let cool for 10 minutes then carefully remove. For the glaze, you can use either one listed in the recipe below or make a cream cheese frosting and pipe it on as stripes.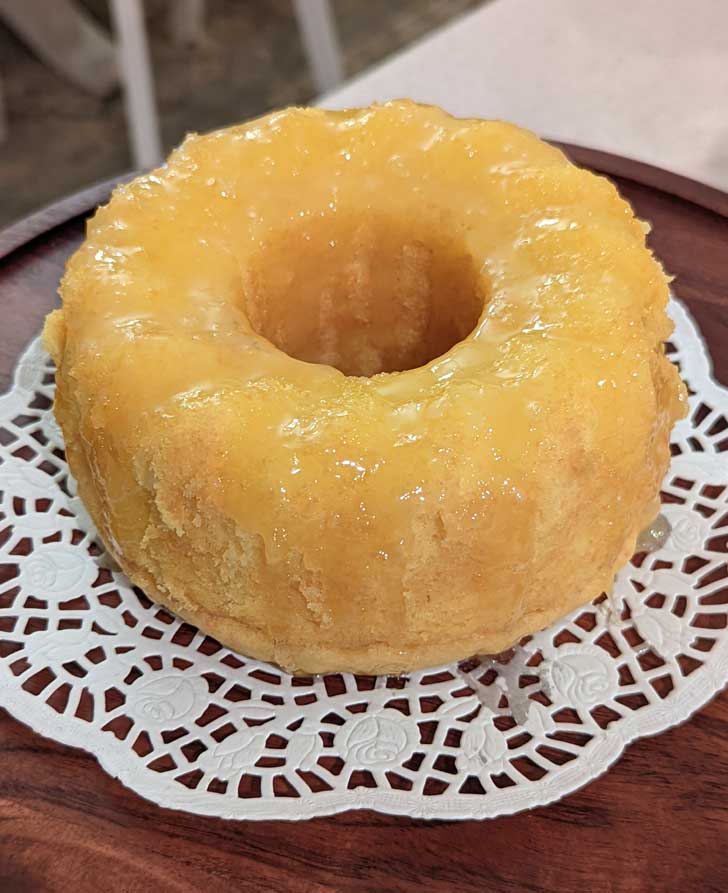 Recipe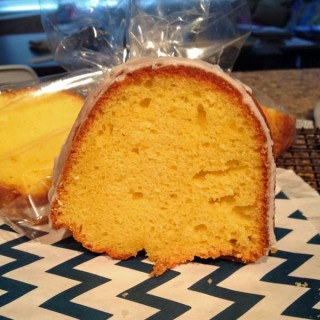 Lemon Pound Cake
My grandmother's recipe for pound cake.
Ingredients 
15.25 oz

package

Duncan Hines Signature Lemon Supreme Cake Mix

Package size reduced to 15.25

1

3.4 oz

package instant lemon pudding and pie filling

4

large

eggs

1

cup

water

⅓

cup

vegetable oil
Lemon Icing that Hardens
1

cup

powdered sugar

Fresh lemon juice
Instructions 
Preheat oven to 350°F. Grease and flour 10-inch Bundt pan. Alternatively, you can use 4 mini loaf pans.

Mix the cake mix, pudding mix, eggs, water and oil in large bowl and beat for 2 minutes with an electric mixer.

Pour batter into pan and bake for 50 minutes (begin checking at 40) or until a toothpick inserted in center comes out clean. Bake time for mini loaves is around 38 minutes, so begin checking at 30.

Let the cake cool on a wire rack. When completely cool, carefully spoon icing over the top and let it fall down the sides.

Icing: Put the powdered sugar in a large mixing bowl. Slowly, about a teaspoon at a time, add lemon juice and stir vigorously until the mixture is thick enough to drizzle. Try not to let it get too thin so it will stay opaque when set.

Spoon over the cake and allow iced cake to sit until icing is firm.
Notes
I've always made this cake with a simple drizzle of icing or a cream cheese glaze, but a reader named Angie came up with a new version. She adds the zest of a lemon to the batter and she pours a lemon glaze over the cake while it's cooling in the pan, then flips it out. The cake absorbs the lemon syrup and is a bit softer and richer.
Lemon Syrup
⅓ cup butter (unsalted)
⅔ cup sugar
2 tablespoons water
½ teaspoon Boyajian lemon oil
Melt the butter, sugar and water together until mixture begins to boil. Remove from heat and stir in lemon oil.
Using a knife, poke deep cuts into the hot cake. Pour the lemon glaze over the hot cake while it's still in the pan. Let it cool in the pan for about 45 minutes, then invert.