After years of not liking beets, I've found two ways to eat them: roasted in small chunks with lots of seasonings and baked into "beet brownies". The second is kind of a cheat, but I had a half cup of beets in the refrigerator and had read that putting beets in brownies adds color, depth of flavor and improves texture. Hey, why not?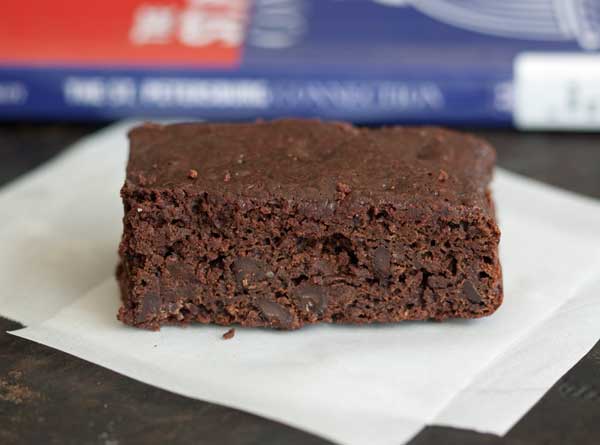 To get started, I used this recipe, but halved the ingredients and adjusted the recipe for an 8 inch square pan. The brownies came together pretty quickly, and pureeing the beets was kind of fun.
Unfortunately, when I pulled the beet brownies out of the oven their appearance suggested they might be cakey. I gave them a few hours to cool, then gathered everyone in the kitchen for a taste test. Luckily, I was wrong about the texture. While cakey in appearance, they were dense and light at the same time. As for chocolate, they were intensely chocolate-y, so that was good, and I was glad I'd added all those chocolate chips because the light texture of the crumb and the chips was a nice contrast. But what about the beets? The first time I tried them I could taste the beets, but the texture was so good I didn't mind. Todd got a big taste of beet and thought the brownies were gross. Fuzz, who seems to like beets, said "Awesome!".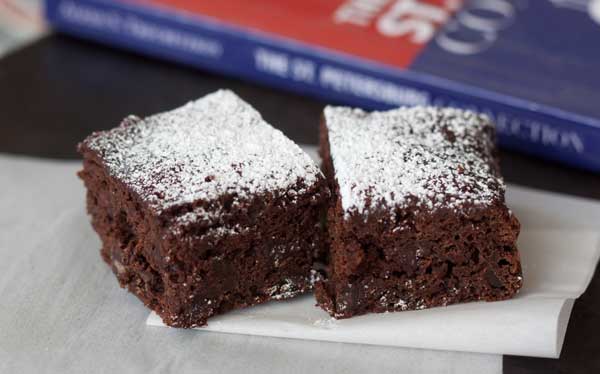 A few hours later all three of us tried the brownies again and the beet flavor had dissipated to the point it wasn't really noticeable. So putting beets in brownies is worth a try if you just happen to have some beets around. Given how much I loved the texture, I'm going to make these again with pureed prunes.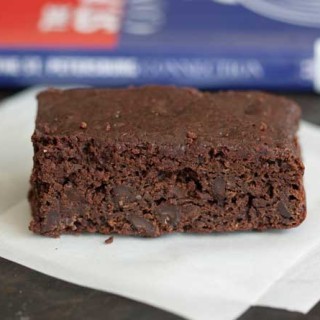 Beet Brownies
Beet Brownies are made with cocoa powder and pureed cooked beets. This recipe was designed for an 8 inch square pan.
Ingredients 
Leftover cooked beets

enough to measure 1/2 cup when pureed

4

ounce

unsalted butter

8 tablespoons

1/4

cup

plus 2 tablespoons packed dark brown sugar

1/4

cup

plus 2 tablespoons granulated sugar

1/2

cup

plus 2 tablespoons unsweetened cocoa powder

I used natural but others used Dutch

1 1/2

teaspoons

vanilla

2

large eggs

1/4

cup

plus 2 tablespoons

3.4 oz all-purpose flour**

1/2

teaspoon

baking powder

1/2

teaspoon

salt

2/3

cup

dark chocolate chips

don't omit

Optional Garnish: Powdered Sugar
Instructions 
Preheat oven to 350 degrees. Line an 8 inch square metal pan with nonstick foil.

Puree the beets (add a little water if they are dry) and measure out 1/2 cup of puree. Set aside.

In a small to medium size saucepan, melt butter over medium-low heat. Add both sugars and stir until mixture is shiny, then stir in the cocoa powder. Remove from heat and stir in the 1/2 cup beet puree. Let cool slightly, then add the vanilla.

In a small bowl using a hand-held electric mixer, beat the eggs until they are light and fluffy. With a rubber scraper, gradually stir the beaten eggs into the saucepan with the chocolate mixture.

Mix together the flour, baking powder and salt, and stir flour mixture into the chocolate mixture. Check to make sure the chocolate mixture is not so warm that it will melt the chocolate chips, then stir in the chocolate chips. Scrape mixture into prepared pan and bake on center rack for 27 minutes or until a skewer inserted comes out with moist crumbs.

Let cool for about an hour at room temperature, then transfer to the refrigerator to finish cooling. Lift from pan and cut into squares. Garnish with powdered sugar if desired.
Notes
If you don't weigh out 3.4 oz, spoon the flour lightly into the measuring cup. Don't pack it at all because too much flour might dry the brownies.