After making today's veggie burgers, I decided to make good use of the rest of the canned beets. I'd always wanted to try a beet cake, so I did a search and found a highly rated chocolate beet cake sheet cake on Recipezaar.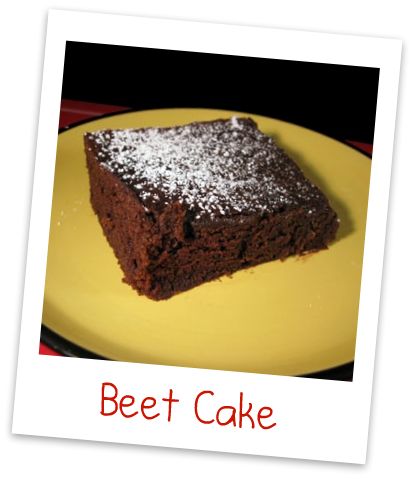 Below is my interpretation of the recipe. The only change I made was to add a small handful of miniature chocolate chips, but the cake is so rich and moist those are optional. They didn't hurt anything, though! Pureeing the beets was a little difficult in my processor, so to get the beets smooth, I added some of the oil to the beets as I processed – not additional oil, just a couple of tablespoons of oil from the original 1 cup.
Chocolate Beet Cake Taste
My chocolate beet cake tasted delicious and didn't have any funny beet taste which a few people mentioned in the review. It did look a little thinner than the one pictured on Recipezaar, and it might be because I used 3 Egg Beaters in place of eggs.
Didn't Need Frosting
One last thing. I don't always believe people when they say a cake doesn't need frosting and I was prepared to whip some up. As it happened, the reviewers were right and the cake does not need frosting. In fact, the frosting would probably be overkill because the cake is so incredibly moist. Fresh whipped cream? That is another issue! I am going to serve this with whipped cream and strawberries.
Recipe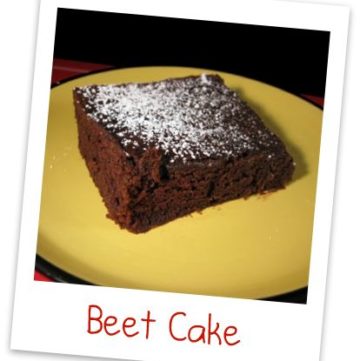 Chocolate Beet Cake
Chocolate Beet Cake
Ingredients 
1 ¾

cup

all-purpose flour

(215 grams)

1 ½

teaspoons

baking soda

½

teaspoon

salt

1 ½

cups

granulated sugar

(300 grams)

3

large

eggs

1

cup

vegetable oil

1

teaspoons

vanilla extract

2

oz

melted unsweetened chocolate

1

cup

pureed beets, from a can (drain and puree)

Small handful of mini chocolate chips

optional
Instructions 
Preheat oven to 350 degrees. Spray a 13x9 inch metal baking pan with flour added cooking spray or grease using your preferred method.

Sift together flour, baking soda and salt; set aside.

Beat sugar and eggs together for 1 ½ minutes using high speed of electric mixer. Beat in oil and vanilla; when well mixed, beat in the melted chocolate and beets.

Add the flour mixture to the egg mixture and stir until well mixed. The batter might seem a little lumpy from the beet puree, but that's okay.

Pour the batter into the pan and bake on center rack of oven for 25 minutes or until cake tests done. To test for doneness, insert a wooden pick or skewer in center. It should come out clean or with a moist crumb or two. The cake might seem almost too moist, but it firms up as it cools and mellows out.

Let cool completely. If you have the time, let sit over night and serve the next day.