Served at a popular Texas cafeteria called Luby's, Luby's Butternut Brownie Pie is one of my mom's favorite pies.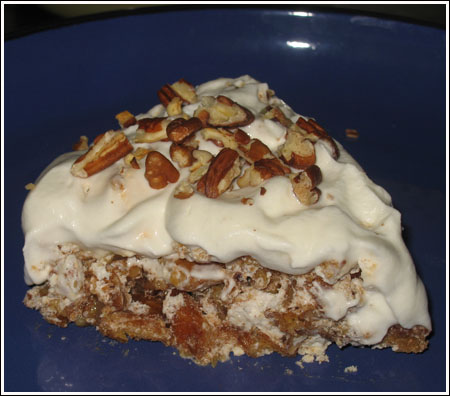 Oddly enough, there is no chocolate in this pie, yet it still has "brownie" in the title. It is kind of a brownish color, though, so maybe the name Butternut Brownie Pie comes from that.
What it looked like prior to being baked
What it looked like after I took it out of the oven and before I covered it with whipped cream. The orange stuff is crushed Butterfinger candy. It's marking the small quadrant where I mixed a bit of Butterfinger into the pie filling to see how it would taste. It's probably going to be too sweet, but I will let you know.
Luby's Butternut Brownie Pie
Luby's Butternut Brownie Pie is a unique pie made with egg whites, pecans, sugar and graham crackers.
Ingredients
Butter or shortening for rubbing pie plate (about 1 tablespoon)
5 large or 4 "extra large" egg whites
1/8 teaspoon baking powder
1/8 teaspoon cream of tartar
1 cup granulated sugar
1 teaspoon vanilla extract
14 graham cracker squares, broken into half inch pieces
1 cup chopped, toasted pecans
Topping:
1 cup whipping cream
3-4 tablespoons granulated sugar
1/2 teaspoon vanilla
Instructions
Preheat oven to 350 degrees F. Rub a 9 inch glass pie plate (I use a deep dish) generously with butter.
In a mixing bowl, beat egg whites and baking powder until soft peaks form. Add cream of tartar, beating constantly. Add 1 cup of sugar, 1 tablespoon at a time, beating constantly until stiff peaks form. Beat in vanilla. Using a rubber scraper, fold in graham crackers and chopped, toasted pecans. Pour mixture into pie plate and bake for 30 minutes. Cool completely on a wire rack.
Prepare topping. In a chilled bowl, using chilled beaters, beat cream until it begins to thicken. Add sugar and vanilla and continue beating until stiff peaks form. Do not overbeat. Top pie with whipped cream.
Related posts: