Having grown up in Texas, I've eaten at Luby's Cafeteria more times than I can count. They've updated the menu to include healthier fare such as salads and grilled meat, but one thing that hasn't changed much is their dessert section. Part of the fun of going through the line is and always has been getting to the end and seeing the mile high Luby's chocolate cream pie, lemon meringue, layer cakes and fruit pies. Oh, and lots of colored gelatin, which for some reason, tastes better than other gelatin -- so much so that sick friends have asked other friends to bring them gelatin from Luby's. Weird, I know. I would have asked for pie!
It tastes a lot like the chocolate pie my grandfather used to share when he ordered pie, in that it is sweeter and a little bit stiff thanks to the cup of marshmallows thrown in at the end. If you want a slightly creamier, looser pie, you could probably get away with leaving them out completely. However, they do add a nice structure. This pie would be good with either a pastry crust, chocolate crumb or graham crust.
Recipe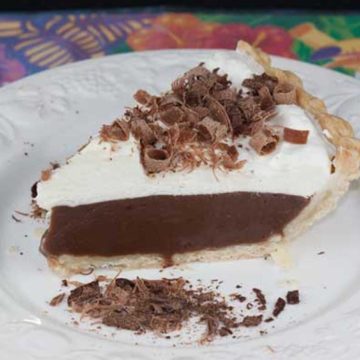 Luby's Chocolate Icebox Pie
Adapted from a Luby's cookbook, the Luby's Chocolate Icebox Pie is a chocolate cream pie made with cocoa powder.
Ingredients 
2 ½

cups

milk, whole

1 ⅓

cups

granulated sugar

¼

cup

unsweetened cocoa powder, natural

1

tablespoon

butter

7

tablespoons

cornstarch

6

tablespoons

water

3

extra-large

egg yolks

1

teaspoon

vanilla

1

cup

miniature marshmallows

1

9 inch

pie pastry, baked

sweetened whipped cream
Instructions 
In a 3 quart saucepan, combine 2 cups of the milk, sugar, cocoa and butter. Bring the mixture just to a boil over medium heat.

While the mixture in the saucepan is heating up, in a separate bowl, mix cornstarch and cold water until completely dissolved. Stir in remaining ½ cup of milk, then whisk or stir in the egg yolks and vanilla until well blended.

Gradually whisk the egg mixture into the chocolate mixture and continue cooking over medium heat, stirring constantly, for about 2 minutes or until mixture is thickened and smooth. Add marshmallows and remove from heat. Stir until marshmallows are melted and mixture is smooth.

Pour into pie shell. Press plastic wrap directly onto filling and let cool at room temperature for about 30 minutes. Transfer to the refrigerator and let chill until set (at least 2 hours).

Spread sweetened whipped cream over the top of the pie. You can use homemade sweetened whipped cream or Cool Whip.