If you haven't noticed by now, I never stick with one cut-out sugar cookie recipe. There's always a new and better (or sometimes worse) recipe around the corner. Luckily, this falls into the "better" category.
I found the original version of this recipe on a board for budget travelers (I wonder if they know about VRBO???). It was posted by a lady named Renee who said the cookies get rave reviews from everyone. What I really like about this recipe, aside from how good the cookies taste, is that you can melt the butter in one bowl and just stir in all the other ingredients. Hence, the new name…which I think sounds kind of early seventies.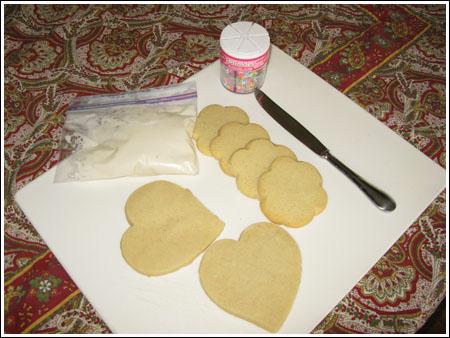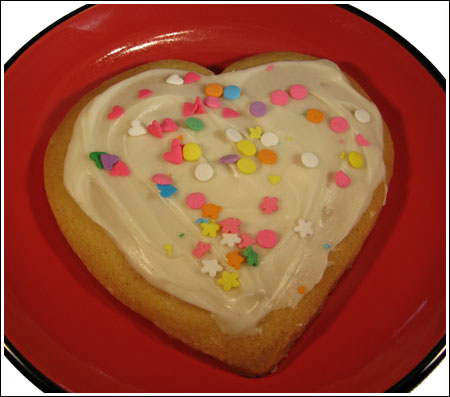 Lazy Mom's Cut-Out Cookie Dough
1 cup unsalted butter (2 sticks)
1 1/2 cups sifted powdered sugar (sift sugar, then measure about 1 ½ cups)
1/2 scant teaspoon salt (omit if using salted butter)
1 egg
1 tsp. vanilla extract
1/2 tsp. almond extract (optional)
2 1/2 cups all purpose flour
1 tsp. baking soda
1 tsp. cream of tartar
In a microwave-safe mixing bowl, melt the butter on high power. Let it sit for 5 minutes to cool, then add powdered sugar and stir until smooth. Stir in salt, egg and extracts. Next, add baking soda and cream of tartar. Stir well with a mixing spoon making sure there are no clumps of baking soda or cream of tartar. Scrape sides of bowl and stir a little more. Add the flour and stir until blended. Do not beat it. Dough will be more like batter, so don't even think about rolling it. Can't happen.
Lay a large sheet of waxed paper over a cookie sheet and dump the dough onto it. Divide dough into 4 parts and set each part on a separate sheet of waxed paper. Press each section of dough down into a 1/3 inch thick mass and press a sheet of waxed paper on top of each. Put all 4 sections in refrigerator to chill for an hour. It will magically firm up!
Preheat oven to 350 degrees F.
Remove one section of the dough from refrigerator. No need to roll, because you've already pressed it. Now cut out some shapes, and hurry. The dough gets soft as it sits. Lift the shapes from the dough and place on a non-stick cookie sheet. Lift up scraps, press and cut. Repeat with another section of dough.
Bake the cut-outs for 10-15 minutes (varies with size of cutters) or until they appear nicely set and the edges are brown. Let cool on cookie sheet for a few minutes, then transfer to a rack to finish cooling.
When the kids get home from school, give them the blank cookies, your choice of frosting and sprinkles to decorate.
If you're not feeling quite so lazy, make the frosting. This recipe is great for kids.
Easy Frosting
2 tablespoons butter melted
2 cups powdered sugar
3 tbsp. milk
3/4 teaspoons vanilla
Mix the melted butter and sugar into an ugly paste. Add milk one tablespoon at a time and stir until smooth. When it's the consistency you want, stir in vanilla. Spoon it into some zipper bags and chill until the kids get home. When they get home, snip off the bottom corner of the bag and let them squeeze out the icing.
 (Or just forget the bag and spread it on with a plastic knife)
Related posts: