I didn't get my holidays mixed up. Fuzz needed something edible and red for a school project and the first thing that came to mind was a batch of heart shaped cut-out cookies. In hindsight, I could have made red circles and called them "Rudolph Noses", but that might have led to a conversation about whether Santa is real and that's not a conversation I want to get into with a bunch of ten year olds. Of course Santa is real! Stop asking!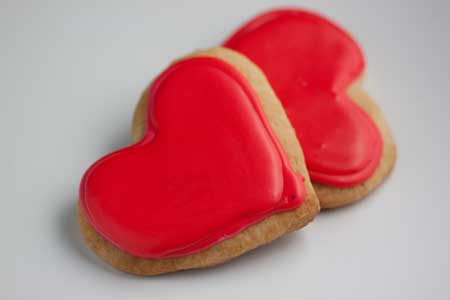 So It's probably good I did hearts, but you can use this new cut-out sugar cookie dough for any shape you want.
This cut-out sugar cookie recipe was sent to me by my friend Linda who has used it for years. It's from an old publication called "Everyone Likes Cookies" put out by the Rochester (New York) Gas and Electric, Home Service Department in (we suspect) the early '60s. The cookies are not too sweet, very light, very brown, and the perfect vehicle for holding lots of frosting.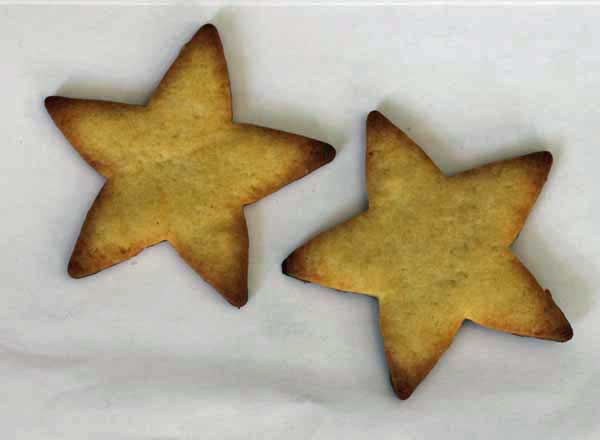 Update: I still really like this recipe. The cookies don't have a buttery flavor, but the shortening (I use the non-hydrogenated type these days) gives them a crisp, snappy texture. Since the shortening doesn't have much flavor, I often add a little more vanilla than the recipe calls for along with a dash of almond extract.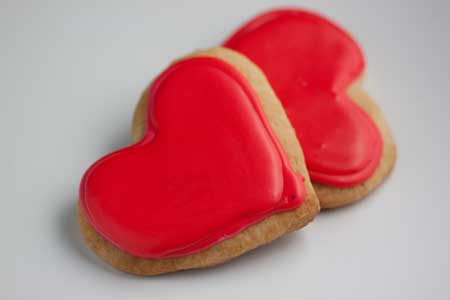 An Old Cut-Out Sugar Cookie Recipe
A cut-out sugar cookie recipe. This recipe is an old one and for whatever reason, it calls for a 400 degree oven. Using a 400 degree oven means you have to keep a close eye on the cookies, but they do come out nice and crispy if you pull them at just the right moment. If your oven runs a little hot or if you want to bake at a more leisurely temp, 375 works well.
Ingredients 
1

cup

shortening

4

cups

all purpose flour

(460 grams)

1/2

teaspoon

salt

2

large eggs

1

cup

sugar

(200 grams)

1/4

cup

whole milk or reduced fat milk with a teaspoon of cream mixed in

1

teaspoon

vanilla plus a little almond extract if desired

1

teaspoon

baking soda
Instructions 
Preheat the oven to 400 degrees F. Have ready two baking sheets lined with parchment paper.

In a large bowl, cut the shortening into the flour. I did this by hand, but you could probably use a food processor. Add the salt and stir well.

Combine the eggs and sugar in a second bowl and beat well – I did this with a hand-held mixer.

Combine the milk, vanilla and baking soda in a small cup.

Add the egg mixture and the milk mixture to the flour mixture and stir until it's all blended and you have a dough. At this point I chilled mine for about half an hour, but the recipe doesn't say you have to.

On a floured surface, roll a half or a quarter (I never roll it all at once) into a ¼ inch thick slab and cut out shapes. Bake for 8-12 minutes or until your cookies are golden brown (these get quite brown) and appear set. Remove from baking sheet and let cool completely.

Ice with royal frosting or butter cream.
Notes
Yield will vary, but a half batch gave me about 20 2-inch hearts.
Linda has made this recipe with various ratios of shortening to butter and believes that the all-shortening version gives the best texture. If you like the flavor of Butter Flavored Crisco, you could try using that, but I thought the vanilla and almond were flavorful enough and didn't miss the butter flavor. Besides, you could put a lot of butter in the frosting. These cookies really do need a frosting of some sort.