Today's recipe was inspired by The Leavening Agent who posted a great photo of a blueberry bar. She didn't include the recipe, so I checked a few bulletin boards and found the original version which was originally published in Fine Cooking Magazine. It had mixed reviews and some specific criticisms including "too much crust, not enough filling". So I decided to make the bars using a different recipe for crust and topping.
The results were fabulous and I am having a hard time staying away from these bars! They are very lemony (don't leave out the zest!), sturdy, but still creamy and smooth. If you like the lemon-blueberry combo, this is a must-try recipe.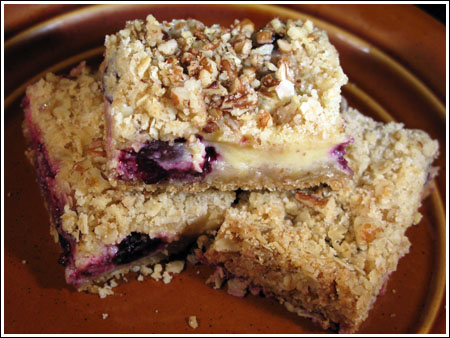 Creamy Lemon Blueberry Bars
1 3/4 cups all-purpose flour
1/2 cup brown sugar
1/2 cup granulated sugar
1 teaspoon salt
1/2 teaspoon baking soda
12 tablespoons unsalted butter, cut into small pieces
1 1/2 cups oats (quick cooking)
2 large egg yolks
1 can 14-oz can sweetened condensed milk
1/2 cup fresh lemon juice
2 tsp lemon zest
2 cups room-temp blueberries, washed, drained, patted dry
1/2 cup chopped pecans (optional)
Preheat oven 350 degrees. Grease a 9×13 inch metal baking pan. (Line with foil or parchment if desired)
Combine the flour, both sugars, salt and baking soda in bowl of a food processor and pulse to mix. Add butter and pulse until mixture is coarse and crumbly. Add oats and pulse to mix.
Press about 2/3 of the crumb mixture into the pan and set remainder aside. Bake crust for 12 minutes. Meanwhile, prepare filling.
Whisk the condensed milk, lemon juice, lemon zest and egg yolks together in a medium bowl and let stand for 5 minutes.
Arrange blueberries evenly over the crust; pour lemon mixture over the blueberries. Spread gently with a spatula to distribute as evenly as possible. Bake until the lemon mixture just begins to form a shiny skin; 7 to 8 minutes.
Sprinkle reserved topping over the lemon layer, then sprinkle pecans over topping. Bake for 25 minutes.
Let the bars cool in the pan on a rack until just warm, about an hour. When cool, transfer to refrigerator to chill for at least 2 hours. The longer the chill time, the better they'll be.
Cut into about 24 bars
Related posts: