Update: I've been making what I call "The New York Times Chocolate Chip Cookies" a lot lately for bake sales. Their size and shape make them really impressive, but they don't stay fresh very long. If you make them ahead of time, wrap tightly and keep them in the freezer. Better yet, make the dough ahead of time and bake the cookies a few hours before the sale.
Chalk one up for delayed gratification, because these cookies are delicious. Chilling them overnight was definitely worth it. Then again, we knew that, right? This was just another excuse to make chocolate chip cookies.
As predicted, they are very good. I measured all the ingredients by weight and ended up with medium-thick, chocolate packed cookies with chewy centers and crispy edges. The only thing I couldn't use was (sigh) Valrhona. However, a combo of Ghirardelli bittersweet chips and Lindt 70% chunks worked quite nicely.
Here's a link to the original New York Times Chocolate Chip Cookie recipe, and below is my adapted version. I like to shape the dough ahead of time and bake the cookies as needed.
The cookie in this photo doesn't have any fancy salt on it. I opted to leave it off a few of the cookies and test whether I liked salted vs. unsalted. I liked them both equally, but the unsalted cookie was prettier. What I can't figure out is why mine looks so different from the picture. I am thinking it has to do with either 1) the size of the chocolate chunks I used and/or 2) the insulated cookie sheet.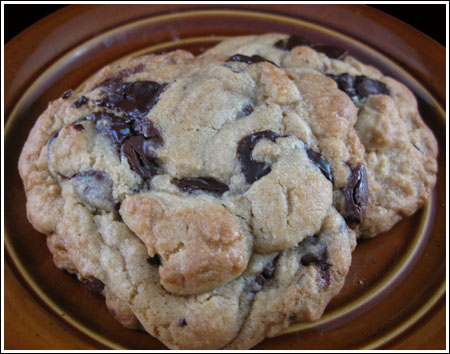 (The Latest) New York Times Chocolate Chip Cookies
Giant chocolate chip or chocolate chunk cookies. These are perfect for wrapping individually and giving as gifts.
Ingredients
2 cups minus 2 tablespoons (8 1/2 ounces) cake flour
1 2/3 cups (8 1/2 ounces) bread flour
1 1/4 teaspoons baking soda
1 1/2 teaspoons baking powder
1 1/2 teaspoons coarse salt
2 1/2 sticks (1 1/4 cups) unsalted butter
1 1/4 cups (10 ounces) light brown sugar
1 cup plus 2 tablespoons (8 ounces) granulated sugar
2 large eggs
2 teaspoons natural vanilla extract
3 cups of the best chocolate chips you can find
Sea salt -- good, but I omit it half the time and the cookie are still great.
Instructions
Thoroughly mix the flours, baking soda, baking powder and salt into a bowl. Set aside.
Using a mixer fitted with paddle attachment (a handheld mixer is fine), cream butter and sugars together until very light, about 5 minutes. Add eggs, one at a time, mixing well after each addition. Stir in the vanilla. By hand, stir in the flour mixture. When flour is incorporated, stir in the chocolate. At this point, I like to shape the cookies and chill the shaped balls.
Line a baking sheet with parchment paper and scoop out about 18 equal size balls. Chill until the dough is firm and the balls don't stick together, then put in a bag and chill overnight.
When ready to bake, preheat oven to 350 degrees and bring dough to room temperature.
Line a baking sheet with parchment paper or a nonstick baking mat and arrange about 6 dough balls per sheet. Press the tops down slightly and sprinkle tops with sea salt if desired.
Bake for 18 to 20 minutes. Let cool on the baking sheet for 5 to 10 minutes and then transfer to a cooling rack to finish cooling.
I like to transfer them to the refrigerator to quick cool and prefer the chocolate set rather than warm and melty.
Notes
Jacques Torres makes these with Valrhona fèves, oval-shaped chocolate pieces. You can sometimes find them at Whole Foods. I make them with whatever good chocolate I can get my hands on. If I'm using chips, I like to use the Ghirardelli 60% bittersweet chips.
Related posts: