I was hoping to go to Central Market this morning, but got bogged down with Monday chores and couldn't leave the house. Luckily, I had all the ingredients for making what might be the best lemon squares ever…or at least that I've ever made.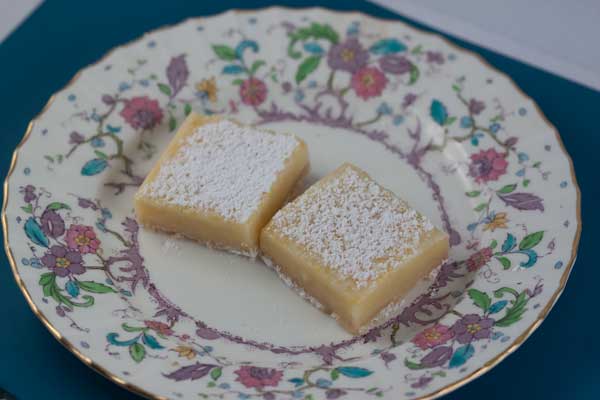 For the original 13×9 inch pan recipe (and its source) click here. If you'd like to try a smaller version with some minor changes, try the version below. I used a little half & half which gave the squares a smoother texture. The other interesting elements of the recipe were the additional cornstarch in the crust and the level of lemon. I like things lemony and these were just right.
To sum it up, if I were to make a Top 10 list tomorrow, this recipe would be on it. That is, unless I find 10 superstar recipe between now and midnight.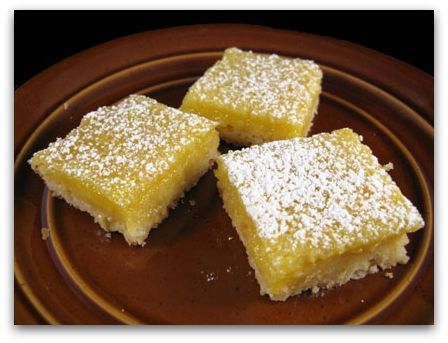 Possibly The Best Ever Lemon Squares
Crust:
3/4 cup plus 2 tablespoons all-purpose flour (114 grams)
1/3 cup powdered sugar — plus extra for garnishing
2 tablespoons cornstarch
3/8 teaspoon salt (just use ¼ tsp plus an extra pinch)
6 tablespoons unsalted butter, cut into pieces
Filling:
2 large eggs
2/3 cup granulated sugar
1 1/2 tablespoons all-purpose flour
1 teaspoon lemon zest
1/3 cup fresh lemon juice
3 tablespoons half & half
1/8 teaspoon salt
Don't preheat oven quite yet. Line an 8 inch square metal pan with foil. Spray the foil with cooking spray.
Pulse flour, powdered sugar, cornstarch, and salt in food processor. Add butter and process to blend, 8 to 10 seconds, then pulse until coarse. Pour what will seem like a very *dry* mixture into lined pan and press over pan bottom. Refrigerate for 30 minutes. While it chills, you can make the filling.
Preheat oven to 350 degrees F. When oven is preheated, bake the pre-chilled crust (above) for 18-20 minutes or until edges are very lightly browned.
Filling: Lightly beat the eggs, sugar, and flour together in a bowl. I used a fork. Add lemon juice, lemon zest, half and half, and salt and mix well.
Reduce oven temperature to 325 degrees. Stir filling again, then pour filling over the crust. Bake for 20 minutes or until filling no longer appears wet and shaky.
Set on a wire rack and cool to room temperature. Lift from pan, place on cutting board, dust with extra powdered sugar and cut into bars.
Cut into a dozen squares
Related posts: