Sorry I'm posting late, but here's another recipe for red velvet cake.   I got this one from a local cake store, but have seen it used by many Southern bakers as well.  If you or the people you are baking for are looking for a moist cake, this is it!  Just be careful not to overbeat or you risk toughening up the gluten in the flour and making the cake kind of rubbery.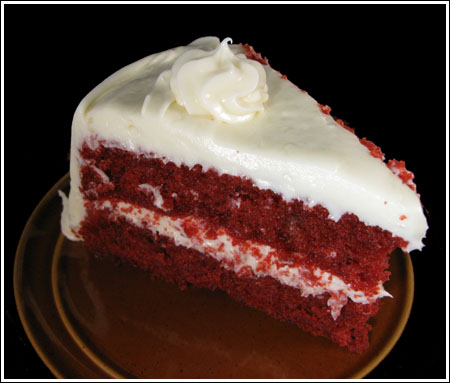 Red Velvet Cake
A very simple and moist red velvet cake. Great for beginners.
Ingredients
2 1/2 cups all-purpose flour
1 teaspoon baking soda
1/2 teaspoon baking powder
2 tablespoons cocoa powder, not dark
1 teaspoon salt
1 1/2 cups sugar
1 cup buttermilk
1 1/2 cups vegetable oil
2 large eggs
1 tablespoon red gel paste food color or 1 ounce of red color
1 tablespoon white vinegar
1 tablespoon vanilla extract
Cream Cheese Icing
16 oz. cream cheese, softened
2 sticks butter, softened
1 tablespoon vanilla
4 cups sifted confectioners' sugar
Instructions
Preheat oven to 350°. Grease and two 9 inch round pans with parchment or line 24 cupcake cups with paper liners.
Sift together flour, baking soda, baking powder, cocoa. You want to remove any lumps, because this batter just gets stirred rather than beaten. Stir in the sugar.
In a second bowl, mix the buttermilk, oil, and eggs with a handheld or stand mixer until well mixed. Stir in the food coloring, vinegar and vanilla.
Add the dry ingredients slowly and mix until fully incorporated. Don't over-beat or you'll risk toughening up the gluten in the flour.
Split batter between the pans. Bake for 20 to 25 minutes or until cakes spring back when touched. If baking cupcakes, start checking for doneness at 20 minutes. Allow to
cool in the pan. Once cool, turn cake out of pan. Slice off any rounded top to level the 9. cakes.
Have cream cheese and butter at room temperature. With paddle attachment of a stand mixer or hand
mixer, mix butter and cream cheese together. Slowly add confectioners; sugar. Add vanilla last and mix until fluffy.
Related posts: