Last week I went on a crazy apple pie baking spree under the guise of finding the perfect apple pie recipe. The real reason was probably due to stress and a need for baking therapy; but in any event, the experience resulted in a new appreciation of apple pie and knowing what I like and do not like about it. Here's a rundown of what I made.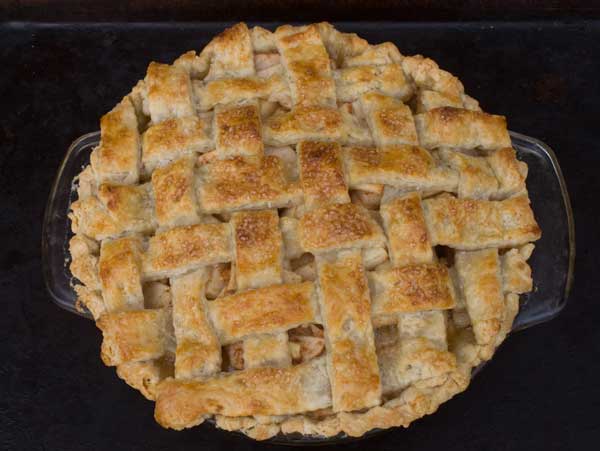 First up was Grandma Ople's, which has about 5,000 5-star reviews on Allrecipes, and that's really no surprise, because it has 1/2 cup of butter and a full cup of sugar (half brown and half white). There was a lot going on in each bite, and while I can't say we didn't like it, the apples took a backseat to all the butter and sugar.
The second pie was a pretty basic Betty Crocker recipe. The filling has only 2 tablespoons of butter and 1/2 cup of sugar to 8 cups of apples, but we liked it as much as the Grandma pie. I did not miss the brown sugar.
Third was Land o Lake's Blue Ribbon Apple Pie. This pie is similar to Betty Crocker's, but with fewer apples, both granulated and brown sugar and no butter at all in the filling. This was funny considering it was from the butter company, but I can see why they chose it. The apple flavor was more up front without the butter to mellow it out.
My conclusion was that it's hard to make a bad apple pie filling, but that my personal favorites are ones with little or no butter, fresh lemon juice, and firm apples. I also decided that Granny Smiths, though not the most exciting variety, are my favorite both flavor and texture, but that mixing them with another apple makes the pie more interesting.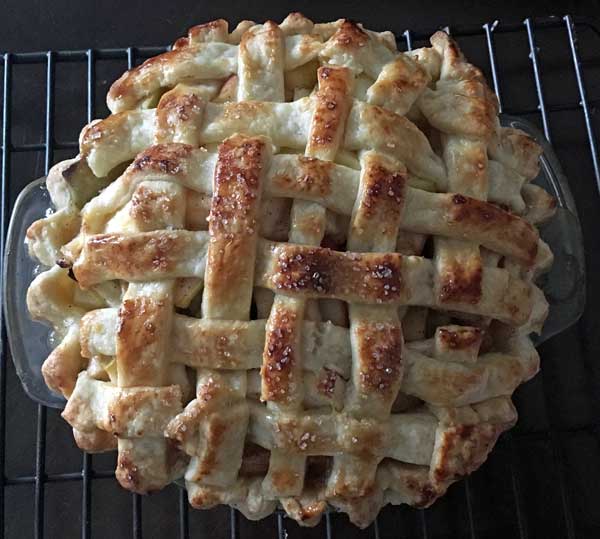 As for crust, it's a complicated affair. It's not hard to make, just fraught with debate — some people like refrigerated roll-and bake crusts, others insist on all-butter, and some people like the texture of a shortening or lard based crust. For this crust I used a mixture of butter and shortening. If you don't want to use regular shortening, try the non-hydrogenated kind.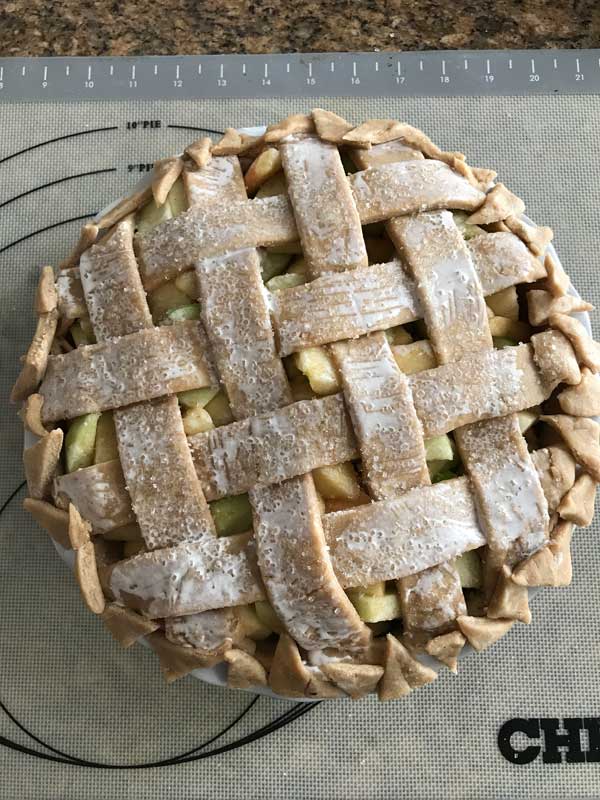 Another thing to know about this recipe is that the pie, when cut, does not hold together well. This is because it doesn't have a ton of butter and starch to bind it together. Personally, I do not mind because I feel like I can really taste the apples. That, plus the crust is rich enough in its own right thus the balance of rich crust and light filling hits the spot. But if you are planning on taking it to a potluck or cutting it and plating it, you might want to go with a pie that has more butter and starch in the filling.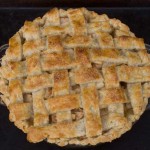 Print Recipe
Apple Pie Recipe
An apple pie without a lot of butter and starch in the filling. You'll really taste the apples in this one.
Ingredients
Crust:
2 3/4

cups

all-purpose flour

12.5 oz, pus extra for pastry mat

1

teaspoon

salt

2

tablespoons

granulated sugar

12

tablespoons

unsalted butter

cold

4

tablespoons

of shortening

regular or butter flavored non-hydrogenated

8

tablespoons

of ice cold water plus more if needed
Filling:
About 3 1/2 pounds of apples –I use all kinds

but always include some Granny Smiths

2

tablespoons

lemon juice

2

teaspoons

cinnamon

1/2

teaspoon

vanilla

3/4

cup

granulated sugar

2

tablespoons

all-purpose flour

1/8

teaspoon

kosher salt
Egg Wash:
A little bit of egg white or yolk mixed with a little bit of cream

Coarse sugar or vanilla sugar
Instructions
Mix the flour, sugar and salt together in a mixing bowl and put in the freezer for about 20 minutes. If you are short on time you can skip this, but it's always good to keep the ingredients cold.

Pour mixture into a food processor and pulse to mix. Add butter and shortening and pulse to make a coarse meal. Pour mixture back into mixing bowl. Alternatively, you can do all of this one one mixing bowl with a pastry cutter or your fingers.

Add water 2 tablespoons at a time and stir with a heavy duty scraper until dough holds together when pinched. Empty pie dough onto a flat surface and divide in half. Shape each half into a tight disc and wrap in plastic. Chill for an hour or until ready to use.

On a floured surface, roll out one disc to make a 12 inch circle. Place in the bottom of a deep dish 9" deep dish pie plate. Don't crimp or press down the edges quite yet. Chill dough-lined pie plate while you prepare the apples.

Peel, core and cut the apples into fairly thin slices.

In a large mixing bowl, toss the apples with lemon juice, cinnamon, vanilla, sugar, flour and salt. Transfer apple slices to dough-lined pie dish, pressing them down flat as you pack them into the dish.

Roll the second section of pie dough out to a large circle on a lightly floured surface and cut it into 1 inch strips. Build lattice on a parchment lined baking sheet and freeze until stiff. When stiff, plop the lattice on the pie crust and allow the dough to thaw somewhat so that it bends into the shape of the pie. Tuck it under the edges.

Brush with egg mixture and sprinkle with sugar.

Set pie on a rimmed baking sheet to catch drips and bake at 425 for 20 minutes. Reduce heat to 375 and bake another 30 minutes or until pastry is flaky and cooked through. Note: If your crust has already browned after first 20-30 minutes, lay a sheet of foil over it.

Remove pie from the oven and let cool for at least two hours before cutting and serving.
Notes
These days I usually make the crust without a food processor. One trick is to shred the cold butter with a hand held grater. If you shred the butter, you won't have to work the flour/fat mixture very much to get it to the coarse stage. I typically shred the butter, tossing flour over it as I shred, then add the shortening, then work it all together gently with my fingers.
What's your favorite apple pie recipe?