Last week I went on a crazy apple pie baking spree under the guise of finding the perfect apple pie recipe. The real reason was probably due to stress and a need for baking therapy. In any event, the experience resulted in a new appreciation of apple pie and knowing what I like and do not like about it. Here's a rundown of the apple pie recipes I tested.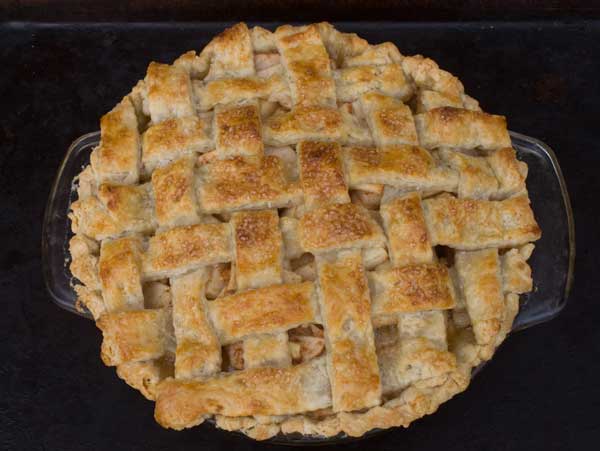 Grandma Ople's
First up was Grandma Ople's, which has about 5,000 5-star reviews on Allrecipes, and that's really no surprise, because it has ½ cup of butter and a full cup of sugar (half brown and half white). There was a lot going on in each bite, and while I can't say we didn't like it, the apples took a backseat to all the butter and sugar.
Betty Crocker's Apple Pie Recipe
The second pie was a pretty basic Betty Crocker recipe. The filling has only 2 tablespoons of butter and ½ cup of sugar to 8 cups of apples. We liked it as much as the Grandma pie and did not miss the brown sugar.
Land o' Lakes Blue Ribbon Apple Pie
Third was Land o Lake's Blue Ribbon Apple Pie. This pie is similar to Betty Crocker's, but with fewer apples, both granulated and brown sugar and no butter at all in the filling. This was funny considering it was from the butter company, but I can see why they chose it. The apple flavor was more up front without the butter to mellow it out.
Favorite Apple Pie Recipe!
My conclusion was that it's hard to make a bad apple pie filling, and that my personal favorites are ones with little or no butter, fresh lemon juice, and firm apples. I also decided that Granny Smiths, though not the most exciting variety, are my favorite both flavor and texture, but that mixing them with another apple makes the pie more interesting.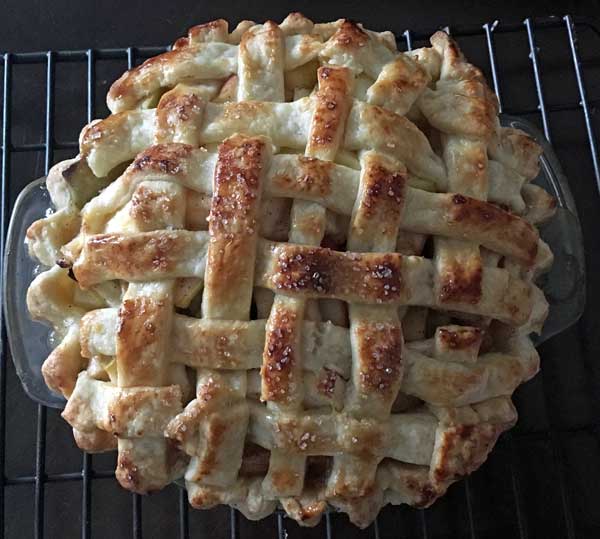 Favorite Apple Pie Crust
As for crust, it's a complicated affair. It's not hard to make, just fraught with debate -- some people like refrigerated roll-and bake crusts, others insist on all-butter, and some people like the texture of a shortening or lard based crust. I usually use a crust made with a mixture of butter an shortening or all butter. My latest favorite all-butter crust is one that contains a little baking powder.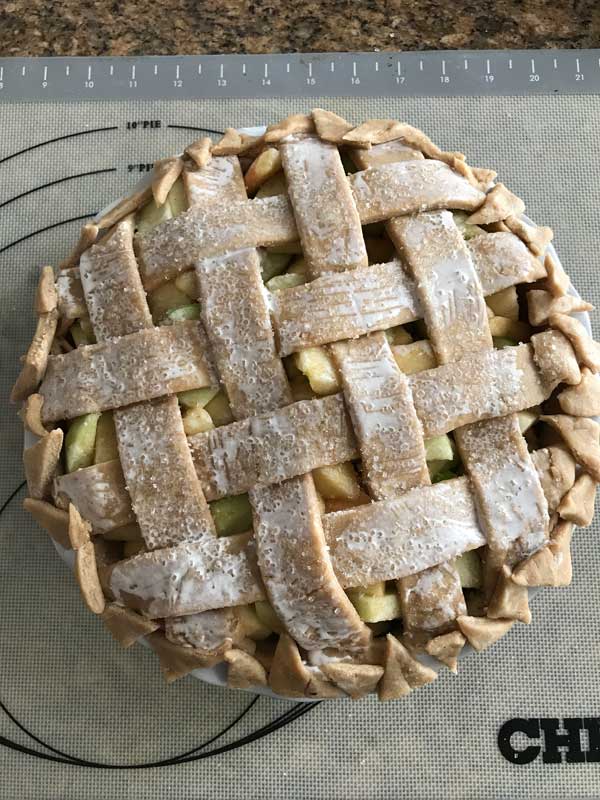 Apple Pie Filling
This pie filling is made without any butter, so you really taste the apples. Also, it now holds together well! I've started using the technique of draining the apples, boiling the apple liquid, and pouring it over the apples & cornstarch. This is similar to the method I use for peach pie, but for this one I hold back the cornstarch and toss it with the apples rather than mix it with the liquid. On occasion I've accidentally boiled the syrup with the cornstarch and that worked too, but it didn't concentrate the flavor quite as much.
Recipe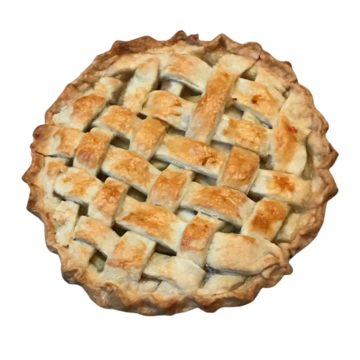 Apple Pie Recipe
An apple pie without a lot of butter and starch in the filling. You'll really taste the apples in this one.
Ingredients 
Crust:
2 ¾

cups

all-purpose flour

(340 grams)

¼

teaspoon

baking powder

1

teaspoon

salt

1

tablespoon

granulated sugar

16

tablespoons

unsalted butter, cold and cut into chunks

(230 grams)

1

tablespoon

apple cider vinegar

regular or butter flavored non-hydrogenated

8

tablespoons

of ice cold water plus more if needed
Filling:
2 ½

pounds

apples, mix of Honeycrisp and Granny Smith

Can vary the Honeycrisps, but keep the GS!

1

tablespoon

lemon juice

1

teaspoon

cinnamon

½

cup

brown sugar

¼

cup

granulated sugar

⅛

teaspoon

kosher salt

¼

cup

cornstarch

2

tablespoons

heavy cream for brushing, and coarse sugar (opt.)
Instructions 
Combine flour, baking powder, salt and sugar in a food processor and pulse to mix. Add half of the butter and pulse until mixture is coarse. Add remaining butter and pulse until mixture is coarse, but still has some pea size chunks of butter.

Mix vinegar with the water and add ⅓ cup to processor. Pulse and test to see if mixture holds together when you pinch it. Continue adding liquid 1 tablespoon at a time and pulsing until dough holds together just when pinched. Empty it onto a pastry mat and shape into a large mass. Note: If you find your mixture is still too crumbly to form a mass, go ahead and sprinkle a little more water on it. Mash it down, fold it over on itself and continue doing this until it holds together. Cut in half and shape into two disks. Wrap tightly in plastic wrap and chill until ready to use (at least one hour).

Peel, core and cut the apples into fairly thin slices.

In a large mixing bowl or a roasting pan, toss the apples with lemon juice, cinnamon, sugars, and salt. Let the apples sit, covered, for an 1 ½ hours. While the apples sit, you can start the process of preparing the pie plate.

On a floured surface, roll out one disc to make a 12 inch circle. Place in the bottom of a deep dish 9" deep dish pie plate. Don't crimp or press down the edges quite yet. Chill dough-lined pie plate while you prepare the apples.

One your crust is lined and your apples have sat for at least an hour, drain apple liquid into a saucepan, holding back the apple slices. You should get between ½ cup and ¾ cup liquid.

Boil the liquid for about 5 minutes to reduce slightly. If you had ½ cup of juice, it should reduce to ⅓ cup. If you had more like ⅔ cup, you'll have around ½ cup. It will thicken just slightly and be more like a syrup.

Toss the apples with the cornstarch, then pour the syrup over the apples. Transfer the apple mixture to the dough lined pie dish.

Roll the second section of pie dough out to a large circle on a lightly floured surface and cut it into 1 inch strips. Arrange the strips in a lattice across the top of the pie.

Brush with heavy cream and sprinkle with sparkling sugar.

Set pie on a rimmed baking sheet to catch drips and bake at 425 for 20 minutes. Reduce heat to 375 and bake another 45-50 minutes or until pastry is flaky and cooked through. Note: If your crust has already browned after first 20-30 minutes, lay a sheet of foil over it.

Remove pie from the oven and let cool for at least two hours before cutting and serving.
Notes
These days I usually make the crust without a food processor. One trick is to shred the cold butter with a hand held grater. If you shred the butter, you won't have to work the flour/fat mixture very much to get it to the coarse stage. I typically shred the butter, tossing flour over it as I shred, then add the shortening, then work it all together gently with my fingers.
What's your favorite apple pie recipe?