Last summer my stepmother got us hooked on Ancestry.com, a site where you build your family tree using old census, immigration, marriage, birth & death records. I didn't realize how enjoyable it would be, but it's like a big relaxing logic puzzle where the reward is finding your roots. The jackpot, of course, is when you find a relative and someone has posted old photos. This happened to us over holiday break. Fuzz and I were working on a school family tree project and found photos of my step-grandma, Bessie –a lady who had a big influence on my cooking but who died before I could tell her. Because it was one of her specialties, last night's recipe was dedicated to her.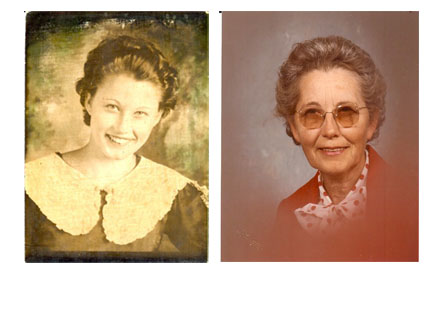 Bessie used to make terrific blackberry cobbler. I think she probably used frozen berries more often than not, and she made the cobbler in a big 13×9 inch dish because her house was always full of guests. For this recipe, I used fresh blackberries (here in Texas we get them from Mexico and they're pretty inexpensive) and made the cobblers in mini souffle dishes.
You can make two servings using two oven-proof casserole dishes or soup crocks (like the 10-20 oz kind) or you can make 4 mini's using little 4 oz porcelain souffe dishes. I experimented and made a little of both. I think the 4 serving size is more practical.  Todd couldn't finish the larger one.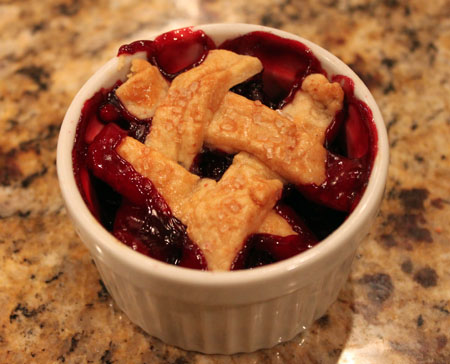 Mini Blackberry Cobblers
Crust
3/4 cup all-purpose flour (about 3.5 oz)
1 teaspoon sugar
1/4 teaspoon salt
3 tablespoons cold butter (I used unsalted)
1 tablespoon shortening
1-3 tablespoons cold water
Filling:
1/4 cup granulated sugar
1 tablespoon cornstarch
1/8 teaspoon ground cinnamon
1 1/2 cups fresh blackberries
1 teaspoon fresh lemon juice
Butter for greasing Ramekins
1 egg, light beaten
Sparkling Sugar
Combine the flour, sugar and salt ina large mixing bowl. Cut in butter and shortening (I do it with fingers) until mixture appears coarse. Add 1 tablespoon of water and try to bring together in a ball. If dough seems dry, add more water. Shape into a disk, wrap in plastic and chill until ready to use. I like to do this step early in the day.
When ready to bake, let pastry come to room temperature. Meanwhile, combine sugar, cornstarch and cinnamon in a mixing bowl. Add the berries and toss until coated. Pour in the lemon juice and toss to mix. Generously butter 4 oz soufflé dishes or ramekins or 2 oven proof soup bowls and divide berry mixture between them. Roll pastry into square or rectangle and cut it into strips that are about ¾ inch wide. I wasn't very careful about how I measured out the strips, but in the end you'll need something like 16 strips that are each about ¾ inch wide and 2 inches across. Arrange 4 strips in a lattice across top of each serving. Brush strips with beaten egg, sprinkle with a little sugar, set on a cookie sheet and bake for 40 minutes at 375 F.
Related posts: