So I recently acquired another outstanding cookbook — Perfect Pies: The Best Sweet and Savory Recipes from America's Pie-Baking Champion
. The "pie baking champion" being Michele Stuart, National Pie Festival champ, Bobby Flay's Throw-Down contestant, and owner of Michele's Pies in Norwalk, CT.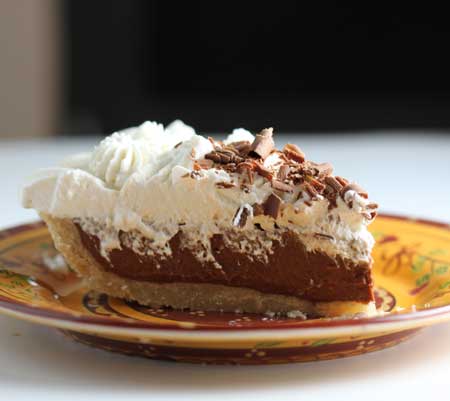 One of these days I'll try the Chocolate-Pecan-Bourbon Pie, the Maple Walnut Pie, Coconut Custard Pie, Lemon Chiffon Pie and maybe the Candyland Pie; but naturally, the first one on the docket was Michele's Chocolate Cream.  This may be my favorite chocolate cream pie yet.
Michele took a basic chocolate pie filling (one I recognized from my own grandmother's collection) and perfected the amount of egg yolks, cornstarch and chocolate to make the perfect balance of smoothness, sturdiness and chocolate flavor (though I did add a little chocolate extract since I'm putting it in everything these days). Also, the pie slices beautifully, which is important when you're trying to make a great presentation at Thanksgiving or just about any other event where you need to impress people.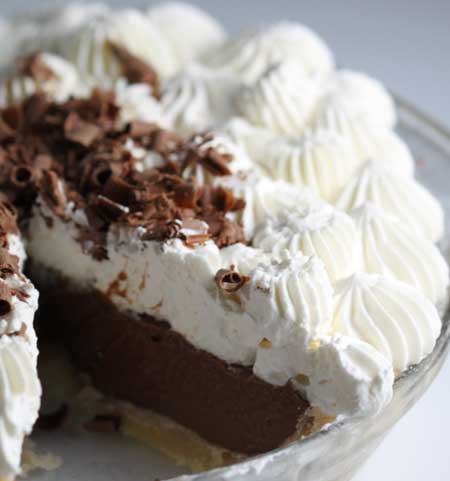 I highly recommend buying the book, but you can grab the recipe right now from Dash Recipes.  Here are some field notes to go with it.
Notes

Crust:   Normally I'd make chocolate cream pie with graham or chocolate crumbs, but in this case a basic pastry crust worked perfectly because it made the pie easy to slice and was a nice savory relief from the filling. I used Crisco's recipe for a double crust pie (the pie has one crust, but I wanted to make sure I had plenty of dough to flute the edges) and blind baked it with pie weights.    Use whatever pie crust you like and don't let making the crust scare you off!  And don't worry about using an all-shortening crust because you probably won't miss the butter.  It was the saltiness of the crust combined with the chocolate filling that made it so good.

Filling:  The change I made to the filling was to add about 3/4 teaspoon of chocolate extract.  You could definitely taste it in the pie, so make sure to use a good chocolate extract.  The only one I've tried is Nielsen Massey's and I'd say it's good.  Also, I added both extracts after taking the pie filling off the heat.  I noticed in Michele's recipe it's added as the filling is being cooked, but I am in the habit of adding it last because I'm always worried it will burn off.

Topping:  I whipped 2 cups of heavy cream and added 1/4 cup powdered sugar and 1 teaspoon of vanilla then piped it on with a large French star tip.  You could spread it on or just pipe big dots of it out of a zipper bag with a hole cut out of the corner.  For the chocolate shavings, I stole some Hershey bars from Fuzz's Halloween candy stash and shaved off bits with a peeler.
Related posts: