The first (successful) pound cake I ever made, was called Five Flavor Pound Cake. Named for its five extracts, coconut, lemon, rum, butter, and vanilla extracts, it has a unique flavor all its own.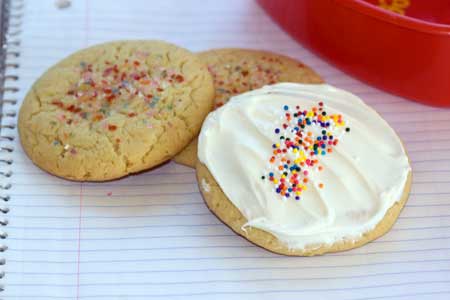 This week I decided to see if that same flavor combination would work well in sugar cookies. It did.
I didn't have coconut extract so I cheated a little and threw in a handful of unsweetened coconut, but I still got pretty much the same flavor effect. These are chewy very firm, and stay fresh for a while thanks to the shortening. You can frost them or leave them plain. I preferred the plain ones, but the ones that got eaten first were the frosted.
Five Flavor Sugar Cookies
Sugar cookies with five flavors. Based on the old pound cake recipe
Ingredients
6 tablespoons (2.5 ounces) vegetable shortening
2 tablespoons (1 ounce) unsalted butter, room temperature
3/4 cup plus 2 tablespoons granulated sugar
2 tablespoons firmly packed light brown sugar
1/8 teaspoon coconut or extract or a small handful of coconut flakes
1/8 teaspoon lemon extract or almond extract
1/8 teaspoon rum extract
1/4 teaspoon butter flavor extract
1/4 teaspoon vanilla extract
1 large egg
1/4 teaspoon salt
1/2 teaspoon baking soda
1 3/4 cups (1/2 pound) unbleached all-purpose flour
Instructions
Preheat oven to 350 degrees F.
In a large mixing bowl, combine the shortening, butter and both sugars. Beat on high speed until light and creamy. Beat in all five extracts. Reduce mixture speed slightly and beat in the egg, followed by the sale and baking soda. By hand, or if using the paddle attachment of a stand mixer, gradually add the flour (I don't recommend using low speed of an electric mixer because it's too easy to overbeat the flour).
Using a rounded tablespoon of dough, shape dough into large balls. Roll balls in sugar and place on nonstick or parchment lined baking sheets spacing 3 inches apart. Bake at 350 F for 15 minutes or until edges start to brown
Related posts: