This might not surprise you given the success of The Cake Mix Doctor books, but  Anne Byrne, has her own line of cake mix. I discovered this while perusing the CMD web site trying to get info on "shrinking cake mix". After a few emails back and forth, I was offered a sample of Anne's new product.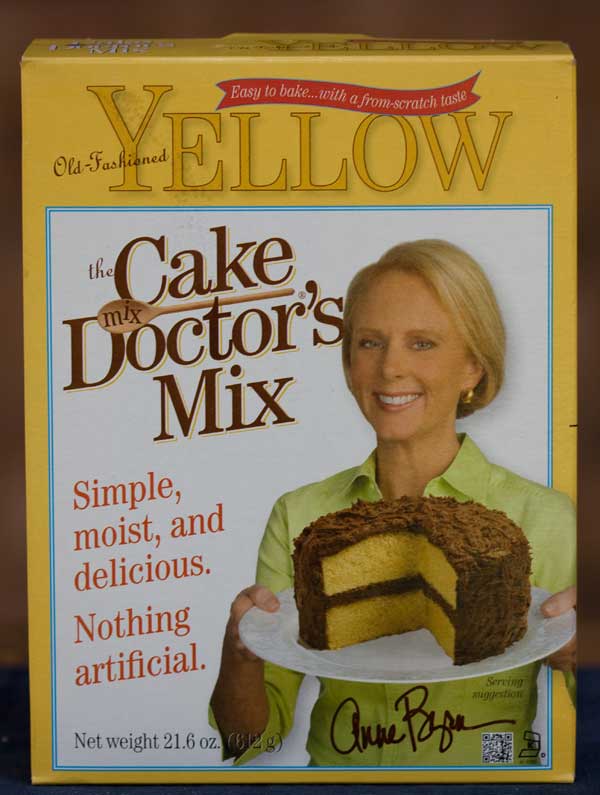 Read on if you want to know how it tasted.
The Cake Mix Doctor cake mix cake was similar to what you get when you follow the Magnolia or the old 1-2-3-4 Cake recipe — a pale, moist, high, slightly (but not too!) crumbly cake.  If you enjoy or have just come to accept the artificial flavor and color of mainstream cake mix cake, you might be surprised at how natural the CMD mix cakes looks and tastes.  It really did remind me of homemade and required a lot less attention to detail.  That is, no worries about getting the temperature of the butter just right, measuring the flour properly or making sure I even had the right type of flour.  This cake was as simple to prepare as any other cake mix cake and required only the usual oil, eggs and water.
As for the "shrinking cake mix" situation, The Cake Mix Doctor gives you 21.6 ounces of mix per box, so those of you who've noticed that mainstream cake mix boxes now hold less than 18.25 oz of mix should be pleased.   As for doctoring it, Anne gives a few tips on things you can do to liven up the basic recipe on the box, but I didn't feel this cake needed doctoring.  It was the perfect partner to a homemade frosting, which I suspect is the way a lot of people like to make yellow cakes these days — using a box mix, but with a homemade frosting.
The mix is sold at various retailers and on The Cake Mix Doctor web site.  If you order it now, you also received a free book of frosting recipes.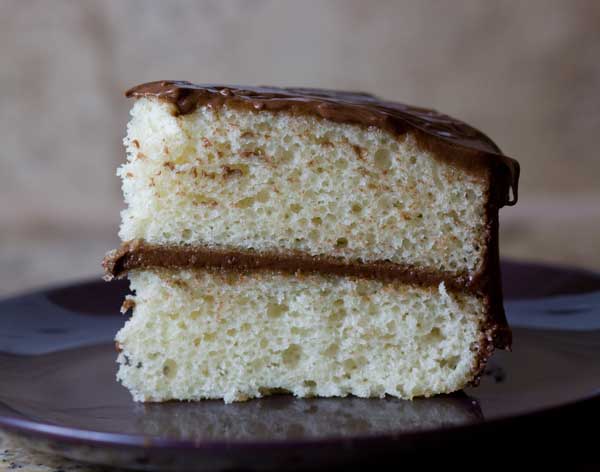 This frosting, adapted from the little frosting booklet, is smooth and satiny thanks to the clever addition of chocolate syrup.  I used slightly less sugar and more cocoa than the recipe calls for, but you should taste as you go and use your own judgement.  I  recommend starting with 3 1/4 cups of sugar, tasting, and adding more only if you feel it needs it.  Here's the frosting recipe, and I hope you get to try The Cake Mix Doctor's new mixes.  Let me know what you think!
Cake Mix Doctor Mixes and a Great Scratch Frosting
An easy scratch chocolate frosting that calls for chocolate syrup
Ingredients
1 stick (4 ounces) butter, softened
1/2 cup unsweetened cocoa powder
1/2 cup room temperature chocolate syrup
3 1/4 to 4 cups (about 1 box) of powdered sugar
2-4 tablespoons of milk
1 teaspoon of vanilla
Instructions
In a large bowl, combine the butter, cocoa powder and chocolate syrup. Beat on low speed with a handheld electric mixer until blended.
Gradually add the sugar and a couple of tablespoons of the milk and the teaspoon of vanilla.
Continue beating, adding milk as needed, until you get a smooth and glossy frosting.
Notes
If using unsalted butter, add a pinch or two of salt. I also recommend adding the powdered sugar gradually and taste testing after you've added the first 3 cups. You may not want all 4 cups.
Related posts: