I found this coconut tres leches cake recipe while organizing my big box of recipe clippings. The recipe was clipped from Taste of Home, where it had been submitted by a fellow Texan who found it in an old cookbook. She said she made it once and has since been asked to serve it every Christmas. That, plus the fact I'd randomly bought a can of Goya coconut milk, was good enough for me! A few minutes later the cake was in the oven.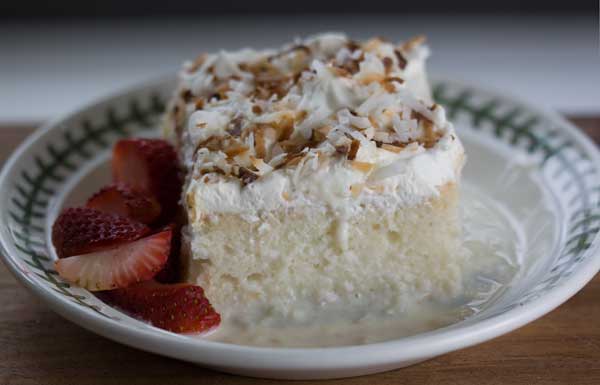 The original recipe had a word I don't use in the title, so I changed it to Coconut Milk Tres Leches Cake. I'm not sure if this really qualifies as a Tres Leches Cake, but it's similar to the South American versions and it does have three milks even though one of the milks is in the cake rather than poured over the top. The cake also has some butter in the crumb, and not all Tres Leches cakes do. To me, this is a plus. It turned out to be one of the best Tres Leches cakes I've ever made and it was super easy. Below is the recipe for the full 9×13 inch pan, but if you want to make a half batch square cake, an 8 inch pan works perfectly. Note: The cake has a lot more liquid to it than what you see in the picture. Much of my liquid mixture went down the sides and I took this piece from the center. I'm sure that today the cake will have absorbed more of the liquid I poured over it yesterday. Maybe I'll re-take the photo.
And one more thing, if you want to buy yourself a little Cinco de Mayo present, my suggestion is a nice bottle of Mexican vanilla I've been trying a few different brands, with the most recent being one called Danncy. I chose it based on Internet reviews saying it was a little stronger, a bit different and added a memorable flavor to baked goods. A lot of people seemed to have acquired it at cruise ports or as gifts from friends who went to Mexico. I bought mine from a guy on eBay who sent it to me in a matter of days.

Toasted Coconut Cake
Coconut cake made with coconut milk and condensed milk.
Ingredients
6 large egg whites at room temperature
12 tablespoons butter (6 oz), softened
1 1/3 cups granulated sugar
1 cup coconut milk (such as Goya)
1/2 cup milk
2 teaspoons Mexican vanilla extract
2 1/4 cups (9 oz) cake flour or White Lily
2 1/2 teaspoons baking powder
1 teaspoon salt
Syrup
1 can (14 oz) condensed milk (Eagle Brand)
1 can (14 oz) coconut milk (Goya or whatever)
Whipped Cream Topping
2 cups heavy whipping cream
1/4 cup confectioners sugar
1 teaspoon Mexican vanilla extract
1/3 cup toasted flaked sweetened coconut
Instructions
Preheat the oven to 350 degrees F. Spray a 9x13 inch metal pan with baking spray.
With an electric mixer, beat the room temperature egg whites until soft peaks form. Set aside.
With the electric mixer, beat the butter and sugar in a large mixing bowl until light and fluffy.
Combine the coconut milk, regular milk and vanilla in a measuring cup.
Combine the dry ingredients (flour through salt) in a small bowl and stir for 30 seconds.
With the mixer on low or by hand and using a big spoon or spatula scraper, add the dry mixture and the milk mixture to the creamed mixture alternately. Stir until blended.
With a silicone scraper or whatever scraping tool you own, fold in the beaten egg whites.
Pour into the pan and bake on center rack for 35 to 40 minutes (may take up to 45). Place on a wire rack and let cool.
Meanwhile, poke holes in the warm cake with a skewer spacing about ½ inch apart. Combine the condensed milk and coconut milk and pour over the cake, very gradually, allowing mixture to drip down into the holes. When cool, cover and chill the cake for at least two hours.
Make the topping. In a large bowl, beat the cream until thick. Add the sugar and beat until stiff peaks start to form. Beat in the vanilla. Spread or pipe over the cake and sprinkle with toasted coconut. Serve directly from the pan.
Related posts: