ANZAC is an acronym for the Australian and New Zealand Army Choir. You can read more about here . As for the cookie, ANZAC Biscuits, they were originally sent to the troops in World War I to boost morale. They travel and keep well, and they are made without eggs and held together with Golden Syrup.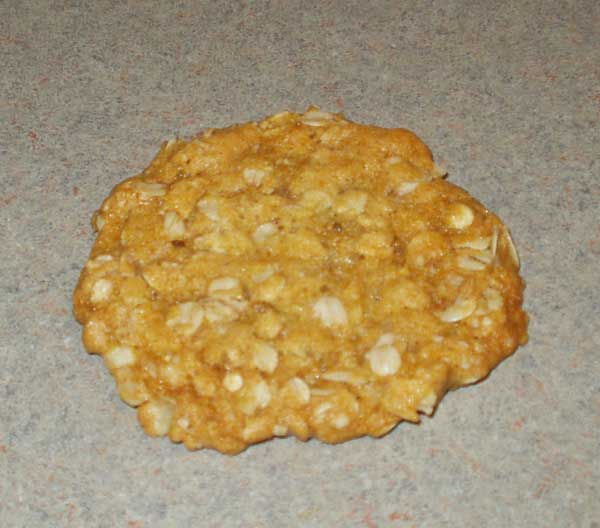 There are a lot of ANZAC Biscuit recipes out there, but I always go back to this one, which is a small batch recipe that gives you about a dozen cookies. The recipe is from an older book called Cookies By The Dozen. Someday I will update this photo!
ANZAC Biscuits from Cookies by the Dozen
1 cup oats
½ cup (60 grams) flour
⅓ cup (65 grams) granulated sugar
Pinch salt
¼ teaspoon baking soda
4 tablespoons (60 grams) salted butter, melted
3 tablespoons Lyle's Golden Syrup or Dark Corn Syrup
1 teaspoon very hot water
½ teaspoon vanilla extract
Preheat oven to 325 degrees F. and put rack in highest position. In a mixing bowl, stir together the oatmeal, flour, sugar, salt and baking soda. Add melted butter and stir until the mixture is moist and clumpy. Combine syrup, hot water and vanilla and add all at once to clumpy oatmeal mixture. Stir to blend. Drop by tablespoons onto a lined cookie sheet. Gently press down mounds to make fat patties. Bake for 5 minutes. Turn cookie sheet and bake another 5 or 6 minutes. Cool the cookies on pan for 5 minutes. Transfer to a wire rack to finish cooling.
Makes 12