I really need to update this photo, but don't worry — the cookies taste better than they look. This is the ANZAC Biscuit recipe I've been using for years. There are some more modern versions, but this one (as of now) is still a favorite.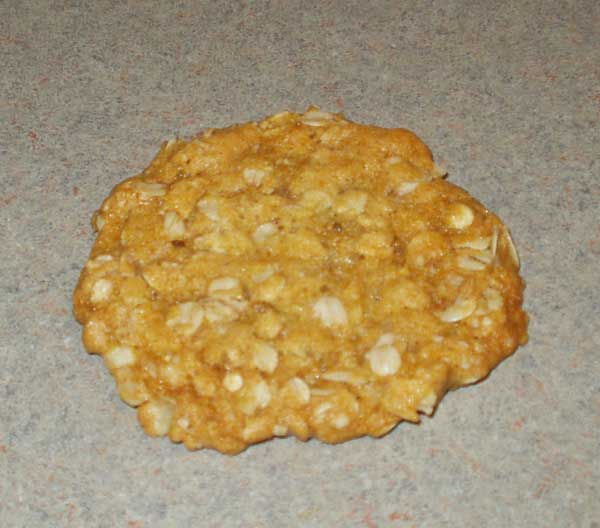 ANZAC Biscuits from Cookies by the Dozen
1 cup oats
1/2 cup (60 grams) flour
1/3 cup (65 grams) granulated sugar
Pinch salt
1/4 teaspoon baking soda
4 tablespoons (60 grams) salted butter, melted
3 tablespoons Lyle's Golden Syrup or Dark Corn Syrup
1 teaspoon very hot water
1/2 teaspoon vanilla extract
Preheat oven to 325 degrees F. and put rack in highest position. In a mixing bowl, stir together the oatmeal, flour, sugar, salt and baking soda. Add melted butter and stir until the mixture is moist and clumpy. Combine syrup, hot water and vanilla and add all at once to clumpy oatmeal mixture. Stir to blend. Drop by tablespoons onto a lined cookie sheet. Gently press down mounds to make fat patties. Bake for 5 minutes. Turn cookie sheet and bake another 5 or 6 minutes. Cool the cookies on pan for 5 minutes. Transfer to a wire rack to finish cooling.
Makes 12