I probably should have posted this on March 1, National Peanut Butter Lovers' Day, but at the time I was focused on pie crust made with muffin mix and the "holiday" just slipped by.  But honestly, isn't every day National Peanut Butter Lovers' Day?  In my world it is, so I don't feel guilty posting  Mini Peanut Butter Cup Brownies a few days late and hope you enjoy this recipe.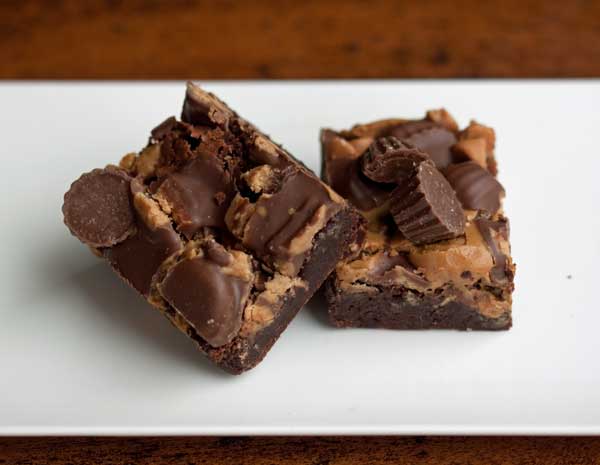 These are fudge brownies filled with peanut butter chips, swirled with sweetened peanut butter and topped with miniature peanut butter cups. The original recipe is from Reese's. My recipe basically follows Reese's, but I make a few small adjustments including incorporating peanut butter chips and most importantly, adding a lot more peanut butter at the end. That's because when the brownies come out of the oven the peanut butter marbled part looks a little cracked and dry.  Spooning more peanut butter over the marbled areas while the brownies are hot covers the cracks and adds more peanut butter flavor and texture.  This recipe is a winner, but if by some chance you don't have peanut butter cups, you can use this one.  I really am not sure which one I like best.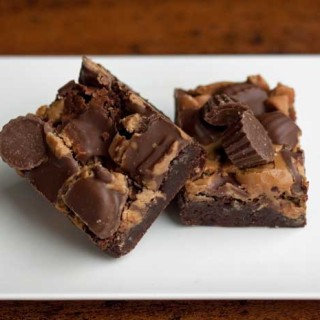 Mini Peanut Butter Cup Brownies
Mini Peanut Butter Cup Brownies are fudge brownies filled with peanut butter chips and peanut butter cups, then marbled with peanut butter and topped with more peanut butter cups.
Ingredients 
1

stick

4 oz unsalted butter

2

cups

plus 2 tablespoons granulated sugar

divided use

2/3

cup

unsweetened natural cocoa powder

4

large eggs

beaten

2

teaspoons

vanilla extract

3/4

cup

flour

3/4

teaspoon

salt

reduce to 1/4 if using salted butter

1/4

teaspoon

baking soda

3/4

cup

peanut butter chips

1

bag mini peanut butter cups

Reese's, divided use

1

cup

approximately creamy peanut butter, divided use
Instructions 
Preheat oven to 350 degrees F. Line a 9x13 inch metal baking pan with foil and spray bottom with cooking spray. If halving the recipe, use an 8 inch square pan.

Melt butter in medium saucepan over low heat. Add 2 cups of the sugar (reserve the 2 tablespoons for later) and cocoa; stir to blend. Remove from heat. Stir in eggs and vanilla. Stir together flour, salt and baking soda and add to chocolate mixture.

At this point, make sure the batter is no longer warm so that it won't melt the add-ins. Stir in the peanut butter chips and about 1/2 cup of the mini peanut butter cups and spread evenly in the pan.

Mix only 1/2 cup of the peanut butter with the 2 tablespoons of reserved sugar and drop by tablespoons onto chocolate batter. Gently pull a knife through (just a bit) to marble.

Bake 25 to 30 minutes or until brownie starts to pull from edges of pan and is set. The peanut butter part that's showing should look a little dried out. This is normal.

Set on a wire rack. Immediately, while the brownies are still hot out of the oven, start spooning the remaining peanut butter (you don't have to use all of it) over the areas where the baked peanut butter shows. The point is to cover the baked peanut butter with the fresh peanut butter so that it melts over it and looks smooth. Top should still look very swirled. As you dollop with more peanut butter, sprinkle the remaining chips over the top (feel free to cut some in half) artfully.

Let cool completely, then chill just until chocolate and peanut butter are set. Lift from pan and cut into squares.