Over the past few days, I've had a series of disappointing cookies. Some were experiments and others were published recipes which I just didn't care for. Things seem to be on the upswing now, thanks to these cookies. This started out as an old Southern Living recipe, but I scaled it down to a third, then changed a few other things (type of sugar, proportions of chocolate) along the way. They turned out so good!!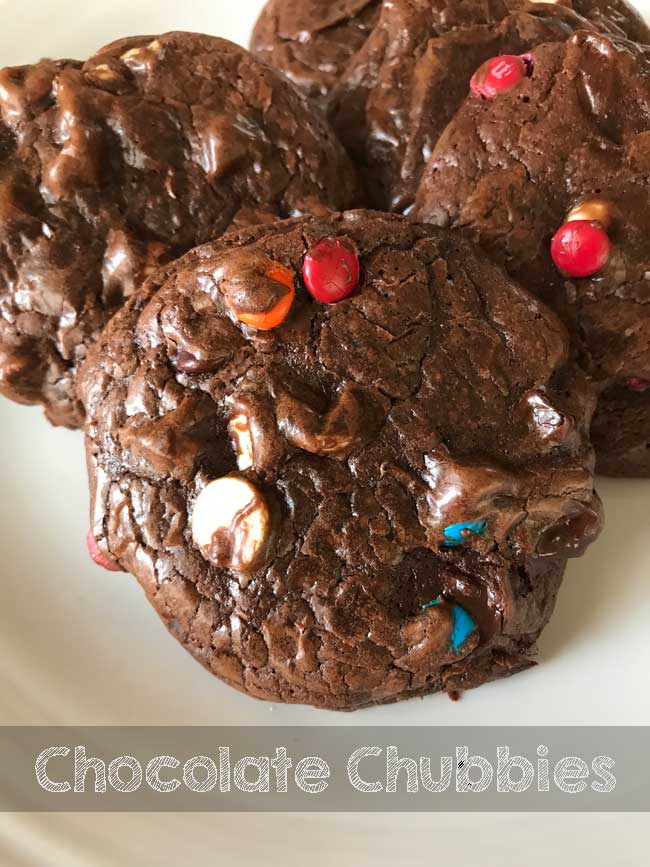 I ended up with six, fat and very fudgy cookies. Had I been more assertive in my bowl scraping and perhaps not as free-wheeling with my tablespoon rounding, I could have gotten more cookies but I was happy with the six big ones. When you first take them out of the oven, they might appear a bit shiny and underbaked - that is okay. Let them cool completely. The ones in this picture are not completely cooled. After I took this picture, I put them in the refrigerator to chill. They are even better chilled. I really liked these a lot. Next time, I may add some dried cherries.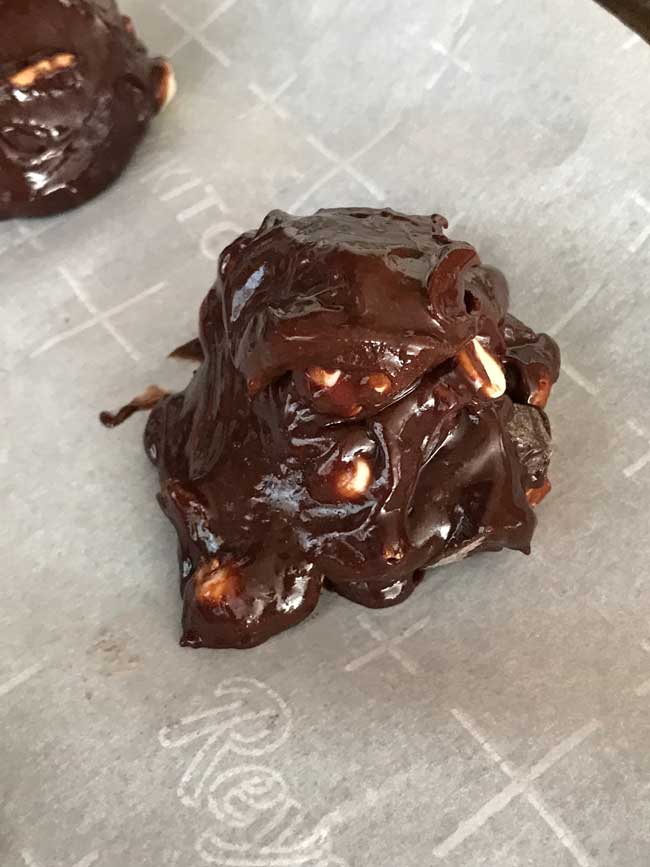 Update: If you don't have unsweetened chocolate (I'm always running out of it!), you can use 1 ½ tablespoons of unsweetened cocoa powder and ½ tablespoon of your favorite oil. The batter might be a bit thinner. If that is the case, cover and let sit at room temperature until it is completely cool. You may also chill the batter, but the cookies may lose some of their glossiness. The photo above should give you an idea of what consistency the cookie dough should be.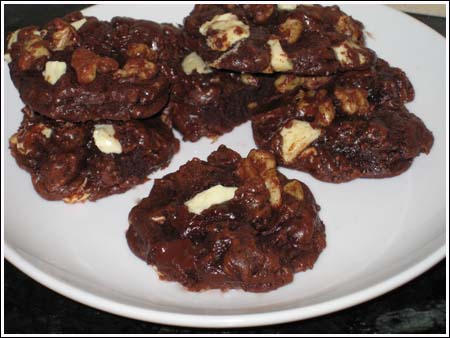 Recipe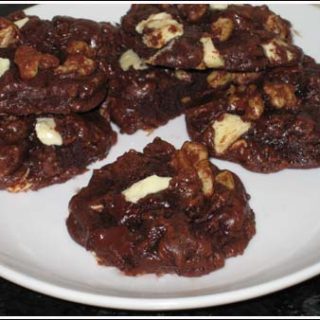 Small Batch Chocolate Chubbies
Very Small Batch Chocolate Chubbies
Ingredients 
4

teaspoons

all purpose flour

12 grams

⅛

teaspoon

baking powder

1

tiny pinch salt

1

cup

semi-sweet or bittersweet chocolate chips

divided use

½

oz

unsweetened chocolate

I used a ½ oz square of Hershey's

2

tablespoons

butter

⅓

cup

brown sugar

packed (65 grams)

1

egg

½

teaspoon

vanilla extract

2-2

tablespoons

toasted walnuts

optional

Some white chocolate chunks

optional

Some dried cherries

optional
Instructions 
In a small cup, stir together flour, baking powder and salt. Set aside.

Place ½ cup of the chocolate chips, the unsweetened chocolate and butter in a medium sized microwave-safe bowl. Microwave on high for 1 ½ minutes, stopping every 30 seconds to stir. Let cool for about 3 minutes.

In a second bowl, beat together brown sugar, egg and vanilla extract. Beat egg mixture into slightly warm chocolate mixture. Stir in flour mixture. Stir in remaining chocolate chips and optional ingredients if using. At this point, dough will not be scoopable. Place bowl in refrigerator to chill for at least one hour. (Must chill!)

Preheat oven to 325 degrees F. Drop dough by (generously) rounded tablespoons onto a parchment lined baking sheet. Bake for 12-15 minutes or until set - cookies should still look a little uncooked. Let cool completely.

Makes 6-8
Notes
If you don't have unsweetened chocolate you can substitute 1 ½ tablespoons unsweetened cocoa powder and ½ tablespoon canola oil. Just stir oil and cocoa in with melted chocolate chips and butter.