Caramel Cream Pie with Candied Almonds is an old recipe from the 1952 Pillsbury Bake-Off. It was created by Florence Reis, who originally called it Caramel Candy Pie. I've been calling it Caramel Cream Pie, but really it's more like a Bavarian pie because the filling is light, airy and stiff.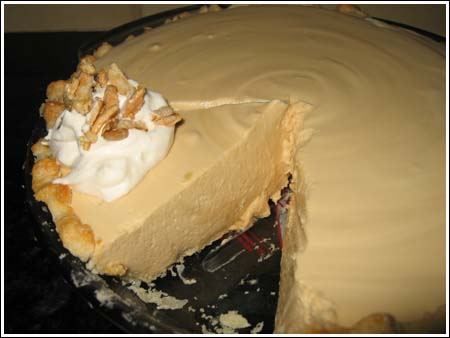 Caramel Cream Pie Filling
The filling is made with melted caramel candies, gelatin and whipped cream, so as as mentioned the filling is rather light textured. For extra flavor and texture contrast, the pie is topped with candied almonds. The original recipe doesn't call for any caramel sundae syrup, but it is an excellent addition! Also, be sure to whip up extra cream for garnish. I've added this to the notes.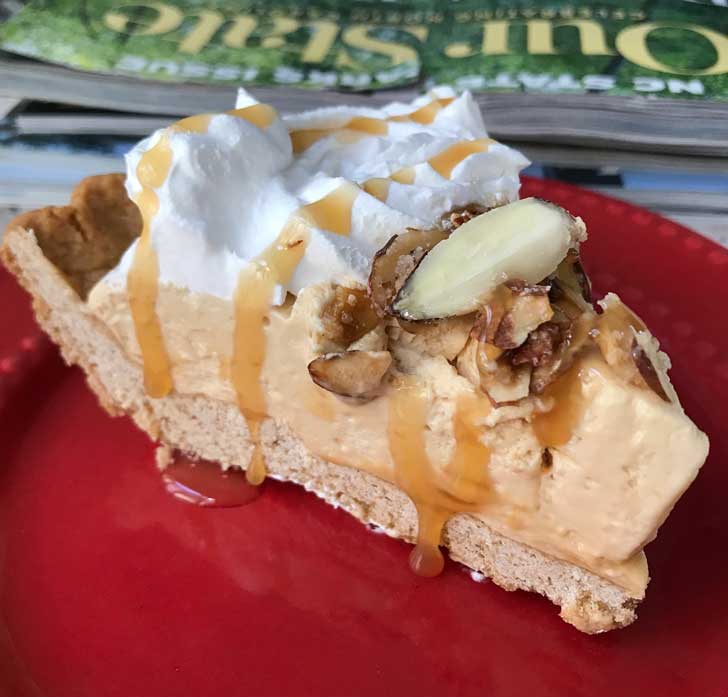 Kraft Caramel Bits!
You can now make this pie with Kraft Caramel Bits. One cup of caramel bits weighs 7 ounces, so you'll need 2 cups or a little over 2 packages.
Updates
I finally made this pie again. Regarding the gelatin, the original "vintage" recipe calls for a full envelope. I felt like that made the pie too gelatinous and tried again with only 2 teaspoons. In addition to reducing the gelatin to 2 teaspoons, I divided the filling between two shallow 9 inch pie dishes. The caramel cream filling was not as thick, but that left more room for adding whipped cream and garnishes.
Recipe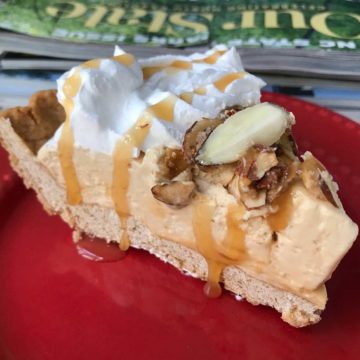 Caramel Cream Pie with Candied Almonds
A caramel flavored cream pie topped with candied almonds.
Ingredients 
1

9-inch

deep-dish pie crust, scratch or roll and bake

Better Yet -- Two shallow graham crusts

1

envelope

unflavored gelatin (I recommend using only 2 teaspoons)

1 envelope = 1 tablespoon -- see note at bottom

¼

cup

water

14

oz

package of caramels (such as Kraft), unwrapped or 2 cups of the caramel bits

1

cup

milk, whole milk!

1 ½

cups

heavy whipping cream

whipped to make about 3 cups
Candied Almonds & Whipped Cream
⅓

cup

slivered almonds

2

tablespoons

granulated sugar

Optional: caramel syrup and whipped cream for garnishing
Instructions 
Bake pie crust as directed on package or prepare your own pie crust, blind bake it and allow it to cool completely. You can make one deep dish 9 inch crust or two shallow 8 or 9 inch crusts.

Place ¼ cup of water in a small bowl. Sprinkle 2 teaspoons of gelatin over water and let it sit for 5 minutes to soften. Note: Old recipe called for 1 tablespoon, but I felt like that was too much. If you don't mind extra stiff textures, go with 1 tablespoon.

Meanwhile, in a heavy saucepan, combine caramel candies and milk. Heat over medium-low, stirring often, until caramels melt and mixture is smooth. Stir in gelatin/water mixture. If you use the Kraft caramel bits this takes forever, but it's better than unwrapping caramels!

Scrape caramel mixture into a bowl (or you can keep it in the saucepan) and chill for 45 to 60 minutes or until it has thickened somewhat. If you keep it in the saucepan, you'll want to let it cool somewhat before putting it in the refrigerator. Do not chill for longer than an hour. You don't want it to get stiff before you add the cream.

Whip the 1 ½ cups of cream and fold together the whipped cream and thickened caramel mixture.

Pour into pie shell - it will go up to the very top. Alternatively, divide between two shallower crusts. Chill for 4 hours or until set.

Before serving, prepare the candied almonds. In a large skillet, stir together the sugar and almonds. Cook the almonds, stirring constantly, over medium heat. The sugar will start to melt and caramelize....be patient, because it takes at least 5 minutes. Continue stirring and watching almonds. When the almonds become golden brown, spoon them out onto a sheet of foil to cool and crisp. When ready to serve, break the almonds apart and sprinkle on pie.

Decorate with extra sweetened whipped cream or whipped topping
Notes
Final Note: The original version calls for a full envelope of gelatin, but I use 2 teaspoons.  I also like this pie better made as two shallow pies rather than one big deep dish.