Here's a recipe you don't run across every day. It's an old one — a very basic caramel cream pie which was invented in 1952. I believe it was a Pillsbury Bake-off entry one year but am still gathering details.  Wherever it came from, it's a winner.  With 1 tablespoon of gelatin, I found the texture rather stiff, but Todd thought it was fine.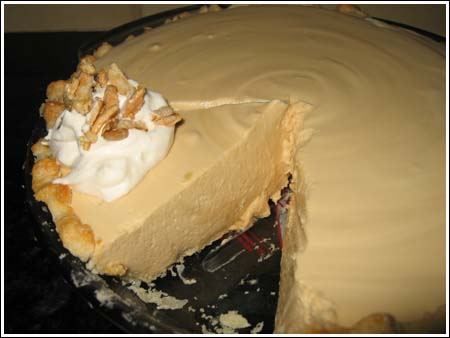 This pie is very easy, but there is a lot of cooling and chilling time involved, so it's a good pie to make on a Sunday.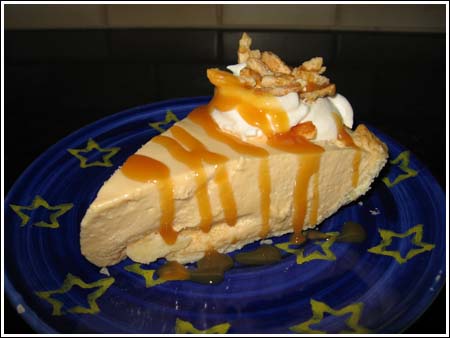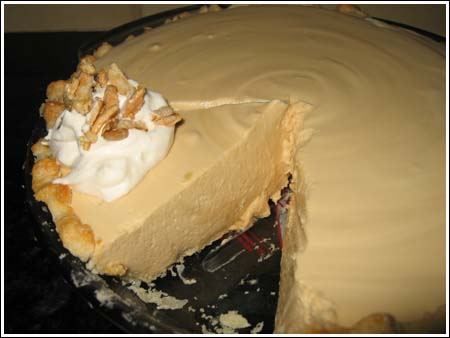 Caramel Cream Pie with Candied Almonds
A caramel flavored cream pie topped with candied almonds.
Ingredients 
1 9

inch

unbaked deep-dish pie crust

1

packet unflavored gelatin

1 packet = 1 tablespoon -- see note at bottom

1/4

cup

warm water

1

14 oz package of caramels (such as Kraft), unwrapped

1

cup

milk

1 1/2

cups

heavy cream

whipped to make about 3 cups

2

tablespoons

granulated sugar

1/3

cup

slivered almonds

Optional: caramel syrup and whipped cream for garnishing
Instructions 
Bake pie crust as directed on package or prepare your own pie crust, blind bake it and allow it to cool completely.

Place 1/4 cup of water in a small bowl. Sprinkle 1 packet of gelatin over water and let it sit for 5 minutes to soften.

Meanwhile, in a heavy saucepan, combine caramel and milk. Heat over medium-low, stirring often, until caramels melt and mixture is smooth. Stir in gelatin. Transfer to a bowl and chill for 60 minutes or until it is slightly thickened (it will not be super thick....just slightly thicker than before).

Fold the caramel mixture into the bowl of whipped cream. Pour into pie shell - it will go up to the very top. Chill for 4 hours or until set.

Before serving, prepare the candied almonds. In a large skillet, stir together the sugar and almonds. Cook the almonds, stirring constantly, over medium heat. The sugar will start to melt and caramelize....be patient, because it takes at least 5 minutes. Continue stirring and watching almonds. When the almonds become golden brown, spoon them out onto a sheet of foil to cool and crisp. When ready to serve, break the almonds apart and sprinkle on pie.
Notes
Final Note: Todd loved this pie and the flavor was great. My only complaint it that with 1 tablespoon of gelatin, it is a little too stiff for my liking. I'd be interested in hearing your thoughts, however, I plan on testing the recipe with 2 teaspoons of gelatin rather than 1 tablespoon.