Update: This is an updated post with updated photos. I kept the old Chocolate Whoopie Pies Photo at the bottom, and these two top photos are of the latest batch.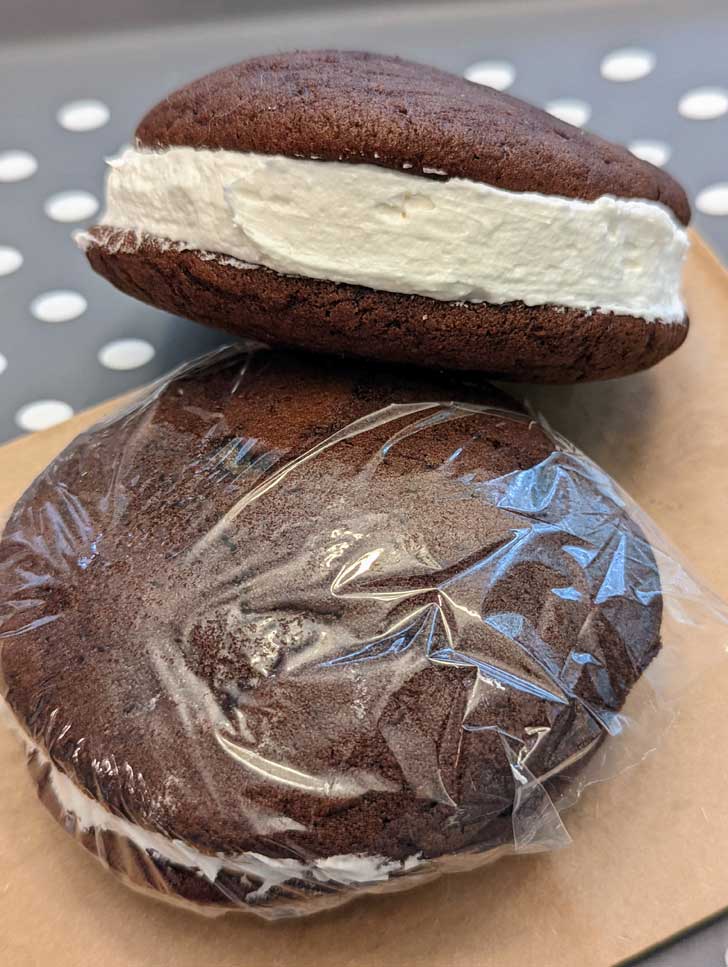 You can see the texture is almost like a Hostess Cupcake. The point of the shortening, aside from making the filling super fluffy, is to keep the cookies stable at room temperature. I suppose it's also a little less inexpensive than butter, and it definitely gives the filling a fluffier texture. The cakey part is a little lighter than the old picture because I now use Ghirardelli Dutch processed cocoa, whereas in the (way, way) past, I used Hershey's Dark. I still like Hershey's Natural, but they changed the dark and I don't care for it anymore.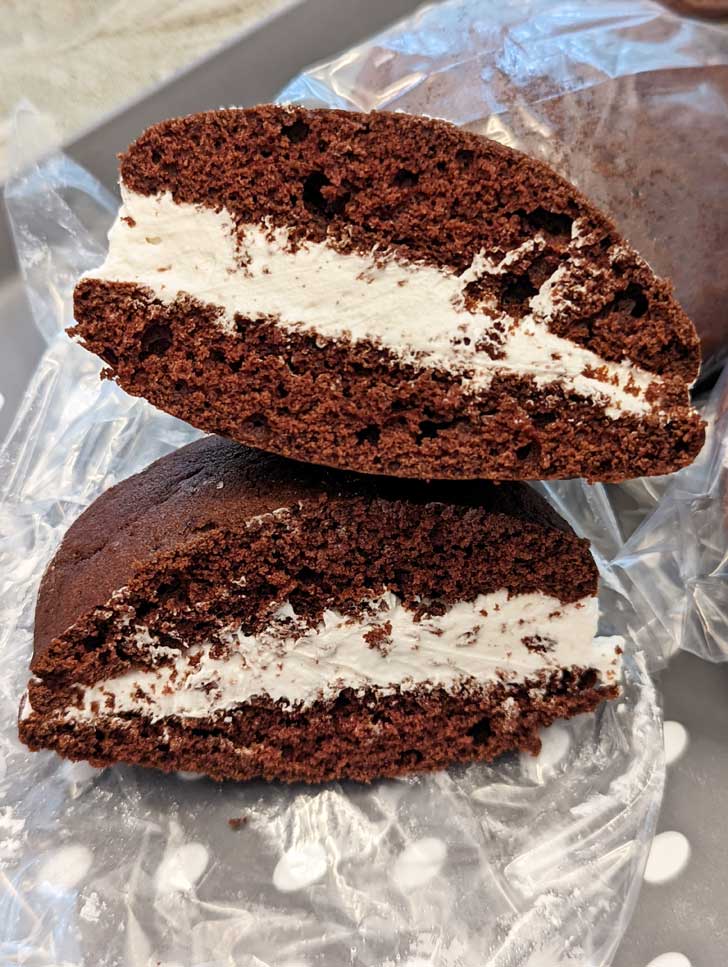 Old Post
A few years ago, I took a food and wine pairing class with Andrea Immer. One of the recipes she gave the class was "Soft Chocolate Sandwich Cookies with Cherries and Mascarpone". In other words, a fancy version of Chocolate Whoopie Pies -- big, soft, fat, Amish chocolate cookies filled with mascarpone and dried fruit instead of the usual shortening based cream filling. Filling Whoopie Pies with mascarpone seemed brilliant, but I never thought about the cookies again until today, when I found the handout with the recipe. I decided to make the cookies for Todd.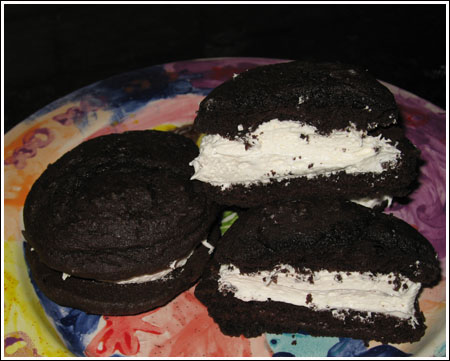 Somewhere along the way, I mentally tallied up the price of filling ingredients -- mascarpone, dried cherries, whipping cream.... and decided that rather than go Italian, I'd go Amish. I ended up making basic Chocolate Whoopie Pies, courtesy of the King Arthur Cookie Book. Perhaps they dream of a better lifestyle? If you'd like to give them that, I've included the mascarpone-dried cherry filling as well. If you use that one, make the cookies smaller and follow the directions below for serving.
Recipe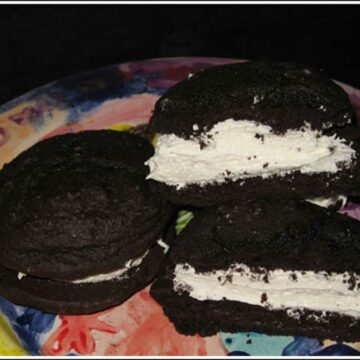 Two-Way Chocolate Whoopie Pies
Two Way Chocolate Whoopie Pies -- You can make them with traditional filling or make them with a mascarpone based filling.
Ingredients 
Cookies
2

cups

all purpose flour

(280 grams)

1

teaspoon

baking powder

1

teaspoon

baking soda

1

teaspoon

salt

6

tablespoons

Dutch process cocoa

½

cup

shortening

(96 grams)

1

cup

brown sugar

1

large

egg

1

teaspoon

vanilla extract

1

cup

milk
OPTION 1 Amish Filling:
1

cup

shortening

(198 grams)

1

cup

powdered sugar

(120 grams)

1 ½

cups

Marshmallow Fluff or Crème

(120 grams)

¼

teaspoon

salt dissolved in 1 tablespoon water

1 ½

teaspoons

vanilla
OPTION 2 Fancy Italian Mascarpone Filling:
1

cup

dried cherries

½

cup

plus 2 tablespoons granulated sugar

divided use

1

cup

chilled heavy whipping cream

8

ounces

of mascarpone cheese
Instructions 
Preheat oven to 350 degrees F. Line two cookie sheets with parchment or non-stick foil.

Stir together the flour, baking powder, baking soda, salt and cocoa powder. Set aside.

In a mixing bowl, beat the shortening and brown sugar until fluffy. Beat in the egg and continue beating until very creamy and light. Beat in the vanilla. Starting with the flour mixture, add the flour mixture and milk to the shortening mixture alternately, beginning and ending with flour.

Drop the cookies by quarter cupfuls onto the cookie sheets - 7 or 8 cookies per sheet.

If you plan on using the mascarpone filling, I recommend making the smaller size (8 cookies per sheet) cookies.

Bake the cookies, one sheet at a time, for 12-15 minutes or until they appear set but still moist. Scoop them up onto a cooling rack and allow them to cool completely.

Now make whichever filling you've chosen. For the Amish filling, beat together the shortening, powdered sugar, marshmallow stuff, dissolved salt and vanilla. Stuff the cookies as you would if you were Amish. Serve however you want.

If you've chosen the expensive, fancy filling, do this. Measure out 2 tablespoons of the dried cherries and set them aside. Roughly chop the rest.

Place 2 tablespoons of the sugar in a bowl and add the un-chopped cherries to the bowl. Shake the bowl gently to coat the cherries with sugar, then set them aside. Add the chopped cherries to the bowl and shake them so that they are coated with whatever sugar remains. Set them aside as well.

In a separate bowl, beat the whipping cream and sugar until peaks form. In yet another bowl, fold ⅓ cup of the whipped cream mixture into the mascarpone cheese to lighten it, then fold this mixture into the remaining whipped cream. Spread a ¼ thick inch layer of filling onto the bottom side of a cookie. Sprinkle on about ¾ teaspoon of the chopped dried cherries and top with another cookie, pressing lightly to make a sandwich. Do this until you have 8 sandwich cookies. To serve, heap the cookies on a platter and serve them with the extra whipped cream and the sugared cherries which you did not chop up.
Notes
I can't remember the exact yield of this recipe but I think it made about 10 large sandwiches.
Serve the heaping tray of mascarpone stuffed Whoopie Pies with a sweet, effervescent wine such as Brachetto d'Acqui Coppo, which is what Andrea recommended. Also, don't call them Whoopie Pies.