I have a few more recipes today and will post them just as soon as my camera batter has finished charging. For now, here's a picture I loaded on to the computer yesterday. It's an easy blackberry cobbler recipe from Betty Crocker which I made at the request of friends who'd invited us to dinner. Cobbler is one of their favorite desserts, and while blackberries aren't really in season (though we can pretty good ones here in Southwest Texas), frozen berries work well.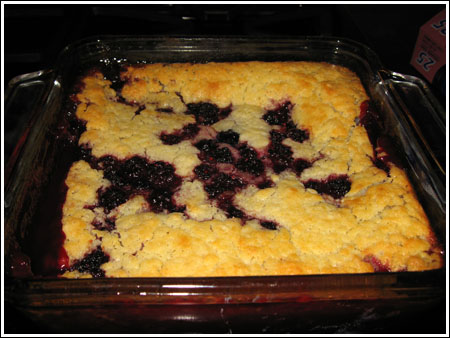 I'm linking directly to the recipe. It's probably the easiest cobbler recipe around and very delicious. The batter doesn't have any sugar in it, but the berry filling has a full cup. They balance each other out in the end, so you might want to make the recipe as is before monkeying around with the sugar.
The only thing I did was sprinkle about half teaspoon of cinnamon over the berries.