We just dropped our daughter off at camp, so to keep my emotions in check, I spent the latter part of yesterday making Blackberry Cream Pie. It's a berry pie, and what's special about it is there's a fat ribbon of cream cheese and sour cream underneath all those berries.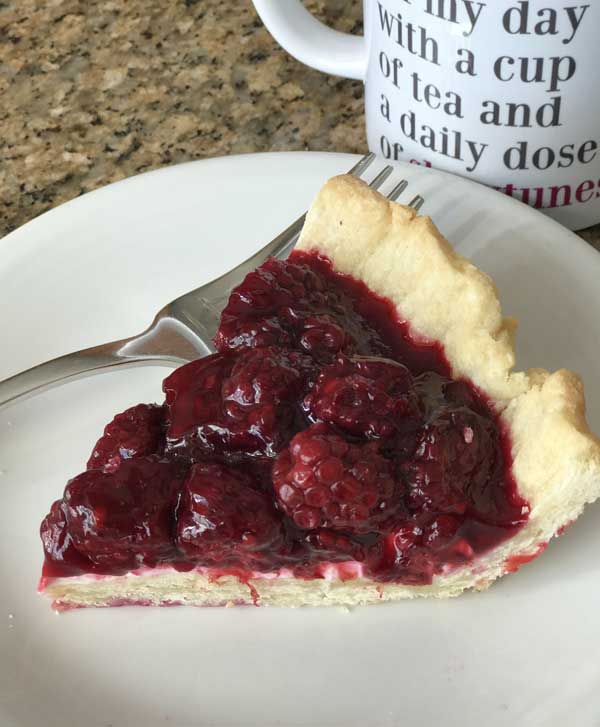 For the crust, you can use any baked crust. The recipe below is for an all-butter crust that is baked and cooled.  The crust (adapted from one from Rebecca Rather) can be made in a stand mixer or a food processor, and it gives you a pretty generous amount of dough.
After baking and cooling the crust, the next step is to rub a thin layer of cream cheese mixture over it. That gets covered with a layer of fresh berries, and then a final layer of partially mashed berries is poured over the top.
Lastly, it is chilled.
You can chill it for as little as for hours, but it slices a little more neatly if you chill it for a longer period such as overnight.
UPDATE:  Here's another pie crust recipe that looks good.  Williams Sonoma has one that uses 100% butter and is also made in a stand mixer using the paddle.
More Blackberry Things...
Recipe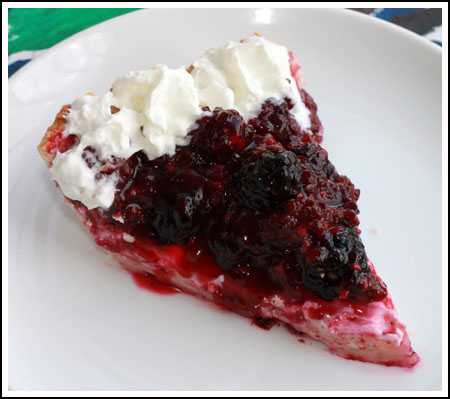 Blackberry Cream Pie
A cream pie featuring fresh blackberries
Ingredients 
Crust:
2

cups

all purpose flour

9 oz

2

tablespoons

sugar

⅜

teaspoon

salt

11

tablespoons

unsalted cold butter

cut into thin slices

5

tablespoons

ice water

use more if needed
Filling:
5

cups

blackberries

divided

¾

cup

granulated sugar

3

tablespoons

cornstarch

1

tablespoon

lemon juice

4

oz

cream cheese

2

tablespoons

sugar

2

tablespoons

sour cream
Instructions 
Make the Crust. In bowl of a stand mixer, stir together flour, sugar, salt. Alternately, you can do this in a food processor.

Add cut up butter. With the paddle attached and mixer set on medium low, run for about a 1 ½ minutes or until mixture starts to look crumbly and butter is dispersed (or process in pulses). With mixer on low, add the water and mix just until the mixture comes together – be careful not to overwork it. Empty onto a clean surface and shape into a disc. Wrap in plastic wrap and chill for 1 hour or until ready to use. Let dough sit on counter for about 20 minutes.

Roll into a large circle and fit into a 9 inch deep dish pie plate so that it covers sides. Cover with foil, weigh down with pie weights. Bake at 425 for 15 minutes. Remove foil and pie weights and bake for another 5-10 minutes or until golden brown. Let cool.

Make the filling. Set aside 1 cup of the blackberries and put remaining 4 cups of blackberries in a medium saucepan. Combine sugar and cornstarch and pour over berries, stirring so that they are coated in the sugar mixture. Turn heat to medium and cook for about 8-10 minutes, stirring and mashing as you go, until berry mixture boils, thickens and the cornstarch loses its chalkiness. Remove from heat, pour into a bowl and stir in the lemon juice. Let the berry mixture cool for about an hour.

Mix together the cream cheese, sour cream and sugar and spread across cool baked pie shell. Scatter the reserved 1 cup of the fresh blackberries across the cream mixture. Pour the cooked berries over the top and chill for 3 or more hours.
Notes
Cook time includes approximate chill time. It's just an estimate.