What started out as a way to practice making lattices turned into a recipe worth repeating!  This cross between a pie and a blackberry cobbler really showcases what is now my favorite all-butter pie crust recipe for fruit pies.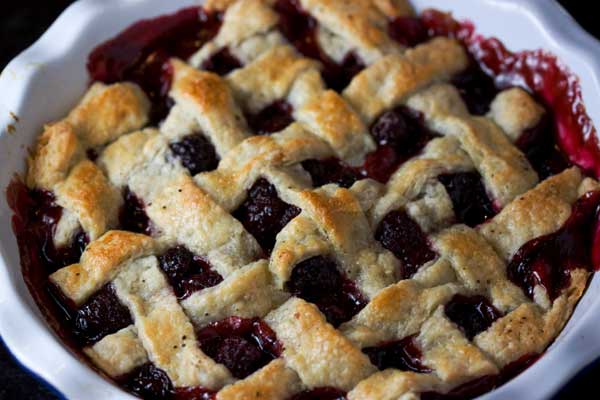 I'm not sure whether to call this a cobbler or a bottomless pie. It's baked in a pie dish and has only a top crust; but unlike my grandma's biscuit topped cobbler, this one has a rich lattice of flaky pastry. And making the lattice was enjoyable despite the fact I'm not very crafty. The trick to taking the anxiety out of crafting the lattice  is building it separately. I rolled the dough into a circle on a floured surface, cut the strips, arranged them on a parchment lined tray, froze the lattice, then plopped it right on top.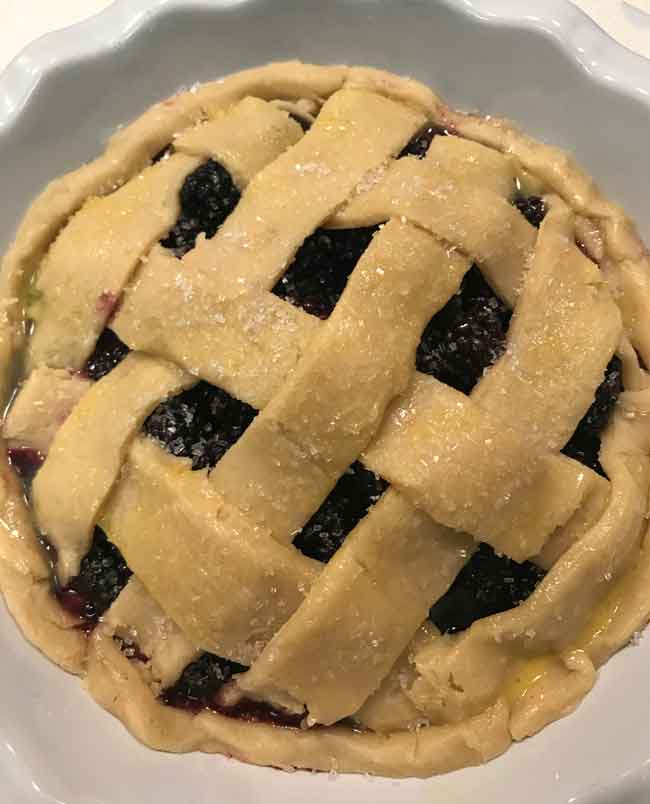 If you are not picky about pie crusts or are in a hurry, refrigerated pie dough will work perfectly. However, if you have time to make it from scratch I really hope you try this all-butter pastry dough made with European style butter. It's the one that originally went with the Best Ever Apple Pie, but since it's so rich and buttery, I think it works better as a top crust only so that its richness isn't wasted on a bottom crust.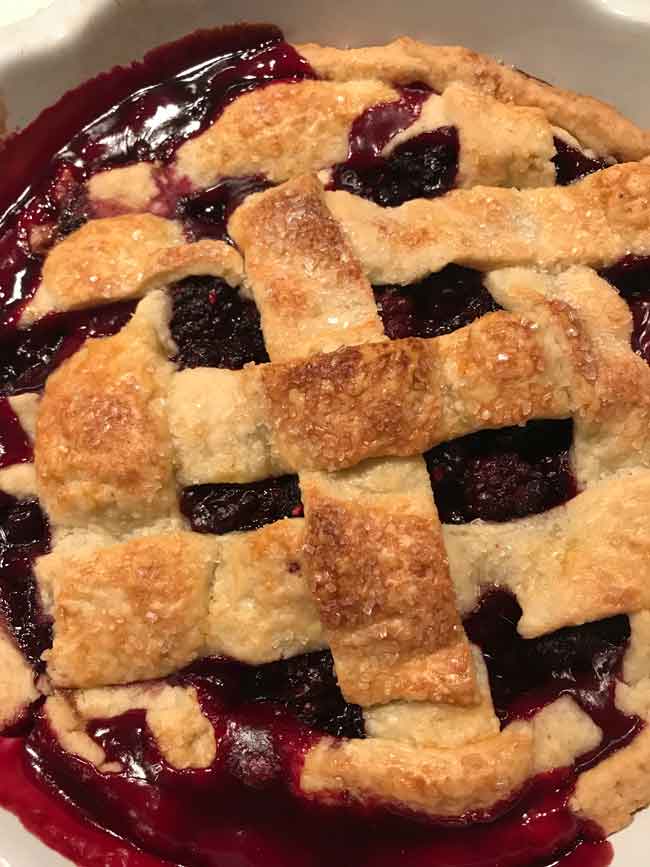 Update:  I make this cobbler whenever I'm in the mood to make pie crust and when blackberries are on sale.  This pastry dough is very good.  It's also high in butter, so be sure to use a well-floured surface when rolling it out.  The extra flour offsets the butter a bit and makes the strips easier to work with.
Recipe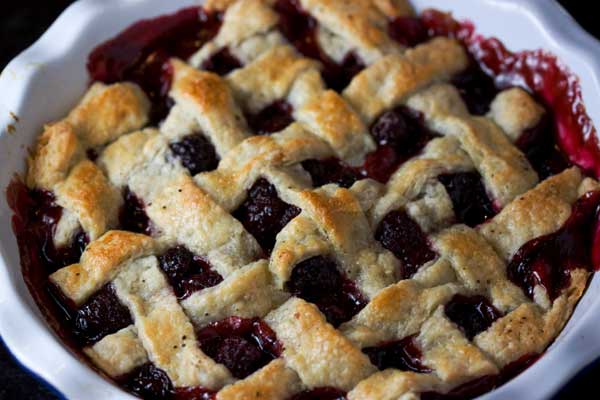 Blackberry Cobbler with Pastry Dough
This is a cross between a blackberry cobbler and a pie. Because the pastry that goes with it is so rich and flaky, there's no bottom crust and the pie must be served in a bowl like cobbler.
Ingredients 
Pastry
1 ¼

cups

6 oz all-purpose flour -- weigh for best results

½

teaspoon

kosher salt

1 ½

tablespoons

granulated sugar

10

tablespoons

unsalted butter

Plugra, Kerrygold, Land o'Lakes

3

tablespoons

ice water mixed with ½ tablespoons of vinegar and ½ teaspoon of vanilla plus more water as needed

about 1-2 tablespoons more

Heavy cream mixed with a little egg white for brushing on pastry or just some egg wash
Filling
3

cups

fresh or frozen blackberries

thawed and drained

½

cup

granulated sugar

2

tablespoons

cornstarch

¼

teaspoon

ground cinnamon

1

teaspoon

lemon juice
Instructions 
In a large bowl, combine flour, salt and sugar and chill for about 20 minutes.

Transfer dry mixture to a food processor and pulse to mix. Add chunks of butter and pulse until mixture is coarse.

Pour crumbly mix into a bowl and add water mixture. Stir with a heavy duty scraper, then keep adding water, one tablespoon at a time until dough holds together when pinched but is still slightly crumbly (not too dry).

Empty mixture onto a clean surface and shape it into a firm disc. If it's a little crumbly, just press it very tightly and wrap. It should hold together better after it has chilled. Wrap tightly in plastic and chill for an hour or until ready to use.

Set the chilled disc on a floured surface and let it sit for about 10 minutes so that it is still cool, but a little more pliable. Put a sheet of plastic wrap over it and roll into a 12 inch circle. With a pizza cutter, cut the circle into thin strips.

Meanwhile, grease a 9 inch round deep dish (1 quart) pie dish.

In a bowl (you can use the same bowl you used for the pie crust mixture), mix together the sugar, cornstarch and cinnamon. Toss berries in the sugar mixture, then sprinkle with lemon juice. Spread evenly in the pie dish.

Using the strips of dough, build a lattice directly over the berries or on a parchment lined tray. If using a tray, freeze the lattice and set over the berries (I rarely do this anymore).

Brush lattice with cream and sprinkle with coarse sugar if desired.

Set the cobbler on a rimmed baking sheet and place on center rack.

Bake at 375 degrees F. for 40-45 minutes or until lattice is golden brown.