This is the type of day where I most definitely should not have sweet and salty treats in the house, but I couldn't resist! These Salty Chocolate Chunk Cookie were at the top of the Epicurious popularity box, and given the photo and reviews, I had to bake them.   Plus I was interested in the composition of the dough.  The recipe calls for an egg and two yolks plus a bit of confectioner's sugar, and I figured the texture would be unique.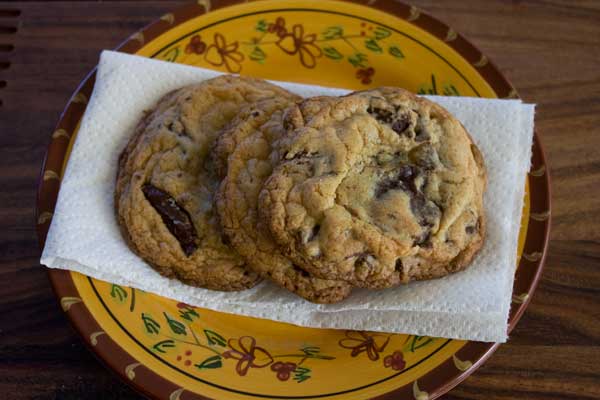 If you are partial to cookies with crispy edges and soft centers, you'll love these! They bake up pretty thick (the ones in the photo were made without even chilling the dough), have lots of lumps and cracks, and taste fantastic with a little topping of salt.  I've been out of flaky, expensive sea salt for a while, so I just sprinkled some Morton Kosher on top and the cookies were still marvelous.  The other change I made was instead of using an actual chocolate bar and cutting it into chunks, I melted 8 ounces (1 ⅓ cup) of extra dark 63% chocolate chips, spread the chocolate on a piece of parchment, put it in the freezer for a few minutes to solidify, then cut it into chunks.   I could have skipped that step altogether and just used chips, but I wanted my cookies to look like the ones in the Epicurious photo (and I was completely out of semisweet or bittersweet chocolate).
I definitely recommend this recipe, and as a bonus it will come in handy when you need to use up extra egg yolks.
Epicurious Salty Chocolate Chunk Cookies