Last year, a French blogger named Cindy introduced me to the Galette des Rois — a popular dessert eaten in honor of the Feast of the Epiphany. Cindy's version was made with homemade almond paste and it was excellent, but I've had really good results using packaged almond paste as well.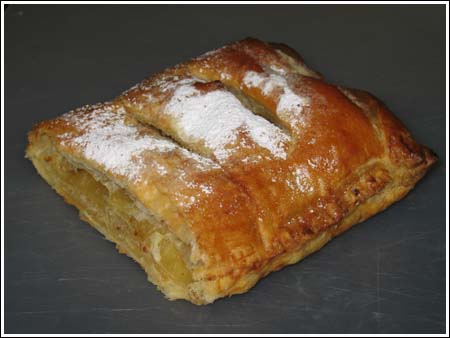 The one in this picture was square shaped, but I usually make them round. The recipe is very easy if you have a food processor and my only tip is when you seal the almond filling in the pastry, seal it as tightly as possible! Leaky galettes aren't fun.

The Galette des Rois is a French dessert traditionally served on or around January 6 to celebrate the day of Epiphany – when the Magi visited the Christ child. The pastry is a golden cake with an almond cream filling called frangipane, but the special touch is small china figurine called la fève. Back in the day, a dry white bean was used instead of a figurine; fève means fava bean en français. The fève is baked into the cake, and the person who finds it in his or her slice becomes King or Queen for the day.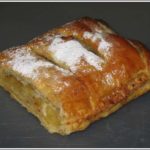 Print Recipe
Easy Galette des Rois
Easy Galette des Rois is made with Odense almond paste and packaged puff pastry. Even though it's made with convenience products, it tastes very authentic.
Ingredients
1

7 oz roll of almond paste (Odense)

1/2

cup

granulated sugar

6

tablespoons

unsalted butter

softened

2

egg

medium or small

1/2

teaspoon

vanilla extract

1/2

teaspoon

almond extract

4

tablespoons

all-purpose flour

1/8

teaspoon

salt

1

17.25 ounce package frozen puff pastry, thawed

1

dry kidney bean or plastic favor

1

egg

beaten

1

tablespoon

confectioners' sugar for dusting
Instructions
Place the almond paste and half of the sugar in a food processor. Process until well blended. Add the butter and remaining sugar using and process until smooth, then blend in 1 egg, vanilla extract, almond extract, flour and salt. Empty mixture into a bowl and place in refrigerator for 2 hours or until slightly firm.

Roll one sheet of the thawed puff pastry into an 11 inch square. Using a large pie plate or cake pan, trace an 11 inch circle onto the dough using the tip of a small knife. Place the circle of on a parchment lined cookie sheet. Repeat with second sheet of dough, placing the cut out circle on another sheet of parchment.

Preheat oven to 425 degrees

Mound the almond filling onto the center of the pastry that is on the baking sheet. Leave about 1 1/2 inch margin at the edges. Press the bean or feve down into the filling. Place the second sheet of pastry on top, and press down the edges to seal.

Beat the second egg with a fork, and lightly brush onto the top of the gallette. Use a knife to make a criss cross pattern in the egg wash, and then prick several small slits in the top to vent steam while baking.

Bake for 15 minutes in the preheated oven. Do not open the oven until the time is up, as the pastry will not fully puff. Remove from the oven, and dust with confectioners' sugar. Return to the oven, and cook for an additional 12 to 15 minutes, or until the top is a deep golden brown. Transfer to a wire rack to cool.

Lay a golden paper crown gently on top of the cake. This will be used to crown the person who finds the bean or feve. Serves 8 people