If you could use a recipe for two chocolate chip cookies -- too or two giant chocolate chunk cookies to be exact, here's an overlooked recipe from way back.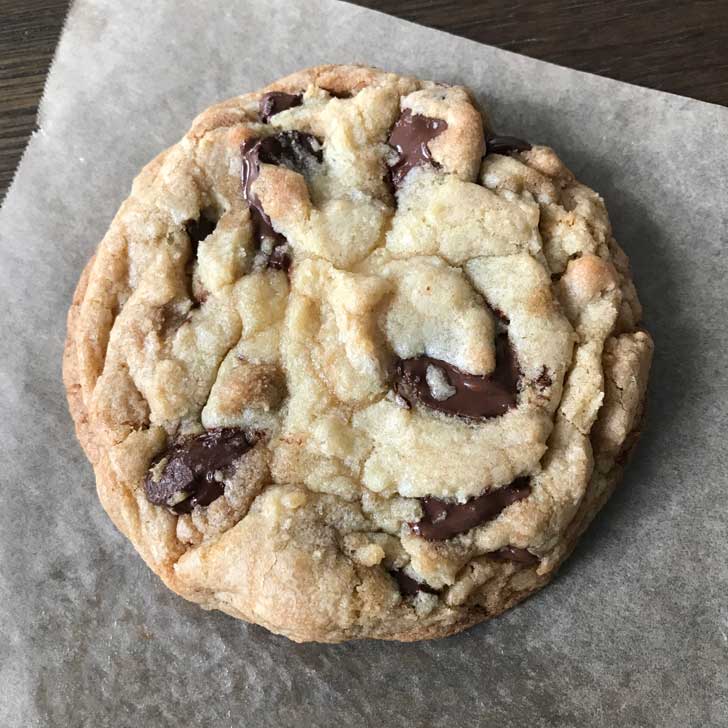 At the time I was trying to clone some cookies from Disney World called Selma's. Since I was so fixated on cloning Selma's and making super thick cookies, I wasn't completely satisfied with these even though the neighbors loved them. in hindsight I should have just focused on this recipe.
These cookies are a little bit like the ones they sell at Crumbl, but with a few major differences. Crumbl doesn't use powdered sugar in their cookies and they use milk chocolate rather than semisweet. This dough is best with semisweet or bittersweet or a mix of chocolates.
Old Chocolate Chunk Cookies Post from 2008
I'm embarrassed to admit this, but for the past few days I've been completely obsessed with cloning Selma's giant chocolate chip cookies. If you've never heard of them, they're these big, fat, unreasonably large cookies loaded with chunks of chocolate and candy. Selma sells them from her website, but you can also buy them in Las Vegas and Orlando. Most of the sweets shops at Disney World sell them, though I noticed they are not listed as Selma's anymore…..just "distributed by Lake Buena Vista" or something like that. I didn't buy one this trip and don't have the label. All I have is the picture in my mind and the ingredient list which I took from Selma's web site.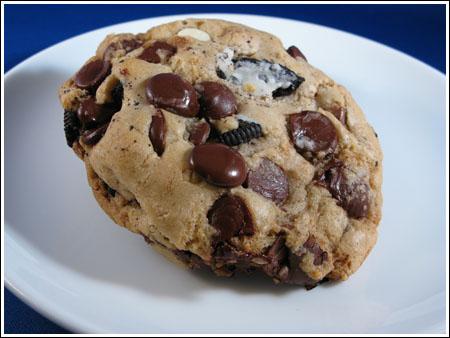 Inspired by Selma's
I think Selma originally used margarine. This would make sense, because margarine helps keep cookies from spreading and has a good shelf life. I believe she now uses palm oil as the primary fat, and palm oil is not something I can buy at the store down the street so I made some concessions.
This is the recipe I came up with that seems sort of close to Selma's. I tried the recipe with melted shortening (too crunchy), melted trans-fat free margarine (didn't like the flavor) and finally, with just plain butter. The best results were with the plain butter.
This recipe is kind of fun to play with because you can pack it with chunks of whatever you want. Consider my additions suggestions. Also, pack as much in as possible. These are basically dough wrapped around candy.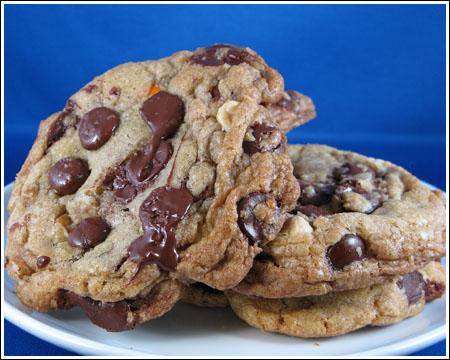 One Bowl and a Spoon
One nice thing about this recipe is it requires 1 bowl and a mixing spoon.
Recipe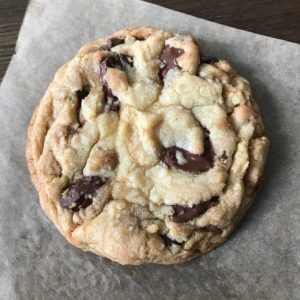 Super Small Batch Extra Large Chunk Cookies
Giant chocolate chunk cookies you can mix up in one bowl! Recipe makes 3 or 4 cookies. I used to make 4, but now I make them a little larger and make 3.
Ingredients 
4

tablespoons

very hot melted unsalted butter

(58 grams)

½

cup

powdered sugar

(55 grams)

¼

cup

lightly packed light brown sugar

(50 grams)

2

tablespoons

beaten egg

break egg, mix it with fork, measure (26 grams)

¼

teaspoon

vanilla

¼

teaspoon

baking soda

¼

teaspoon

salt (reduce slightly if using salted butter

¾

cup

all-purpose flour

spooned and swept (105 grams)

1

teaspoon

water

optional

2-3

tablespoons

white chips

½

cup

bittersweet chocolate chips or chunks

2 ½

sandwich cookies

broken into chunks (can use nuts instead)

Broken up milk chocolate bar

milk chocolate chips, M&M's, candies of choice
Instructions 
In a bowl, stir together hot butter, powdered sugar and brown sugar until smooth. If still very hot, let cool for about a minute, then stir in egg. Beat with a spoon until egg is fully mixed then stir in vanilla, baking soda and salt. Add flour and stir just until mixed. If dough seems too dry (falling apart), add the water. Stir in white chips, chocolate chips and broken cookies. Shape dough into a fat log of about 5 inches log. Chill for 1 hour. Carefully cut log into 4 equal pieces (each should weigh 3 ½ oz). If chunks of cookies and chips fall out, just stick them back onto the cut pieces.

Place cut pieces, spaced about 4 inches away from each other, 4 to a sheet, on an ungreased (I use insulated) cookie sheet. Bake at 325 degrees F for 18 to 20 minutes, rotating pan halfway through. Remove from oven and arrange a few more semi-sweet chunks plus some milk chocolate chunks on top – the candy will melt and adhere to the cookie. Cool on cookie sheet for 3 minutes, then transfer to a wire rack to continue cooling.

Let the cookies sit around for a while to set. Once set, you can wrap them up in plastic wrap and give them away.