The Levain cookies finally made it!  They came via USPS express mail and not Fed-Ex, so they were out in the mailbox at the front of the neighborhood. They must be tired from all that traveling — NYC via Charlotte to Austin.
There are four cookies — two chocolate cookies, an oatmeal cookie and a chocolate chip. The chocolate and oatmeal are going straight into the freezer.  As for the chocolate chip….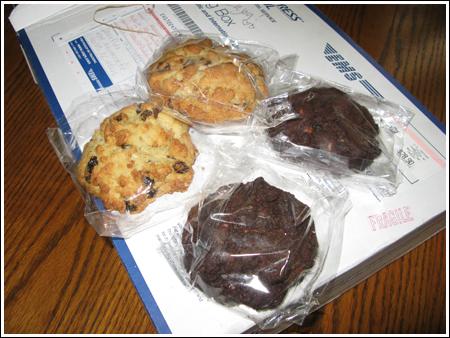 Here's a close-up.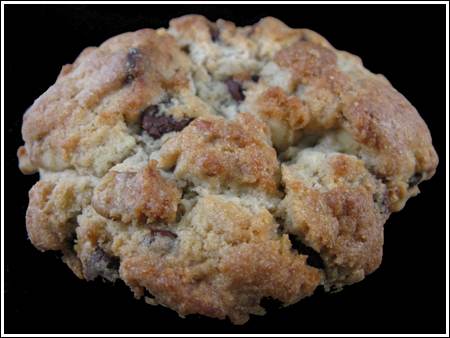 And here's the cross section.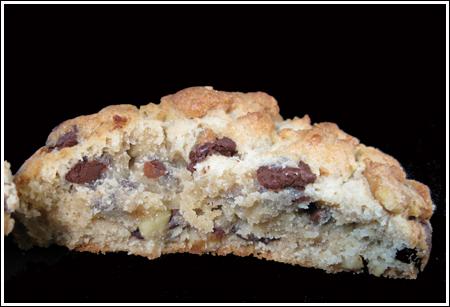 To jog your memory, here's a cross section of the copy cat cookies.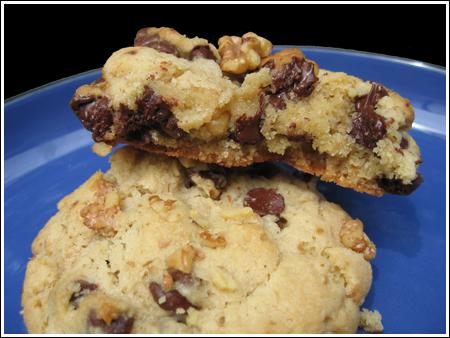 Assessment: The Levain cookies are better than the copycats despite the fact that they are 2 days old. This blows my theory that people who don't like the cookies have been getting older cookies because even the old cookies are good. I went ahead and microwaved a section and that made the cookies taste even better.
The fact that they are still good on Day 2 plus the flavor and brown color makes me think they don't have baking powder at all, thought I'm still not sure about that.
They're really heavy and dense and there's more of a contrast between the shell and the center than there is in the copy cats.
I don't taste anything out of the ordinary, thought the walnuts add a lot of flavor.  And even though there's no vanilla, the cookies aren't lacking. At this point, I think the copy cat is similar, but it's not quite the same.  Back to the old drawing board.
At least it's nice to know there are other people working on this important project and that we have a pretty close copy cat (thanks, Lisa).  And thanks to Dawn for sending me these!