More often than not the quiches I make are lightened up versions which use egg whites, low fat cheese and some sort of pastry crust alternative. But that kind of quiche wasn't on the menu yesterday! This weekend we were in the mood for a smooth, no-holds-barred quiche made with half & half, cheddar cheese, and a flaky scratch crust. If I'd had bacon in the house I would have added that too.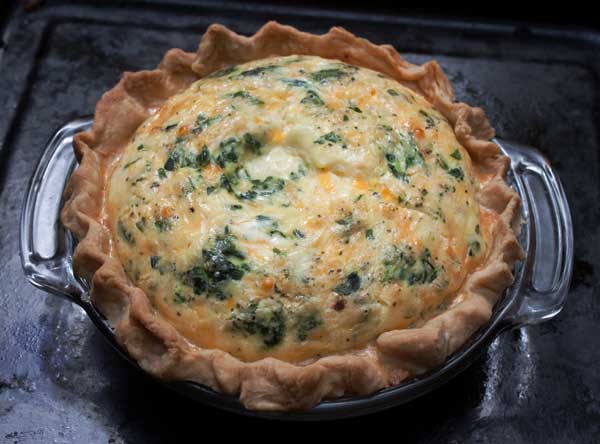 Since there were only two of us here to eat the quiche, I made a scaled down recipe using a 6 inch pie dish and a quick and easy scratch crust. Of course that's subjective. If you don't find crust making "quick and easy" or fun, feel free to use a refrigerated roll-out crust. You can also vary the cheese and add a few vegetables, but if you do add vegetables make sure you cook them and press them dry so that the moisture from the vegetables doesn't leak into the quiche and ruin the smooth texture. Speaking of which, the texture of quiche changes as it cools. I comes out of the oven puffy (as in the photo above), but settles down a bit and smooths out as it cools. Here's what it looks like after cooling. For me, the hardest part of making quiche is not cutting into it right away.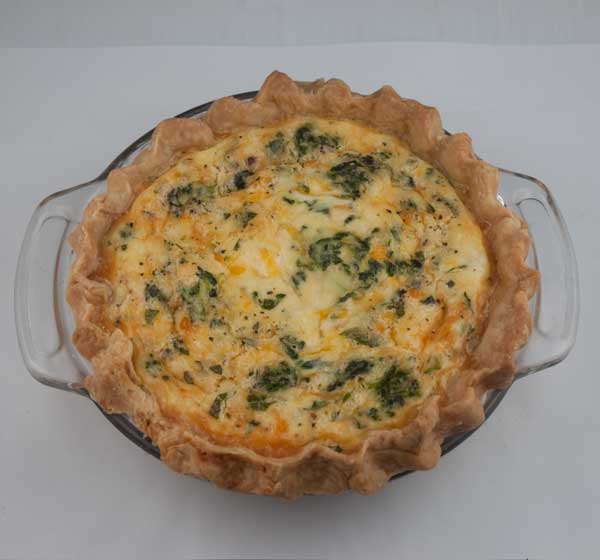 And one final note: I found a couple of 6 inch pie dishes at Tuesday Morning, but these Fiesta 6 3/8 inch pie dishes on Amazon are cute, too.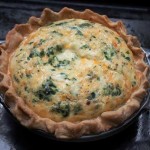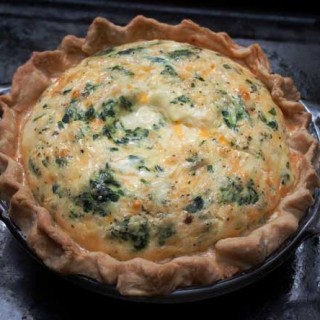 Print Recipe
Quiche for Two or Three
Quiche for Two or Three
Ingredients
Crust
1

cup

5 ounces all-purpose flour

1/2

teaspoon

salt

2

tablespoons

shortening

4

tablespoons

cold unsalted butter

3 to 5

tablespoons

ice water
Filling
2

large eggs

1/2

cup

half & half

1/8

teaspoon

salt

1/8

teaspoon

pepper

½

cup

shredded cheese

cheddar or other flavor

1

teaspoon

chopped fresh parsley

Optional: Some cooked spinach that has been completely drained and pressed dry
Instructions
Prepare crust: In a mixing bowl Mix together the flour and salt. Add shortening and butter and cut with a pastry cutter or mix with your fingers until crumbly. Add ice water a couple of tablespoons at a time and stir with a heavy duty scraper, pushing all ingredients together, to form a ball. Press into a disc, wrap in plastic (or put in a freezer bag) and chill for an hour.

On a floured surface, roll the dough into a 10 inch circle, drape it over a 6 inch pie plate, trim, fold and crimp the edges. Freeze lined dish for 20 minutes. Cover inside with greased foil, weigh down with pie weights, set on a rimmed baking sheet and bake for 30 minutes at 375. Note: You'll probably have leftover pie crust.

Filling: Whisk together filling ingredients and pour into the warm pie shell. Reduce heat to 350 and bake for about 35 to 45 minutes or until it appears set and puffy. The middle should still look slightly underdone, but not liquid-y. Let stand 30 minutes before serving. This is important. The quiche settles and becomes a bit smoother as it cools. It's so tempting to cut right into it when you take it out of the oven, but let it stand.