Quiche for Two is my most used quiche recipe these days.  It is not a light recipe, but rather a smooth, no-holds-barred quiche made with half & half, cheddar cheese, and a flaky scratch crust. Ham or bacon optional.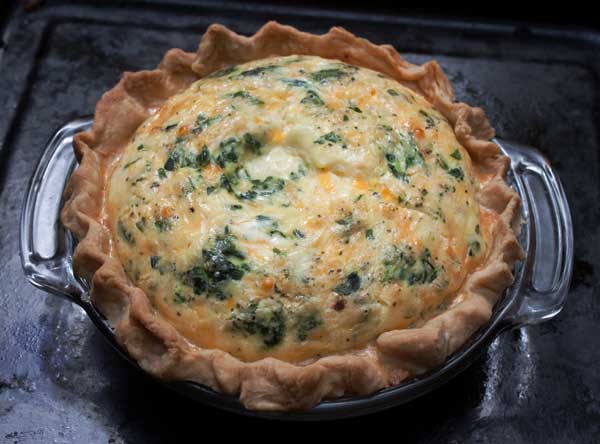 This recipe calls for a 6-inch pie dish and a quick and easy scratch crust. Of course that's subjective. If you don't find crust making "quick and easy" or fun, feel free to use a refrigerated roll-out crust. You can also vary the cheese and add a few vegetables.  However, if you do add vegetables make sure you cook them and press them dry so that the moisture from the vegetables doesn't leak in and ruin the smooth texture.
Also, the texture changes as it cools. It comes out of the oven puffy (as in the photo above), but settles down and smooths out as it cools. Here's what it looks like after cooling. For me, the hardest part of making quiche is not cutting into it right away.
Quiche for Two Dish Sizes
If you don't have a 6 inch pie dish, they're pretty easy to find online.  A 6-inch cake pan should also work, though I haven't tested in one. Another thing that works are individual removable bottom tart pans. The ones I have measure exactly 4 inches on the bottom, and about 4 ½ inches across the top. If using removable bottom tart pans, this recipes gives you enough crust for four and enough filling for two. I've also experimented with 4-inch removable bottom cheesecake pans. They work, but tend to leak if you don't really build up the crust. The tart pans are a little easier to work with.
Update: Here's another good pie crust recipe that works well with this or any 6 inch quiche.
Mayonnaise Pie Crust!
Did you know you could make pie crust with mayonnaise? If you are in a hurry and need a quick crust, here's the basic recipe. You will not need all of it for the quiche.
In the bowl of a food processor, combine 2 cups flour (260 grams), ½ teaspoon salt and ½ cup mayonnaise. Pulse until crumbly. Add ¼ cup of cold water through the chute and pulse just until mixture holds together. Shape into a disk and let stand for 30 minutes or make ahead of time and chill until ready to use. Here's the full recipe for Mayonnaise Quiche.
More Quiche Recipes
Recipe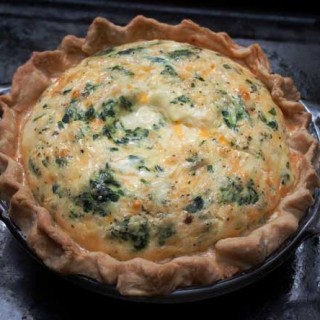 Quiche for Two or Three
Quiche for Two or Three
Ingredients 
Crust
1

cup

all-purpose flour

(135 grams)

½

teaspoon

salt

2

tablespoons

shortening

(24 grams)

4

tablespoons

cold unsalted butter

(56 grams)

3 to 5

tablespoons

ice water
Filling
2

large eggs

½

cup

half & half

⅛

teaspoon

salt

⅛

teaspoon

pepper

½

cup

shredded cheese

cheddar or other flavor

1

teaspoon

chopped fresh parsley

Optional: Some cooked spinach that has been completely drained and pressed dry
Instructions 
Prepare crust: In a mixing bowl, mix together the flour and salt. Add shortening and butter and cut with a pastry cutter or mix with your fingers until crumbly. Add ice water a couple of tablespoons at a time and stir with a heavy duty scraper, pushing all ingredients together, to form a ball. Press into a disc, wrap in plastic (or put in a freezer bag) and chill for an hour.

On a floured surface, roll the dough into a 10 inch circle, drape it over a 6 inch pie plate, trim, fold and crimp the edges. Freeze lined dish for 20 minutes. Cover inside with greased foil, weigh down with pie weights, set on a rimmed baking sheet and bake for 30 minutes at 375. Note: You'll probably have leftover pie crust.

Filling: Whisk together filling ingredients and pour into the warm pie shell. Reduce heat to 350 and bake for about 35 to 45 minutes or until it appears set and puffy. The middle should still look slightly underdone, but not liquid-y. Let stand 30 minutes before serving. This is important. The quiche settles and becomes a bit smoother as it cools. It's so tempting to cut right into it when you take it out of the oven, but let it stand.
Notes
Our latest favorite variation is to use about a half cup of frozen red, yellow and green peppers (thawed) tossed with a link or two of flavored chicken sausage which has been cut into circles.