Fuzz's two week break from camp ended today when I dropped her off at the local high school for yet another one. This time, it's cheerleading camp! I was never coordinated nor cheery enough to be a cheerleader, but I'm pretty excited for Fuzz and am hoping she has fun for the next few hours.  In the meantime, here is the second recipe of the day.
This is loosely based on a quiche recipe from Cooking Light. It's not a creamy, rich, quiche like you'd get in a restaurant, but if the nutrition stats from Mastercook are correct, it's a great protein-packed buffer for cookies which are, of course, the dessert.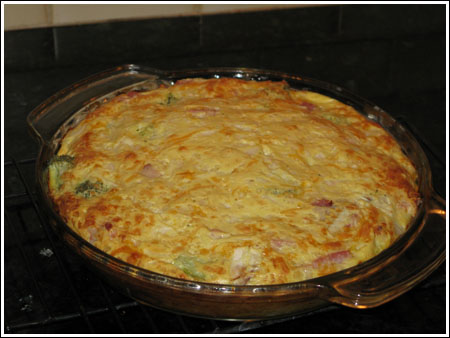 Crustless Smoked Ham & Cheese Quiche
4 ounces lean ham, cubed (from deli)
1/2 cup chopped onion
1 cup fresh broccoli florets, chopped
1/8 to 1/4 teaspoon freshly ground black pepper
1 cup low fat cottage cheese
1/2 cup fat free evaporated milk
4 ounces Kraft 2% milk shredded Colby Jack cheese
2 large eggs
2 large egg whites
1/4 teaspoon garlic salt (garlic powder okay too)**
1/2 cup all-purpose flour, spooned and gently swept
1 teaspoon baking powder
Preheat oven to 350 degrees F. Spray a 9 inch deep dish pie plate with cooking spray.
Toss ham, onion, broccoli and black pepper together in a mixing bowl. Spread evenly across bottom of pie plate.
Whisk or briskly stir together cottage cheese, evaporated milk, shredded cheese, eggs, egg whites, and garlic salt (or powder) . Stir the flour and baking powder together, then stir the flour mixture into the egg mixture. Pour egg mixture over ham mixture.
Bake on center rack for 45 minutes. Let stand about 5 minutes before cutting
Makes 6 Servings
This are the numbers I got from Mastercook.
Per Serving (excluding unknown items): 193 Calories; 6g Fat (29.1% calories from fat); 20g Protein; 14g Carbohydrate; 1g Dietary Fiber; 82mg Cholesterol; 723mg Sodium. Exchanges: 1/2 Grain(Starch); 1 1/2 Lean Meat; 1/2 Vegetable; 0 Non-Fat Milk; 0 Fat; 0 Other Carbohydrates.