A few months ago, I spent half a day trying to make and Almond Thins clone of Almondina – thin, sweet cookies which I can best describe as a cross between Melba toast and biscotti. They were very popular in New York in the 90's, and are now sold all over the country in major grocery stores.
My clone was okay, but wasn't worth the time and expense of buying the ingredients. It made more sense to just buy some pacsk of Almondina and be done with it. So that's what I did.
Last night, while trying to find a dinner recipe, I came across a recipe very similar to the one I'd been using to clone the almond cookies. Since I had some free time before dinner, I decided to try the recipe.   A couple of hours later, I had a pretty decent clone -- not exactly the same, but similar and very delicious.  These are basically biscotti, but lighter and crispier with no added oil or butter.
One thing I didn't like about my clone is that since the almonds are already sliced, you don't get a nice almond cross section when you cut. Next time, I will try the recipe with whole natural almonds. It ma a bit more difficult to cut through them, but I think the cookies will be prettier that way.
And finally, if the only thing stopping you from making these is having to throw out 4 egg yolks, my suggestion is to make pudding. While the biscotti was cooking, I made a batch of butterscotch.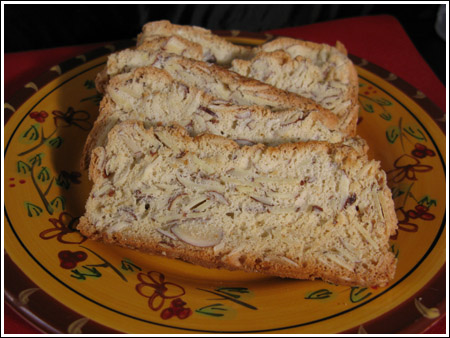 Almond Thins
4 large egg whites
½ cup superfine sugar or sugar you've ground up in the processor or just plain granulated sugar (98 grams)
¼ scant teaspoon salt
⅛ teaspoon almond extract (optional)
¼ teaspoon vanilla extract
1 cup minus a tablespoon all purpose flour (120 grams)
5 oz bag of sliced almonds or 1 cup whole almonds and 1 cup of mixed fruit, chopped
Preheat oven to 350 degrees F. Line a 9x5 inch loaf pan with non-stick foil or regular foil.  If using regular foil, spray with cooking spray.
Beat the egg whites into soft peaks. Slowly add the sugar and continue beating until sugar dissolves and mixture is glossy. Beat in salt and extracts.
Fold in flour. When incorporated, fold in nuts.
Transfer the mixture to the loaf pan bake for 50 minutes (golden brown when done). Remove from oven and let cool for about a half hour.
Preheat oven to 250 degrees F. Lift loaf from pan and using a serrated knife, cut into very thin slices. Place the slices in a single layer on a large cookie sheet. Bake for 50-60 minutes or until cookies are dry.
Let cool completely.
Makes 24 to 30 depending on how good you are at slicing!