Today's Lemon Yogurt Pound Cake was inspired by two things.
1. Sarah at 30 Cakes in 30 Days. Sarah is an American living in England. She loves baking and is currently documenting her experience making different cakes.  Reading Sarah's blog made me hungry for cake.
2. Stonyfield Farm Yogurt. Stonyfield Farm sent me a coupon the other day for a free 32 oz carton of yogurt. With food prices being what they are, I am thankful for any discount I can get! I used the yogurt coupon right away, then went to Stonyfield's website to search for recipes. It was my first visit and I was amazed at how many different recipes they had in their collection. Most of the recipes are from readers, but some are from their test kitchen.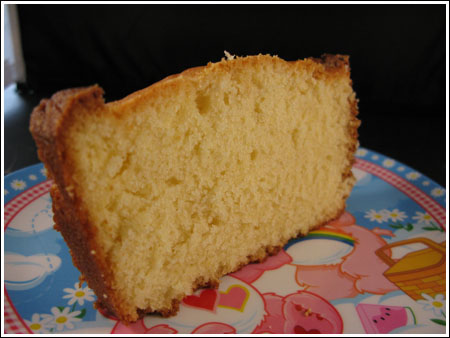 This particular cake was adapted from one off Stonyfield Farm's website. It's an easy, extremely delicious, lemon pound cake with a tender crumb and a good crust. Here are a few tips for making good pound cake.
-- Sift the flour
-- Use room temperature ingredients
-- Use a stand mixer so you can do other things while creaming the butter and sugar
-- Weigh your flour. Too much will make it dry, too little might make the cake sink in the middle.
-- Use bake times as a suggestion only and go by smell and the wooden skewer test. If skewer comes out with moist crumbs, cake is ready. This cake was done in exactly 1 hour and 15 minutes.
-- Serve with whipped cream and fresh fruit.  Pound cake is good, but I prefer dressing it up with something.  It's a great blank canvas for showcasing fruits of the season.  In fact, I think I'm going to go buy some blueberries to serve with this.
Recipe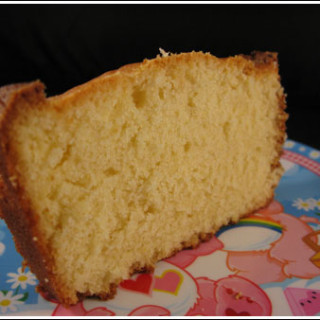 Lemon Yogurt Pound Cake
Lemon Yogurt Pound Cake from Stonyfield Farms yogurt.
Ingredients 
2

cups

all purpose flour

9 oz

¼

tsp.

baking soda

¼

tsp.

baking powder

½

teaspoon

salt

12

tablespoons

unsalted butter

1 ⅔

cups

granulated sugar

4

large eggs

room temperature

1

tsp.

vanilla

if using vanilla yogurt, use ¾

⅔

cup

Stonyfield Farm plain or vanilla yogurt

3

Tbs.

lemon juice

2

tsp.

lemon peel

grated
Instructions 
Preheat oven to 325 degrees. Spray a 9x5 loaf pan with flour-added cooking spray.

Sift together flour, baking soda, and baking powder. Stir in the salt.

Cream butter in large mixing bowl. Gradually add sugar, beat until light and fluffy (3-5 minutes). Add eggs, one at a time, beating well after each addition. Add vanilla.

Mix together yogurt, lemon juice and lemon peel. Add dry ingredients and lemon mixture alternately to egg mixture, mixing until dry ingredients are just moistened. Pour batter into pan. Bake 1 hour 15 minutes until lightly brown.

Cool 10 minutes on a rack before removing from pan.